Rashad Anderson was a Forward for the UConn Huskies from 2002 – 2006. He played key roles in winning the 2005 Maui Invitational Tournament Championship, the 2004 National Collegiate Athletic Association (NCAA) Championship, and the 2004 Big East Championship. Rashad is the all-time career leader at UConn for three pointers made with 274, and is the all-time UConn leader for three pointers in NCAA games. I had the pleasure of talking to Rashad in February 2009, by phone from Italy where he is playing basketball, and we discussed his basketball experiences, and time at UConn.
Rashad was a baseball player first before he began playing basketball with one of his cousins at about age 10. "One of my closest cousins would beat me one-on-one everyday because I wasn't that good and that drove me nuts. That's when I really started playing seriously." Rashad worked out so he could become the best he could. "Once I started beating my cousin, I felt like I could beat anybody."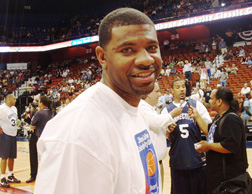 The winning soon began for Rashad. When he was on an age 13 and under Athletic Amateur Union (AAU) team they placed third in the nation. The following year on the 14 and under AAU team, they placed second in the country. In his junior year at Kathleen High School, Rashad's team won a State Championship. During the summer between his junior and senior years, Rashad went to a Nike camp where he did really well, and the college recruiting process started to take off. The colleges Rashad was considering included the University of Florida, University of Tennessee, University of Texas, and the University of Connecticut. "I can't really tell you how I chose UConn. I just knew. I just really felt like I belonged there. It's just one of those things when you go with your gut." While in high school he averaged 22 points for his career, and finished as the second leading scorer in school history. And his team was pretty good, too. In Rashad's four years, the team record was 106 wins and 24 losses.
The transition from high school to college was not a difficult one for Rashad. "You're not going to break me so I can play for anybody," he said. While at UConn Rashad became known as the "three-point specialist". As a sophomore Rashad enjoyed winning the Big East Tournament Championship, and the NCAA Championship. Halfway through his junior year at UConn he became ill. Rashad said, "I almost died. It was scary, beyond scary," he told me with the sound in his voice like it was yesterday, explaining that he suffered from a skin abscess on his leg. It took awhile to get strong again. His senior year started out very promising winning the 2005 Maui Invitational Tournament Championship, and the team expected to make it to the Final Four of the NCAA Tournament, but the season ended abruptly when UConn fell short in the regional finals of the tournament. Rashad opted not to dwell on the loss rather he was optimistic and said, "It was time for a new beginning, and a new chapter to start in my life. It was a tough loss but we had to move on." Accolades during his four years at UConn were: being honored four times as Big East Player of the week, reaching double figures 49 times in his career off the bench ranking him number two in UConn history, and as a senior Rashad was the Nation's leading scorer among players not in the starting lineup.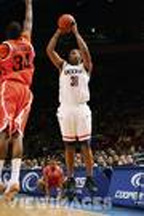 After Rashad's senior year at UConn he tried out for a couple of National Basketball Association (NBA) teams, and went to a couple of NBA workouts but was not drafted. "I wasn't drafted but I told myself I will make the NBA before my career is done." He went to Europe to play professional basketball. His first season was in Greece for a team called Egaleo BC where he averaged 16 points a game. The following season Rashad played in Italy for TDShop.it Livorno where he averaged 20 points per game, and his team ended the season one game out of the playoffs. Now in his third season Rashad is playing in Udine, Italy for a team called Snaidero. Asked if he's the three-point specialist in Europe Rashad responded, "You could say so but it's not like college anymore. Now I score every which way."

During the off season Rashad comes back to the states where each summer he is invited and participates in NBA camps with hopes of fulfilling his goal of becoming an NBA player. Until then he continues to enjoy playing in Europe. A typical day for Rashad is going to the gym working out most often twice a day. He refers to himself as a "gym rat." In the evening his team has a two-hour practice, and games are once or sometimes twice per week. Rashad commented that he enjoyed the Connecticut fans, and admits the fans in Italy are comparable. "They are very passionate about basketball as well. The difference is that the Italy fans are often escorted out of the arena by the police; they are somewhat wild and crazy fans."

When speaking about his former Coach Calhoun, Rashad simply said, "He's the same guy he's always been, crazy. That's my guy though. He's my guy."

Although Rashad is many miles away, he is still able to keep track of UConn basketball watching games on television. In order to make it to the Final Four this year Rashad said, "They have to continue to play well, they've got to defend, and they've got to make shots." If UConn reaches the Final Four, Rashad will still be playing in Europe, and won't be able to attend but he'll be watching them on TV for sure.

Rashad has lots of things to look forward to when he comes back to the states, whether it's pursuing an NBA career, or visiting his old stomping grounds at UConn. In addition he has his five-year-old daughter Naadirah, one-year-old daughter Sharai, and his girlfriend Aja Cox (they met at UConn) to come home to.

Rashad ended our conversation reflecting on a few memories while at UConn that will be significant to him for the rest of his life; winning an NCAA Championship, and the teammates he met while playing basketball at the University of Connecticut.