Hilton Armstrong was a Center for the UConn Huskies from 2002 – 2006. He played a key role in winning the 2005 Maui Invitational Tournament Championship, earning him a spot on the All Tournament Team. Hilton was also a member of UConn's second National Collegiate Athletic Association Championship Team in 2004, and one of the most improved players during his four years at UConn, resulting in being selected 12th in the National Basketball Association draft to the New Orleans/Oklahoma City Hornets. I had the pleasure of talking to Hilton in October 2006, as he reflected on his basketball memories and experiences as he awaits his first year as an NBA player.

As a youth growing up in Peekskill, New York, Hilton used to play basketball with his sisters and his friends for fun, but didn't become serious about the sport until around the tenth grade. Although Peekskill High School's boys basketball team didn't win any state championships while Hilton was there, the team did reach the championship game when he was a senior, losing to Amityville High School, where UConn's current player AJ Price was a freshman at the time.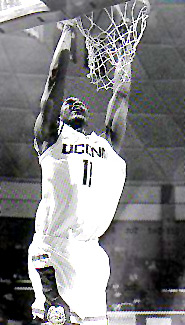 Hilton had some memorable games during high school, one being a game when the gym was full, standing room only, because former Duke University and Peekskill stand out Elton Brand's number was being retired. Elton was at the game along with NBA friends Corey Maggette and Darius Miles. During that game, Hilton's teammate and best friend Keith Skilton was coming down the court on a fast break. He was about to have the ball stolen from behind so he threw it up to the backboard. Along came Hilton grabbing the rebound from the hands of the other team's player, and just alley ooped it off the backboard. "It was my first time ever doing an alley oop, and it's so memorable because it was in front of a packed gym."

Another memorable game was a regional championship game when Hilton brought the wrong sneakers. "All the games that I went to, I wore two different colored sneakers, one red and one blue. For this game I was in a rush so I grabbed one of each color, and they ended up both being left sneakers. It was an away game so someone had to go to the store, and get me a pair of sneakers. (It's not easy finding size 14.) Just as the sneakers arrived, it was time for the jump ball, and the game to begin."

Another very interesting game in Hilton's high school career was during a tournament in Springfield, Massachusetts. Coach Calhoun was there recruiting another player, saw and liked Hilton, and introduced himself to Hilton after the game. "[Coach Calhoun] introduced himself to me, and I was like OK, I really don't know you but that's OK." Hilton at that time hadn't really been that serious about basketball for very long so he hadn't watched much college basketball. "When I told my teammates, they all knew Coach Calhoun, and said you have to go there (to UConn), they just won a championship a couple of years ago, and they were telling me what a great coach he is. I ended up going to UConn probably because my friends said UConn was the best school of all the schools that were recruiting me." Other schools that had been recruiting Hilton were Boston University, Siena Heights University and LaSalle University whom he had verbally committed to but withdrew when UConn became interested in him.

The transition from high school to college required some getting used to both personally and athletically. Hilton hadn't left Peekskill much before college, and he was now on his own. In relation to basketball it was a huge change. "Everybody was telling me to lift weights but I never thought it would make that much difference until I ran into Emeka Okafor (former Uconn basketball player). At the time Emeka weighed about 250 pounds, and I weighed 180 pounds."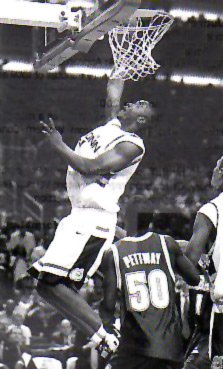 Hilton enjoyed many accomplishments during his college years. Among them were winning the NCAA Tournament in 2004. He was so proud of it he had a tattoo of the ring put on his arm. He was one of the most improved players during his college career. As a senior he was a key member of the Maui Invitational Tournament making the All Tournament Team. "I never played that good in my life. Because of that tournament, I knew it was going to be a breakout year for me." Hilton also received the honor of being voted Big East Defensive Player of the Year during his senior year. "It was my first personal trophy that I had ever received, and it meant a lot to me."

In June 2006, Hilton was picked 12th to the New Orleans/Oklahoma City Hornets in the NBA draft. He couldn't have been happier to be pleasantly surprised, selected as high as number 12 and able to enjoy the experience with his family, and friends at Madison Square Garden in New York.

Hilton had some positive things to say about Coach Calhoun. "He's a good coach that expects a lot. Even if you do your best he expects more, to push yourself, and make you better, and I think I really needed that."

His thoughts on the UConn 2006 team: "I think they're at least going to make the Sweet Sixteen in the NCAA tournament. They have a really good team. They will need some experience but coach will prepare them well."

Hilton ended our conversation saying that he will always try to represent Peekskill, New York in a positive way because that's home for him. He tries to get back to Peekskill to see his high school teachers, and talk to the kids about his experiences as often as possible. He's preparing for his first year in the NBA with daily workouts with the trainers and coaches. Hilton was always a fan favorite with the enthusiasm he showed, and he said the only thing that's changed for him is his location.