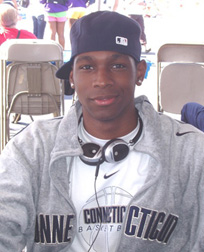 Craig Austrie was a Guard for the UConn Huskies from 2005 – 2009. He played a key role in leading UConn to the Final Four of the 2009 National Collegiate Athletic Association (NCAA) Tournament. He was a player on the 2005 team that won the Maui Invitational Tournament Championship. Craig was the Gatorade Connecticut High School Basketball Player of the Year his senior year in high school, a great in-state player that stayed in-state to play in college. I had the pleasure of talking to Craig in August 2010, about his basketball memories, and his first year of basketball post UConn.
Craig started playing basketball when he was a youngster and his dad gave him his first basketball. "I fell in love with the game. I've been playing basketball ever since. I practiced a lot and it got me to UConn."
When making his college choice, Craig had given a verbal commitment to play at UMass. When their head coach was fired, Craig was a senior in high school, he reopened his search. UConn was in need of a point guard when Antonio Kellogg was asked to leave the team. Timing is everything. Craig had narrowed his choices to Florida, Pittsburgh, Providence, St. Johns, and UConn. "Being an in-state player, UConn is every kids dream, and it was always my dream to come to UConn to play for Coach Calhoun."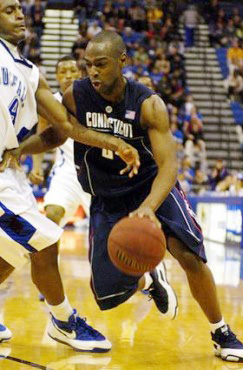 Craig had a very solid career while at UConn. He could always be counted on whether it be to step up because someone was out with an injury or out for academics. Craig was a great ball handler never turning the ball over; he made very few mistakes and was a good defender. He became known for his calm and composed demeanor late in games with an 89.2 free throw percentage with 24 for 31 when shooting in the final 2 minutes of games. He set a UConn freshman record with 14 assists in one game, and currently ranks third all-time at UConn in career free throw percentage 83.0. Craig had some extra help when it came to practicing. Three or four nights a week Craig's father drove an hour and three quarters to Gampel Pavilion to spend time with Craig, shoot baskets and rebound for him. From Craig's stats, his father's trips from Stamford to Gampel paid off. Craig once said, "My dad has helped me in basketball and just in life. He knows what he's talking about." Craig said his best basketball memory is having played for UConn. "Playing for UConn is definitely always on my mind. It's one of the biggest accomplishments of my life to have played for a Hall of Fame coach, and reaching an NCAA Final Four. I had a great four years there."
Since UConn Craig spent some time playing in the National Basketball Association (NBA) Development League for the Springfield Armor. He still has hopes of maybe playing in Europe or in the National Basketball Association (NBA). In the meantime he has opened his own business, Craig Austrie Basketball I Q Skills. "I'm training young kids that have a dream to play at UConn one day or any other program. I want to help them." If interested go to www.craigaustrie.net for more details.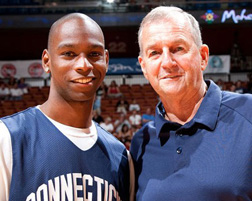 Craig is engaged to Heather Coombs. They met while he was at UConn but she was from Southern Connecticut State University.
Craig ended our conversation with some thoughts on Coach Calhoun, "On the court Coach Calhoun is not your friend. No coach is. Off the court he is an amazing guy. He will do anything to help you or offer advice to you."