Norman Bailey was a Guard for the UConn Huskies from 1980 – 1983. In October, 2004, I had the opportunity to talk to Norman as he reflected on his childhood as an athlete, his time at UConn, and his basketball experiences in Europe.

Norman became interested in basketball when he was 8-10 years old. He has five brothers and seven sisters. Norman's brothers all played high school sports, and he tagged along with them because they were his babysitters. He learned a lot watching from the sidelines, and began getting involved playing in the neighborhood, and with the Christian Youth Organization basketball teams. Norman grew up in the Blue Hills neighborhood of Hartford, CT, and played for St. Justin's CYO team. As the years passed, Norman played against a lot of the same kids from the CYO teams as his high school team, and his college team. He also spent much of his time playing at Kenney Park in Hartford, and that is where he honed his skills with and against many other street, high school, college and NBA legends.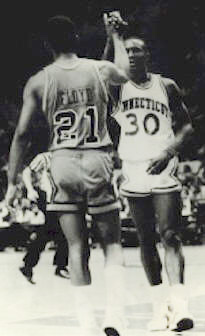 Norman went to Northwest Catholic High School in West Hartford, Connecticut. It was a rebuilding time at NW, and he had the opportunity to start on the varsity team as a freshman. The team record that year was six wins and 12 losses. The coach, Charles Larson, was a disciplinarian who made sure the team was fundamentally sound and stressed playing as a team. The team went on to win its conference three years in a row, were in the State Finals once, and the Semi Finals another year. By Norman's junior and senior year the team was very experienced, and Norman was being heavily recruited by about 350-400 colleges. John Thompson (former coach) from Georgetown University came to see Norman play, and went to his home to talk to Norman's family. Everyone expected Norman to choose Georgetown. "I chose to go to UConn because at the time the Big East Conference was starting, and I just wanted to be a part of that. You know the idea of CT grown athletes competing together. Coming from a big family, and having the opportunity to be at home, and play in front of my family, and the idea of a whole bunch of guys from CT competing is what lured me to UConn."

The transition going from high school to college wasn't easy but Norman felt like he fit in well. Everyone needs to realize that everyone was a High School All American, an All Stater, an All Conference to make the transition a little easier.

As a freshman at UConn, Norman was the sixth man off the bench at the beginning of the season, and was starting by the end of the season. Some games he remembers well were beating Georgetown in McDonough Arena when Patrick Ewing was a freshman. A game against Syracuse when UConn beat Syracuse badly, and it was one of the first times UConn had beaten Syracuse. "One of my most memorable highlights of my UConn career was when ESPN first started. They had me on the highlight film for what they called the dunk of the year. I had a break away slam dunk against Villanova in my freshman year in the Old Field House."

Sadly for Norman he was academically ineligible to play his junior year at UConn. "That experience pretty much saved my life because that was the first time I dealt with adversity, and when I look back in retrospect, I really didn't apply myself the way that I should have. It cost me my career."

Norman left UConn-Storrs and tried taking classes at the West Hartford UConn Branch, but was unsuccessful, became depressed, tried working but was also unsuccessful. He began spending some time with a former alumni of Northwest Catholic, Jack Phelan, who was the head basketball coach at the University of Hartford. Jack knew a coach overseas looking for some players so Norman was soon on his way to Europe where he landed his first pro contract in Northern Ireland, and during the next six years he played in Ireland, Portugal and Spain.

While playing in Europe, Norman's teams won a championship in Ireland, and two championships in Portugal. "I'm very competitive and we had some successful teams." During this part of his career, Norman averaged 30-35 points per game, and had a lot of 40-point games.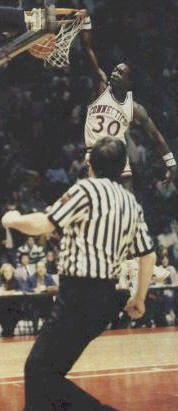 After six years, Norman decided it was time to come back to the United States. He missed his family. He began working with "at risk" youth in the Hartford, CT juvenile detention center as a detention officer for seven years. He also spent some time working as a transportation officer for three years in Bridgeport and Hartford. Norman became a supervisor for Community Solutions, and ultimately ended up at CT Job Corp. For the past four years he has been a shift supervisor for multiple departments managing the day-to-day operations in the New Haven office.

Norman's thoughts on changes in UConn basketball over the years is that UConn had joined the Big East Conference but the UConn administration was still a Yankee Conference mentality. "We got a lot of local talent back then, guys that came from the tri-state area where now they go out and recruit nationally, out west, people like Kevin Ollie from California and Emeka Okafor from Texas."

Norman's thoughts on the upcoming season: "They are going to be challenged every night, they have to bring their 'A' game. They are always going to be prepared and competitive. That's just the staples of Jim Calhoun teams, and they'll be fine."

Norman is currently engaged to Mary Odum of New Haven. They will be married in August and they reside in Hamden, CT. He has a daughter, Taniesha, 20 years old attending Savannah State University studying Business Administration. Three years ago his daughter Kristen Rose, passed away at age 10, as she had Down Syndrome and contracted pneumonia.
Norman still follows UConn basketball, attended 10-15 of their games this past year, and said it's a pleasure to watch them.