Wes Bialosuknia was a Guard for the UConn Huskies from 1964 – 1967. He is the only UConn player in history to average better than 20 points per game in each season, was a three time First Team All-Yankee Conference selection, and was the first academic All-American at the University of Connecticut. He's a member of the UConn Basketball All-Century Team, and a member of the first class of Huskies of Honor Program—to name just a few of his basketball accomplishments. I had the pleasure of meeting Wes in October 2007 as he reflected on his college basketball memories.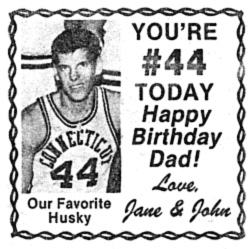 Wes grew up in Poughkeepsie, New York, and had more of a passion for baseball than basketball. "I wanted to make it to the major leagues as a baseball player, but one day my father asked me if I wanted to go to a basketball game. I walked into the game wanting to be a baseball player; I walked out wanting to be a basketball player." Wes proceeded to go to the library, read some books about basketball, worked on the mechanics, and shot 1000's of shots over the years. Wes wanted to be just like Jerry West (one of the greatest Guards in National Basketball Association history) even taking #44 on his jersey like Jerry.
Wes went to Franklin D. Roosevelt High School. He
and teammates Rich Rinaldi and Greg Kohls were three players who were in the top ten in scoring in the nation over a span of three years. "We teammates as youngsters would go to the park about a half-mile from home, bring a snow shovel to shovel the court, and shoot hoops in the middle of the winter." While at Roosevelt High, Wes set a record-scoring 40 points in one game, and during his senior year averaged 28 points per game. He also enjoyed going to their division tournament in White Plains, New York each year where his team won four straight years. His senior year division tournament was the toughest. They were not expected to win playing against the hometown team, White Plains. "They had six or seven guys who could dunk the ball compared to our one guy who could dunk. We won on a last second shot at the buzzer. I was being double-teamed so I got the ball to one of my teammates who took and made the shot."
Wes received a few recruiting letters and then quite a few more after winning his high school tournament. "I wanted to go to UConn. I had gone to UConn with my dad a couple of times and I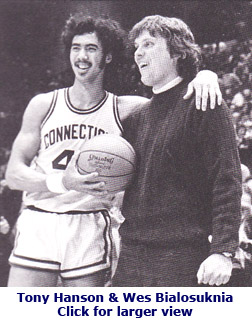 really liked it but they didn't have a scholarship for me." Wes went on a recruiting visit to Syracuse University one Sunday afternoon where all the coaches wanted him, so Wes said, "Okay fine, I'll go to Syracuse." On Monday, UConn head basketball coach Fred Shabel called and said he had an available scholarship. Wes explained he had verbally committed to Syracuse. Within two hours (the amount of time to drive from Storrs, CT to Poughkeepsie, NY) Coach Shabel was at Wes's house. "Coach Shabel is a great salesman. After an hour I said okay, I'm going to go to UConn. I liked his personality and the ride between Storrs and Poughkeepsie. It was better than the New York Thruway to Syracuse. Coach Shabel was a great recruiter. He recruited the great recruiting class I was in with Tom Penders, Bill Holowaty, Ron Ritter, P.J. Curran and Dick Thompson. Let's not forget UConn also had Toby Kimball at the time. To this day I think Toby is the greatest player in UConn history. He was the whole package, a great rebounder, leader and person."
When Wes arrived at UConn he found the transition from high school to college somewhat difficult. "It was a big transition in total. I remember I was at UConn for about a month and I thought, I don't know if I can play here. I took off one weekend and went back to Poughkeepsie and my father said, "Look, you accepted a scholarship, you go for it." I went back to UConn that following Monday and I'm glad I did."
Wes was a long-range shooter and some say he may be one of the best in National Collegiate Athletic Association basketball history. Coach Shabel had given him the green light to shoot whenever he wanted. Other players may have been given the green light but never to the degree of an outside shot like Wes's. Wes wasn't known for his defense. He was happy to let the other team shoot so he could hurry up and get the ball back. By his sophomore year he had been given the name the "Poughkeepsie Popper" by the well know WTIC radio announcers George Ehrlich and Floyd Richards. Numerous times during Wes's career at UConn listeners would hear Ehrlich say "He stops…he pops… swish… Bialosuknia scores from downtown Storrs," as he'd describe a 30-foot jumper by Wes. To this day Wes is often referred to as the "Poughkeepsie Popper".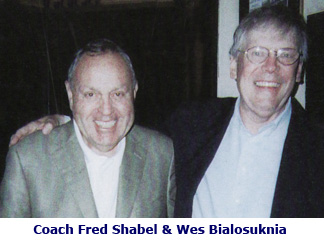 Wes owns the record for single-season scoring average 28 points per game during his senior year, (the same scoring average as his senior year in high school) career leader in free throw shooting percentage 83.9%, and is number seven on the career scoring list with 1,673 points in only three seasons without a three point line. Coach Shabel once said, "Half of Wes's shots were beyond today's three point line."
If points were counted then the way they are now, Wes would have a lot more points.
One of Wes's favorite games was against Boston College his sophomore year when the Huskies beat a quality team on the road in overtime. Another memorable game was as a senior, his final home game at the Field House. Wes had scored 40 points, and some people say it was one of the noisiest games ever at the Field House. There was also the Maine game when Wes broke the record-scoring 50 points in one game. On the same night at 38 points he broke the all-time scoring record. "It was one of those games where I was shooting from the outside and I'd take the shot and say well that shot isn't going in but it did, more than once." The most memorable disappointing game was a loss. It was a playoff game during his junior year versus the University of Rhode Island. If they had won they would have been invited to the NCAA. If they lost they'd be invited to the National Invitational Tournament. "After the game UConn President Homer Babbidge came to the locker room and said we couldn't go to the NIT. We were all set to go and he said no. I have no idea why he made that decision. We were told later that he had made the decision prior to the game that if UConn lost, we would not be going to the NIT."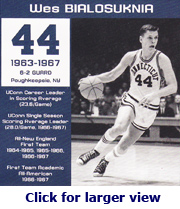 Of his numerous accomplishments at UConn, Wes is most proud of being honored as the school's first Academic All American. He graduated from UConn with a Bachelors Degree in Economics with a minor in Political Science.
After UConn Wes was drafted in the National Basketball Association in the fourth round by St. Louis. "I never signed with St. Louis because they wouldn't give me a no-cut contract. The American Basketball Association (ABA) offered me a three year no-cut contract so I went for it, and played for the Oakland Oaks." After his first season he got traded back to Hartford, CT where he played in the Eastern League for two years. The ABA had a three point line, and Wes set a record scoring nine straight. When the merger between ABA and NBA took place in 1976, Wes still held the record.
After his ABA three year contract was up, Wes decided to put the basketball away. "I realized my playing days were over. There were other things in life." He worked at The Hartford Times followed by The Bristol Press in the Circulation Department for many years. He met his wife of 33 years, Maureen, who at the time didn't know anything about his basketball skills. Maureen went back to school to become a registered nurse. They had a family, a son John, 26, who enjoyed the sport of baseball more than basketball, and a daughter Jane, 28, who was a good basketball player specializing in three-point baskets, but she has also put the basketball away, and made Wes and Maureen grandparents to two children, Tomas and Sophia.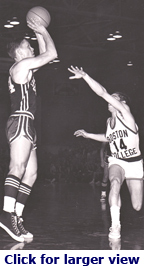 Wes's priorities had changed and UConn basketball was no longer a priority. "Things had changed at UConn. Students resented authority and I represented that for so many years. The radicals took over the administration building, trashing it, and I said, this is not the UConn
I went to."
Wes and Maureen have become interested in the outdoor sport of climbing. The have climbed 40 of the highest peaks in the USA. They have driven cross country and back twice, and enjoy Bear Mountain, Connecticut's highest peak in the northwest corner. "Once I knew my playing days were over, things that I was never interested in all of a sudden became interesting.
Wes also developed Cubital Tunnel Syndrome, a condition which
affects the ulner nerve, one of the main nerves in the hand.
Maureen had noticed it when they first met, and it has progressively gotten worse. "Maybe three years ago I went outside to shoot some three pointers through the basket that remains on my garage, and
I just couldn't do it."
Wes has remained a private person for almost 40 years. He was present at a game in 1977 when Tony Hanson broke his record for total points. It wasn't until the year 2001 that Wes was at the Hartford Civic Center again, and that was for a game to be honored as a member of the UConn Basketball All-Century Team. February 2007 was the first time Wes entered Gampel Pavilion to be honored as one of 16 all-time UConn greats inducted in the first Huskies of Honor Program. It took some time but he's ready to reflect on those days as the Poughkeepsie Popper, and maybe we'll even see him at a game at the Hartford Civic Center some day soon.