Josh Boone was a Forward/Center for the UConn Huskies from 2003 – 2006. He played key roles in winning the 2005 Maui Invitational Tournament Championship, the 2004 National Collegiate Athletic Association Championship (NCAA), and the 2004 Big East Championship. After three seasons at UConn, Josh was selected 23rd in the 2006 National Basketball Association (NBA) draft to the New Jersey Nets. I had the pleasure of talking to Josh in February 2009, as he reflected on his basketball memories and experiences.
Josh began playing basketball at the age of five with a Christian Youth Organization (CYO) team in New York where he lived until he was ten years old. "My CYO team was actually very good. We won the State Championship one year, and the next three years we made it to the state semi-finals." When Josh's family moved to Maryland when he was 10, he joined a "travel" basketball team. It wasn't until junior high school that Josh joined an Amateur Athletic Association (AAU) team. When he reached high school his AAU team was consistently one of the top 20-25 teams in the country. "It was always kind of my dream to be an NBA player. While I was playing AAU was when I realized that I was going to have a decent shot at going to college, and playing basketball for a college team." Josh's AAU team was getting a lot of interest from college coaches resulting in six or seven players that went on to play basketball at Division I colleges. One of Josh's teammates on his AA team was Rudy Gay. Josh chose UConn and helped UConn to "seal the deal" to get Rudy to choose UConn the following year when he made his college decision.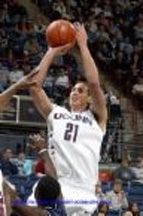 While gaining visibility from his AAU team, it was around the summer before his junior year at South Carroll High School that Josh began receiving college recruiting letters. "It was a great feeling to know that colleges were interested in me." Josh had narrowed his college choices to five or six but his top two were the University of Connecticut, and the University of Kansas. "I chose UConn for a lot of reasons: It was closer to Baltimore where my family was, UConn is a great academic school, Coach Calhoun has produced many NBA pros, and to have the chance to play basketball with Emeka Okafor (already a UConn team member at the time)."
After graduating from high school, Josh spent a year at West Nottingham Academy (a college prep school) in Maryland, prior to coming to UConn. The following year, when Josh arrived at UConn the transition to the college level was a little tough at first, adjusting to the speed of the game, and the size of the players. "Like most things in life the more time you spend the better, and more comfortable you become." During Josh's freshman year at UConn he was named to the Big East All-Rookie Team, and set a Big East Tourney record for rebounds in a game by a freshman with 16. As a sophomore Josh was named Big East Defensive Player of the Year averaging 12.4 points, 8.4 rebounds and 2.9 blocks per game. Josh's junior year was memorable winning the Maui Invitational, being named to the National Association of Basketball Coaches (NABC) All-District Second Team, and All-Big East Honorable Mention. In total during his three years at UConn Josh started 100 of 103 games with the 2004 Final Four games being the most memorable. "The Duke game in the Final Four I remember most and definitely winning the National Championship (NCAA) is the best memory along with everything that came with it; the parade, and the drive back from the airport to the campus, and all the fans along the way."
It was time for Josh to go to the next level, the NBA. After Josh's junior year at UConn he entered his name into the 2006 NBA draft where he was selected 23rd to the New Jersey Nets. "Draft Day was an exciting experience. It was the culmination of something that I always wanted to do, play basketball professionally in the NBA." Like the transition from his AAU team to UConn, the transition to playing in the NBA where every player is great, took time to adjust to. Josh was able to go through this adjustment with former UConn teammate Marcus Williams who was also selected in the 2006 NBA draft to the New Jersey Nets. "It was definitely easier to go through a transition like that with someone that you know, and that you've been around for awhile. We were able to help each other out." In addition to the first year transition, Josh started his first season with the Nets recovering from shoulder surgery. By the beginning of his second year with the Nets, Josh became a starter for the team averaging double doubles almost every game. In the current season, Josh's role has changed; he's making some adjustments, and is optimistic things will turn around a little. Each and every day is filled, whether it is a shoot around and a game, or a practice day followed by autograph sessions, or practice followed by travel, Josh stays busy.
Josh had some very positive things to say about his former coach. "Coach Calhoun is a great motivator, and judge of talent. He wants the best for all of us, and is great at getting the best out of his guys. He has a ton of experience, and a great track record."
Josh's thoughts on the current team reaching the Final Four: "It's going to take a really balanced effort. Everyone must do what they do best, and if everyone contributes, I think they're going to have a good shot at reaching the Final Four. Some of the guards can really create things for other players, the big guys down low can score, and the wings can shoot, and run the floor." If UConn reaches the Final Four in Detroit, Josh is hoping his NBA schedule will permit him to be there to support his former teammates. He'd also get to experience the enthusiasm of the Connecticut fans again, something he really misses in the NBA. "In Connecticut everyone comes to see and support UConn men's and women's basketball."
Josh ended our conversation saying that all of his experiences at UConn will play a part in the rest of his life. "In college you learn how to handle yourself, how to be on your own, and how to manage your time, all of which helped me to figure out how to run my life."