Bobby Boyd was a Guard for the UConn Huskies from 1968 – 1971. He's a member of the UConn Basketball All Century Ballot; he was a 1,000 point scorer, a two-time team Most Valuable Player, and in 2004 was inducted into the New England Basketball Hall of Fame. I had the opportunity to talk to Bob in January 2005 where he reflected on his basketball memories and experiences.

Bob was born in Quincy, Massachusetts. It wasn't until he was 10 years old that he had ever touched a basketball. His family moved to Worcester, MA directly across the street from a basketball court. Nintendo, PlayStation and Xbox didn't exist so Bob and his brother Doug would play basketball for hours. Bob was very quick, and was becoming a pretty good player. Bob also spent time at the Lincoln Square Boys Club in Worcester, MA, a place that was influential throughout Bob's life, with a group of kids having fun,learning basketball skills. When he reached the ninth grade he played for his school team. During one game Bob scored 45 points. The coach from the local Catholic private high school was watching, and recruited Bob to St. Peter's High School on a scholarship.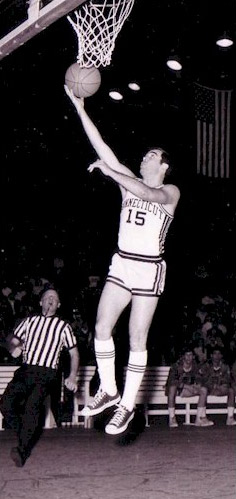 Bob was not welcomed with open arms by his new classmates at St. Peter's. They had been at St. Peter's since kindergarten, and weren't looking for competition for playing time on the court. Bob proved himself though. "My very first game I played at St. Peter's I scored 35 points, and went on to lead the city of Worcester in scoring three consecutive years, and as a senior I averaged 30.2 points per game. While at St. Peter's Bob and his teams didn't win any state championships but during his senior year the team made it to the state semi-finals. Bob's coach was Vic Stevens who was a marvelous influence on Bob's life. Bob left his mark at St. Peters as the all-time leading scorer with 1,618 points. During his senior year in high school, Bob also played at the Dapper Dan Classic All American Tournament presently called McDonald's All American Tournament, which was a great experience.

Bob was recruited by many colleges; Boston College, Villanova, UMass, North Carolina State, and UConn were among them. His parents and coach wanted him to go to Boston College where former Boston Celtics player Bob Cousy was coaching. Bob almost decided to go to BC but luckily his coach Vic Stevens had heard that Bob Cousy was going to move on to another sports career within two years. Bob went on a recruiting visit to UConn and said, "There was just something about the ambiance at UConn." After going to a game at UConn seeing Wes Bialosuknia play, Bob made his decision and said, "Unless you experience it, it's hard to understand."

When Bob arrived at UConn it was a big adjustment from high school. "You always knew that there was someone coming up to try to get your job so even during my senior year I knew I had to produce. It was good competition and motivation." As a sophomore, Bob played off the bench, and averaged 12.5 points per game. Interestingly, a new coach was brought in when he was a junior. Coach Dee Rowe had been a coach at Worcester Academy in MA, whom Bob knew from when he was a youngster having attended Coach Rowe's basketball camps. Bob said, "Coach Rowe knew what I could do. I was very fortunate because the ball was kind of set up for me a little bit." As a junior Bob averaged around 25 points per game with several games over 30 points. During his junior and senior years UConn won the Yankee Conference, and Bob was chosen First Team All Yankee Conference, and first Team All New England.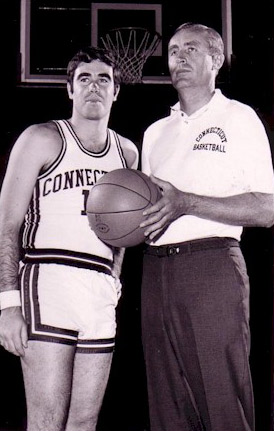 One memorable game while at UConn was a game that Bob remembered clearly at Holy Cross, MA. "I was going out of the locker room, and coach Rowe grabbed my shirt and said, 'Bobby let me tell you, relax, relax, you are so up' because kids I went to grammar school, junior high, high school, and all my relatives were at this game. It probably turned out to be the best game of my college career. I scored 38 points, had 10 assists, and I played a heck of a game on defense. I was 10 of 12 from the field, and 18 of 18 from the free throw line. I had a marvelous game, and coach really had me ready for that game." The game that was most important to Bob was during his senior year, he scored his 1,000th point against Holy Cross at the Field House. The game was stopped to recognize him for his accomplishment. It was a sold out game, and Bob's parents were in attendance.

After UConn Bob began work back in his hometown of Worcester, MA with the Department of Youth Services in the Recreation Department for the state of MA. He was also an assistant basketball coach at St. John's High School (a local school). After five years Bob moved to Burlington, Vermont, and opened an insurance agency with a friend selling insurance for the next seven or eight years. He also played basketball in a community league, and as people found out he had played Division I college basketball, they recruited him to coach the local high school team at Rice Memorial High School.

The team's record at Rice was 1 win and 19 losses. After Bob's first year of coaching the record was 12 wins and 8 losses. A few years later the team won the Division I State High School Championship. Bob really enjoyed coaching, moving on to the college level when he accepted a position of Head Coach at Vermont Technical College, a Division III school for the next five years.

Sadly Bob's wife, Julia, became ill with breast cancer, passing away, leaving Bob with 2 ½ year old son Brendon. Life became much more challenging. Bob remembers Coach Rowe telling him, "Bobby the most important game of your life right now is Brendon. You have to focus on that." Bob took the advice, gave up his time-consuming college basketball coaching job, and moved back to Worcester, MA where he had a lot of family that could help him. Back in Worcester, Bob became a sales manager at a car dealership for a few years. Brendon was getting involved in sports, and Bob wanted to coach the little league team, and the basketball team. He gave up sales, and began work as a counselor at the Grafton Job Corp in Grafton, MA and coaching their basketball team. "I love the job I do, it's counseling, and its tremendous gratification so it's kind of like the same thing that I did 25 years ago." Bob is very active in his church, Grace Baptist, volunteer coaches a youth program at Holy Cross College, and from time to time plays a little basketball with the local community league. In 2004 Bob's basketball experiences were commended by being inducted into the New England Basketball Hall of Fame; Class of 2004. Other UConn greats inducted with Bob were Jimmy Foster, Coach Geno Auriemma and Swin Cash.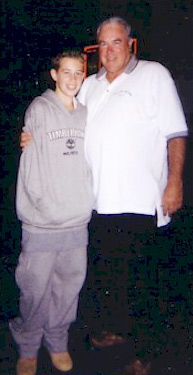 In addition to his son Brendon now 13 years old, Bob also has two daughters from a previous marriage. Shannon, age 25, who was a very good basketball player in high school, and is a teacher in Oregon. Colleen, age 24, was a very good softball player in high school, and currently owns a cleaning business in Oregon.

Bob and Brendon both follow UConn basketball making a trip back to CT every year to see a game. Bob loves Coach Calhoun's style of basketball; up and down, run and shoot, that's how Bob liked to play. He thinks Coach Calhoun does a fantastic job, and is the premier coach of basketball today. Bob predicts UConn is going to have a great year, and are going to go deep into the National Collegiate Athletic Association Tournament this year.

Bob ended our conversation by saying, "UConn basketball is like a religion. It's the greatest program in the country, in my opinion it's just the best. It touches your life, and it continues to touch my life. Coach Rowe is the most influential person in my life today, and still remains a very, very good friend. It was an honor to play for Coach Dee Rowe. The UConn connection still today shapes my life a little bit. Going to UConn was one of the greatest experiences of my life."