Anthony "Bud" Budzinsky was a Center for the UConn Huskies from 1967 – 1970. In April of 2006, I had the opportunity to talk to Bud as he reflected on his basketball memories as a player, a coach, and his career experiences.

Bud grew up in Willimantic, Connecticut in a housing project where there was always some sport- basketball, football or baseball, competition to become a part of. "You just walk out the front door, and it was game time." Being from a family of tall people—his mother was 5' 11", his father was 6' 3" and Bud, and his brother were 6' 8"—basketball became a natural sport to play.



While at Windham High School, Bud played basketball on teams that were not very good, usually winning 6 – 8 games per season. During his senior year, Bud was recruited by the University of Connecticut Head Coach Fred Shabel. It was an easy decision to go to UConn, Bud wanted to stay close to home so his family would have the opportunity to see him play. His mother had been diagnosed with colon cancer when Bud was a senior in high school, and she died during his freshman year at UConn.

"Our freshman team was very successful. Unfortunately a number of talented athletes could not maintain the academic standards, and had to sit out." During his sophomore and junior years on the varsity basketball team, the teams were not as successful. As a senior, new Head Coach Dee Rowe turned the program around. "He was what you call a players coach. Someone who cared about everyone as an individual during the season, in the off season, and after you graduated. He cared about you as a person as well as an athlete. He is an outstanding human being."

While playing at UConn the team was in the Yankee Conference, and their rivals were the University of Massachusetts, and the University of Rhode Island. As a senior Bud has fond memories of two games against UMass with Dr. J. (Julius Erving). UConn beat UMass at their home court in overtime but UMass beat UConn on UConn's court. "When you look back, I'm able to say 'Gee, I played against Dr. J'. He was raw talent at that time, and he got exponentially better each year." Another game Bud has a fond memory of, even though he didn't play because he was ill with strep throat, was the famous slow down game against the University of Rhode Island. A number of UConn players were accused of criminal behavior, and were suspended from playing. They were later acquitted of the charges. Being ill, all Bud could do was cheer for the team from the bench. Teammates Doug Melody and Bobby Staak played a slow down game against URI with a team of very talented individuals. UConn won 35 to 32. "It was a masterpiece by Coach Dee Rowe to design our game plan. It was an unbelievable game, and my last game as a University of CT basketball player. The bottom line is, we won, and we always believed we could win. The confidence Coach Rowe instilled in us, we believed we could do just about anything with him as our leader. That's who he was, a tremendous leader – a passionate individual."

Bud graduated in 1970 with a Bachelors Degree in Social Studies and Anthropology with a minor in Math. He wanted to be a basketball coach and math teacher so Bud pursued a Master's Degree at UConn, and while going to school he had the opportunity to be the assistant freshman basketball coach. During that year, while assistant coaching the freshman team, Bud had the opportunity to learn from both Coach Dee Rowe, and his assistant Jim Valvano which was an outstanding experience. "Having known Jim Valvano, and working with him, another person who loved life, loved people, and cared about getting the most out of everyone in working together, was a great experience. Jim and Dee were very compatible."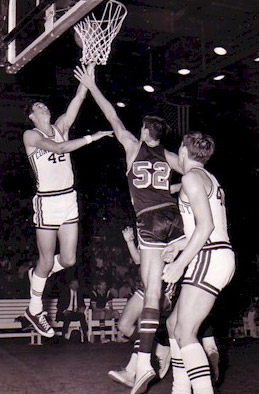 After finishing his Master's Degree, Bud's first job as a math teacher was at Norwich Free Academy, and he became the freshman basketball coach with an overwhelming 120 kids trying out for the team. After cutting the team down to 20 kids, they went on to have a 20 win and 0 loss season, a great experience for Bud. Bud's next job was at Griswold High School in Jewett City, CT as a math teacher, and head coach of the basketball team for two years. He enjoyed some outstanding athletes, Roger LaFrance who later played for the Boston Red Sox, and Robert Arremony who played basketball at the college level, and later became an athletic director and head basketball coach. Bud had purchased property in Killingworth, CT and wanted to have a job closer to his home so he became a teacher and basketball coach at Old Lyme High School for the next five years. During his last year at Old Lyme he gave up coaching at the high school level, and became a coach at Middlesex Community College. Bud's next and current position for the past 27 years is at The Morgan School in Clinton, CT where he has been a math teacher, and more recently the math department head. After teaching mathematics for 35 years in the state of Connecticut, Bud plans to retire in June 2006. "My job has never been like work to me. I tell the kids at school, most importantly find a job you like. If you enjoy what you're doing, doing it makes your life a lot easier for you, and the people around you."

Bud continues to follow UConn basketball watching both the UConn men and women. "Watching them, my adrenalin is pumping, I get involved and if the games are close, I have trouble sleeping. Sometimes I force myself not to watch the games so I can sleep because as a teacher my day starts at 5:30 – 6:00 AM." Bud said the game has changed considerably over the years. "The three point shot has made a difference, and the fact that freshman can now play at the varsity level (in the 1960's you couldn't play varsity your first year). It's a much faster game, and Division I programs like UConn have talent and depth beyond 5-6 players."

Bud's thoughts on Coach Calhoun: "I think he's done a marvelous job. He's one of those people who can take all these talented individuals, and create a working unit." Regarding the 2006-2007 team, Bud said, "It's tough when you lose experience. It may take a year to develop another cohesive unit but Coach Calhoun and his staff have been able to do that over his coaching career at UConn."

Bud and his wife Fie have been married for 32 years. They met at UConn on a blind date when Bud was a sophomore and Fie a freshman. Fie got a Bachelors Degree in Chemistry from UConn, and then went to graduate school at Florida State University earning a degree in Chemical Oceanography. Fie was unsuccessful in getting a job in her field because she was not able to navigate a boat so she went back to UConn, and received a graduate degree in education. She's been teaching for 33 years, and is currently an administrative head of technology and curriculum at Portland High School, and in 1996 was Connecticut teacher of the year, and was one of four finalists that year for National Teacher Of The Year. Bud and Fie have two daughters; Britten, has a master's degree in science and is a sixth grade science teacher in Meriden, CT. Bryce is a paraprofessional in Wallingford, CT, and will be starting a master's degree program pursuing social work, psychology or special education.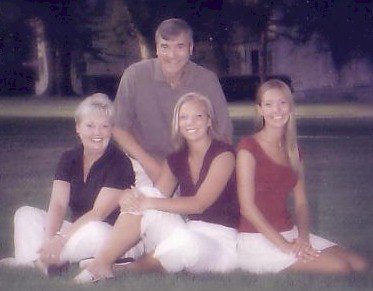 Bud emphasized how fortunate he was to have been coached for one year by Dee Rowe, and how Coach Rowe had an impact on his and Fie's life. "It's people like Dee Rowe that you look back at how he made a difference in your life. I was very fortunate to have one year to work with Coach Rowe and Coach Valvano. It doesn't get any better than that."