Don Burns was a Guard for the UConn Huskies from 1954 – 1957. He's a member of the UConn Basketball All Century Ballot, was a member of three consecutive Yankee Conference Championship teams, two National Collegiate Athletic Association Tournament teams, and one National Invitational Tournament team. I met Don in August 2005, where he reflected on his collegiate, and post-collegiate basketball, and career memories.

Don began playing basketball as a youth. His interest in playing at UConn became clear when he was at The Bulkeley School in New London, CT. He played on the basketball team along with Art Quimby and Gene King, two players that later went to UConn. With this talented pool of players, Bulkeley won the State Championship, and the New England Championship. The Bulkeley School closed so Don finished high school at New London High School where he enjoyed winning another New England Championship. UConn, along with other schools, was interested in Don. He chose UConn so he could stay in state, and he was looking forward to joining his former high school teammates, Art and Gene. "I planned to live, and work in CT, and thought a UConn background would surely help."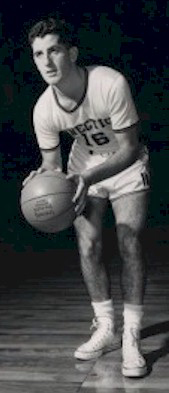 Don's first year at UConn, he played on the freshman team (in the 1950's you couldn't play varsity your first year). "I was fortunate to play on a freshman basketball team that did very well, and had a couple of outstanding players on that team, Bobby Osbourne and Fran Quinn. While Don was a freshman, the varsity team beat the Holy Cross College at Holy Cross. It was a huge win." That was the year that Holy Cross College had Togo Palazzi and Ron Perry, and all those good players. We happen to beat them at their home court, and UConn just took off from there." The following year Don was on the varsity team, and again the team was outstanding. The highlight of that year was playing at Madison Square Garden in the National Invitational Tournament. "We played against St. Louis, and I think we set the record for scoring." During Don's junior year, when he was playing in the Miami, Florida Tournament, still happy about it today, he said, "We won that tournament even though Pittsburgh, who also played in the tournament, had one of the best players in the country." When Don was a senior, the game he remembered most was in the NCAA Tournament, UConn lost but they played against Temple University who had some of the greatest players Don ever saw on their team. Don said during his own basketball career he was known more as an assist man than a scorer.

While at Uconn, Don also played baseball for four years. A memorable baseball experience was during his senior year, when he participated on the first team that played in the college world series in Omaha, Nebraska. UConn had to play Springfield College to decide which team would go on to Nebraska. UConn wasn't expected to be playing in this game, and it turned out to be on the day that Don was getting married. After getting married, Don and his new wife left the reception to go to Springfield to play in the game. UConn won and went to Omaha. They lost in Omaha but Don said, "It was still a thrill to have gotten that far."

Talking about UConn sports, Don remembered it like it was yesterday. We looked through a scrapbook that his mother kept for him. The articles may be a little discolored, but the memories were fresh. The scrapbook also included game passes Don received for his parents to attend games, and the postcards Don sent while traveling. Don shared one of the postcards for this website.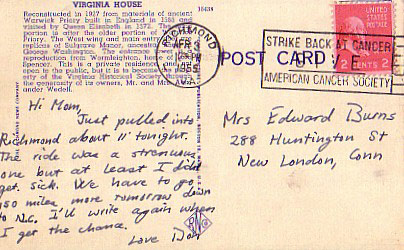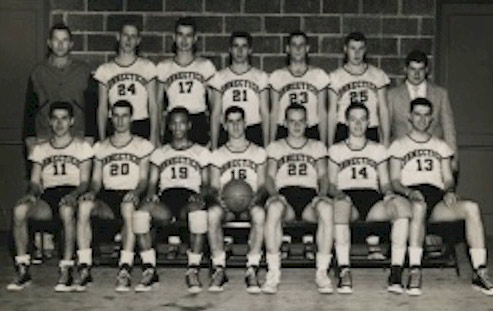 After graduating from UConn with his Bachelor's Degree in Physical Education, and being a member of the Reserved Officers Training Corp program, Don was commissioned as a Second Lieutenant, and went to Fort Benning, Georgia, to Infantry Officers School. He served seven-and-a-half years in the active reserves. While in the reserves, Don went to the Columbia University, and earned his Master's Degree in Education. His first teaching, and coaching position was at E.O. Smith High School in Mansfield, CT (right near the UConn Campus), and in addition he coached the freshman UConn basketball team. "We had a good team that year. I remember Dom Perno, Billy Della Sala, Alan Ritter, and Ed Slomcenski were just some of the players on that freshman team I coached."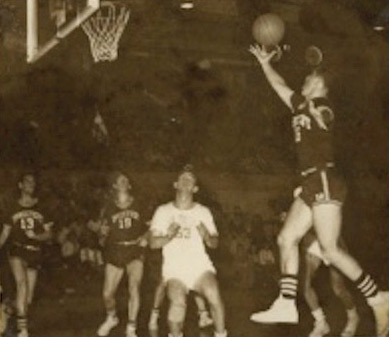 The following year Don accepted the Athletic Director and Basketball Coaching position at the newly opened East Catholic High School in Manchester, CT. During his seven years there, his basketball teams won two State Championships. Two State Championships is a great accomplishment, but Don was humble as he simply said, "I thought I had a good career at East Catholic." Next he was Head Basketball Coach at the University of New Haven, CT. During eight years there he had success participating in many post-season tournaments. Don's final coaching stop was as assistant coach at Yale University in New Haven, CT for six years. Around 1982 Don gave up coaching to open The Burns Insurance Agency and recently retired after 22 years. His son now manages their two offices in Naugatuck, and Seymour, CT, and Don continues to work part time.

When discussing his thoughts on how basketball has changed over the years, he said, "The size of the players has changed. I remember Art Quimby was our center at 6'5", and has the record for most rebounds at UConn, now Centers are 7'0".

Don continues to follow both men and women UConn basketball games. "I'm still a big UConn fan, and appreciate what they've done for UConn, and CT, and I'm proud to be a former UConn player."

Don said, "On paper, UConn has a great 2005-2006 team, and have a chance of winning it all again (referring to winning a National Championship), but a lot can happen during the season, and if everything comes together I still think they could be a force in the national picture."

Don and his wife, Ann, have been married 48 years, and have known each other more than 50 years. They met while in high school when Don was a basketball player, and Ann was a cheerleader. They have six children ranging from age 48 down to 29. Kevin, Kathleen, Kenneth, Kristin, Kyle and Kari. All have graduated from college, and Kathy is a UConn graduate. "All the kids have had good careers and I'm very proud of them. I'm very pleased with what's happening with my family, and the success of my children, and the health of our ten grandchildren, who range from 12 years old to 4 months." Don and Ann enjoy spending time with their big family. Don feels very fortunate to have the career, and success he's had both in athletics, and in the insurance business.

Don ended our conversation saying, "The association you get playing is a meaningful thing. I think that anyone who has a chance to play on a team no matter what level, it makes you grow, and learn the important facts of life about dealing with adversity, and people, and makes you a better person."