Ron Bushwell was a Guard for the UConn Huskies from 1953-1956. He's a member of the UConn Basketball All Century Ballot, was a member of three straight Yankee Conference Championship teams, two National Collegiate Athletic Association bids, one National Invitational Tournament bid, and was an All-Yankee Conference first team pick. In July 2004, I spoke to Ron as he shared some college and post-collegiate experiences.
In 1950, during Ron's senior year at Lady of the Valley High School in Orange, New Jersey, his basketball team was a powerhouse team, and won the State Championship. Upon graduation he went to Carter Education Prep School as a post-graduate, primarily to play basketball. He later accepted a basketball scholarship at St. John's University in Brooklyn, New York. By December of his freshman year, he left St. John's for a number of reasons, and found himself back at Carter Ed. Prep School, and working in a factory. His coach at Carter Ed., Mr. Caliguay, knew Coach Hugh Greer at UConn, and offered to call him, with hopes of interest to talk to Ron. Ron, who had never been out of New Jersey or New York, hitchhiked to Connecticut in search of UConn and Coach Greer. "I went to the train station in Hartford, CT and I called Mr. Greer. He was not in. His wife answered, and said the coach was trapping. I had no idea what the word trapping was. We certainly didn't do that in NJ," he said, referring to trapping, a form of hunting. Coach Greer returned Ron's call, and invited Ron and his father to his home, interestingly on Dog Lane. "We went up to Storrs, and had dinner with the Greer's. I had never seen a campus like that before. It was beautiful."
Soon Ron was matriculating at UConn. He was not eligible to play the first year because he had played basketball one year at St. John's, so with some spare time he got a job at the campus deli, and was a short order cook making 75 cents an hour. The deli was frequented by a number of professors. David Ivory, an insurance professor, was one of them. "One day he came in to the deli while I was mopping the floor. Ivory stuttered a bit, and said 'Ron, wha wha what are you going to do with your life?' I said, sir I'm going to be a basketball player, and I'm going into marketing. Ivory put his arm around me and said, 'you know you can't play basketball all your life.' He said 'I want you to enroll in my insurance classes.' I did, and over the next couple of years I took four or five classes with him. He was probably the best or one of the best teachers to ever come out of UConn. My dear, dear friend."
While at UConn, Ron was co-captain of the basketball team in 1956 with Gordon Ruddy. "One of the great games in the history of UConn was the first ever NIT game, at Madison Square Garden in 1955. The third game of a triple-header. The first game was Lafeyette versus Niagra. The second was Seton Hall versus St. Francis of Loretto, and the third was at 11:00 PM with 19,000 people, UConn playing St. Louis Billikens. We lost 110 – 103. It was the highest scoring game in the Garden for many, many years. Jim Ahearn and I had 50 points between us, and Art Quimby had a ton of rebounds." Another big game was in 1954 playing Holy Cross, a powerhouse team loaded with great players. The winner would be number one in New England, and go to the NCAA. The loser went to the NIT. With five seconds left in the game, a Holy Cross player stole the ball, and went in for a lay up. UConn got the ball back, took it out at half court, and Worthy Patterson faked a shot, and drove in for a lay up, and UConn won the game 78 – 77. While Ron was at UConn, another memorable game was playing in the first game ever at the Hugh S. Greer Field House.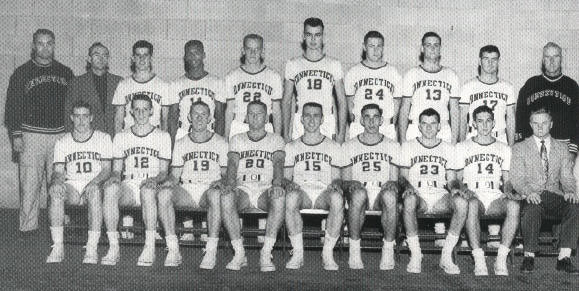 1954-55 NIT Team
Comparing his basketball experiences to today, Ron said it's a different environment. The Big East made a big difference at UConn. Basketball is a big-time business today. "Both Coach Calhoun and Coach Greer are/were outstanding coaches, outstanding in attempting to teach these fellas basketball, but also, that there's a little bit more to life after basketball, which is pretty important."
Ron thought both the UConn men and women winning National Championships this year was superb. As for next season he thinks the men have the nucleus of a fine team coming back, and some good recruits coming in. He thinks Coach Calhoun is a master at recruiting, and will have another excellent year.
Ron graduated from UConn in 1956 with a degree in Business Administration. A few weeks later he married his high school sweetheart, and joined the Marines, who he served with for three years. While in the Marines, in Japan, Ron had knee surgery and was never able to play professional basketball, but played in community leagues.
After serving in the military, Ron started a career with Phoenix Mutual, selling life insurance. July, 2004 was his 44th anniversary of selling life insurance, 40 years with Phoenix Mutual where twice he led the company in sales, and 25 times was in the top ten in sales of the company. Four years ago Ron, and his sons started their own company, The Bushwell Organization where, they sell life insurance, estate planning services, and insurance for executives.
Ron has been married to his wife, Rosemary, for 48 years. They have six children, Linda, Michael, Gregory, Kathleen, Brian and Mary Kay, and 14 grandchildren. His three sons own the Bushwell Organization with him, and one of his daughters might soon be working there too, another daughter works for a doctor, and another lives in Arizona and owns her own wine tasting business. Two of his daughters are marathon runners.
Ron was proud to play at UConn, and told me that he thinks about it a lot even 48 years later. He said he has lots of scrapbooks from those days that he enjoys looking through, and talking to people about that basketball era.
He feels very fortunate to have gone to UConn. "Things just happen in your life, and it happened to me, going to UConn, because my whole life has been UConn, and the Insurance Business that I learned at UConn, and for that I am forever grateful. After leaving St. John's, working in a factory, I don't know where I would be today if I wasn't ever introduced to UConn. My life has been UConn, Phoenix Mutual, the Marine Corp, my wife and kids, and now I'm 70. That's a pretty good life, and I'm thankful. What did I get out of UConn? Everything. It was an incredible experience."