Caron Butler was a Forward for the UConn Huskies from 2000 – 2002. He was the leader of the team, and put them on his back on the Road to the Final Four in 2002 but was stopped by Maryland in the Final Eight. He prepared his young teammates so they were able to win the National Collegiate Athletic Association Championship without him in 2004. I had the pleasure of meeting Caron in October 2004 after a Los Angeles Lakers game where he reflected on his basketball experiences.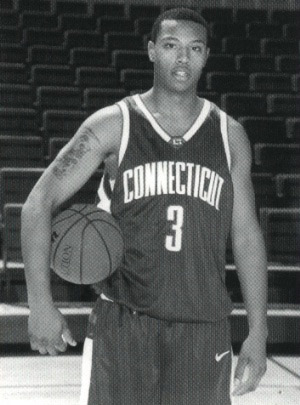 Caron was introduced to basketball as a youngster. He played on Amateur Athletic Union teams. When he reached high school he was beginning to become a good basketball player. While at Park High School in Racine, WI as a junior he averaged 24 points and 11 rebounds per game. He then went to Maine Central Institute Prep School where he had an excellent two years of basketball. He was considered the top prep school player in the nation in 1999-2000 averaging 19 points, and 12 rebounds per game his first year at Maine Central, and 26 points, and 13 rebounds per game his second year. His teams went to the finals and the semi finals but did not win a championship. Caron was being recruited by many colleges but he really liked the Northeast, and wanted to play basketball in the Big East. He decided on attending the University of Connecticut and is glad he did. "I just love Coach Calhoun. He is the greatest. I still talk to him two or three days a week. He's like a father to me."

Caron was at UConn for two years before entering the National Basketball Association draft, and they were a fun two years. "The CT fans took me in as one of their own." His most memorable moment while at UConn was winning the Big East Championship in 2002 where he earned Most Valuable Player Honors. "It was great because Taliek Brown and Ben Gordon (teammates) are from New York, and Taliek, Ben, and Emeka Okafor; those guys are like brothers to me."

Caron was humble during our conversation, but other accomplishments he didn't mention while at UConn were scoring over 1,000 points in his two years and he was the third fastest to reach it. He scored in double figures 62 of 63 career games and has the best average in UConn NCAA Tournament history. He was a finalist for the Naismith Player of the Year Award, and the John R. Wooden Award, honoring the nation's top collegiate player, named the Big East Co-Player of the Year, was unanimous selection to the All-Big East First Team and named to the National Association Basketball Coaches All-District I First Team.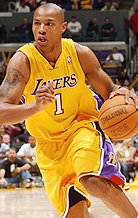 Upon declaring himself eligible for the NBA draft, he was selected 10th in the first round of the 2002 draft by the Miami Heat. Caron said it was a big change playing at the NBA level compared to the college level because in the NBA the guys are big, strong adults. His first year in the NBA he had a spectacular rookie season finishing third in the "Rookie of the Year" voting. His second year with the Miami Heat started out a little slow due to knee surgery. Once he was physically able to play he went on to play a crucial part in the Heat's run to the NBA finals.

During the off season of 2004 he was traded to the Los Angeles Lakers, being part of a trade for Shaq O'Neil going to the Miami Heat. He realizes a trade can happen to anyone, its business, he was wanted by the Lakers, and he's looking forward to being a team player, and making some things happen.

Caron wasn't surprised that UConn won the NCAA Championship this year and although UConn has lost three of its starters from last season, Caron thinks this year UConn will go far into the NCAA Tournament—he predicts they'll go to the Sweet Sixteen.