Dan Cyrulik was a Center for the UConn Huskies from 1988 – 1992. He was a member of the 1990 "Dream Season", a year with a lot of firsts with Coach Calhoun. They won the Big East Regular Season, the Big East Tournament Championship, both for the first time. They also were invited to the National Collegiate Athletic Association (NCAA) Tournament where they made it to the Elite Eight for the first time. I had the pleasure of talking to Dan in August 2010, as he reflected on his basketball memories and beyond.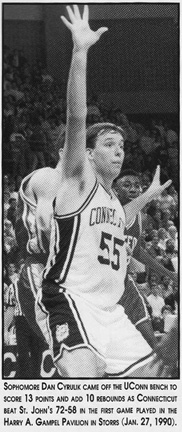 Dan was interested in all sports as a youngster. "I was interested in a couple of sports but basketball was always number one for me. There's a great draw for me to basketball, obviously being the tallest kid in the class helped." (Dan is now 7'0".)
Growing up in Williamsville, New York, Dan played in high school against Christian Laettner (Duke University Center at the time). "Christian and I were the #1 and #2 centers (position) growing up so we were always battling each other, and that continued when we reached college."
After being recruited by 50- 60 Division I schools, Dan narrowed his choices to Syracuse and UConn. "Syracuse was so close to my house, and UConn just because of Assistant Coach Dickenman and Coach Calhoun and the way the treated me through the recruiting process. When I finally came for my visit to Storrs, Connecticut I just fell in love with it. The academic program was good and I could see that the basketball program was on the rise. It was a great opportunity to be there and the rest is history."
Dan had some great memories there with a few that stood out above the others. Gampel Pavilion opened in January 1990 while Dan was there. "The Shot" that Tate George took to beat Clemson and move on to the Elite Eight in the NCAA Tournament was memorable too. "Probably my favorite memory was the time spent with the group of guys, the team. We were so close just like I think a lot of the UConn teams through the years have been. The comradery between the teammates and everything we did together I think is the number one memory."
After graduating from UConn with a Bachelors Degree in Business Administration, Dan played professional basketball for ten years. "I played a little bit here in the states and mostly in Europe. I played in France and in Czech Republic for a few years each. Life after basketball for Dan has been in the Financial Industry most recently with Merrill Lynch and Bank of America.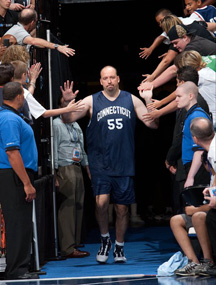 Dan met his wife Susan when he had returned to Buffalo, New York contemplating retiring from professional basketball. Rather than returning to Europe he stayed in Buffalo and eventually married Susan. They have three children; John Daniel (JD), age 5, Grant, age 3, and Mark, who is almost 1.
Dan shared his thoughts on Coach Calhoun, "He is terrific, you can't say enough good things about him. Those four years when you are playing for him are not the easiest but he truly is one of the greatest guys there is."
Dan ended our conversation saying, "The UConn experience, the education, and the life lessons we learned together as a team, the perseverance, and the hard work helps me every day in my professional life."