Bob Dulin was a Guard for the UConn Huskies from 1978 – 1981. He's a member of the UConn Basketball All Century Ballot, he's No. 1 on single season free throw shooting at 91.5%, and No. 3 on single season steals list. I had the pleasure of meeting Bob in May 2004 when he reflected on his basketball and life experiences.
Bob started playing basketball when he was in the 8th grade. He started liking basketball, put a lot of time and effort into, and would practice for seven or eight hours a day. Bob is only 5'10" tall, and playing against guys who were 6'5", he had to work that much harder. His practice was worth it, since during high school, twice, he was named to an All State Team, and he's the second all time leading scorer at Milford High School. A memorable game for Bob in high school was in 1976, when he scored 49 points in one game before there was such a thing as a three-point basket. His team lost that game to Saint Joseph High School who were the state champions.
One thing that Bob is very proud of from his playing days is the number of great basketball players that came from Connecticut in the 1970's and 1980's. He was able to name about 10 Connecticut players who played in the National Basketball Association, without even thinking about it. When Bob was making his college selection decision, he had it narrowed down to UConn, Penn State, Fordham University and the University of Seattle. He made his decision to go to Penn State, but found himself not getting much playing time, was very unhappy, and wanted to move. Fortunately, UConn offered Bob a four-year scholarship and he was able to transfer. At the time, his family didn't have the money to pay for his college, so Bob had to earn it, which is why he practiced every day.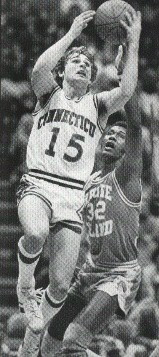 Some memorable experiences at UConn for Bob were being a member of the All Century Ballot, being captain of the team, and being a member of the Big East All Stars. He also had the opportunity to go to Yugoslavia for five weeks to play, which was a great basketball and cultural experience. "I'm still in the Top 10 in the record books. I'm still the all-time leader in free throw percentage, in the top 10 for steals and assists. After 30 years, I'm still in the books. When you start to fall off record lists you wonder what's different, oh yeah, they won a National Championship and they have big guys going to the pros. It's a great program at UConn, and Jim Calhoun does a great job."
The difference between playing basketball in high school compared to college is that in high school you are the star, in college, you're a role player doing what you do best to help your team win. Bob said, "Coach Calhoun is a no nonsense guy. No matter who you are it's his way, which is the right way, and a winning way and if they don't listen to him, there's the door." For the 2004 – 2005 season Bob thinks the team is still going to be great. They are going to have to replace their guards, but their big men, they won't have any problem.
After college, Bob had the chance to play in Europe, and he had the chance to play on a traveling team, against the Globetrotters. He wanted a job and hoped to make lots of money, so he declined the offer. Back then, you didn't make the kind of money you do today playing basketball. "I wanted to stay home and work. If I had to do it again, I'd do the same thing." Bob graduated from UConn with a Bachelors Degree in General Business. "It's very special to be a UConn basketball player but it's also very special to be a UConn basketball player that has graduated, with a degree."
Bob is currently a Vice President at Merrill Lynch in New Haven, Connecticut where he's been since college. Bob started out answering telephones, and handling the mail. He's taken Series 7 exams, and other exams passing all of them. He worked his way up, and he's one of the top guys across the country. "My relationship and marriage to Merrill Lynch has been fantastic. Merrill Lynch is a loyal employer."
After his day at the office, Bob has a busy schedule. He coaches the 14-year-old Amateur Athletic Union girl's basketball team, he runs a non-profit basketball camp, and a golf tournament, to give money to the Milford High School. His basketball camp is a two-week camp each July, with 250 kids who participate. Through the basketball camp, and the golf tournament, Bob is giving back to what made him who he is today. Bob also runs a girls basketball summer league, and boy's basketball summer league. From September through February, he runs the girls shoreline basketball team.
Bob has been married to his wife, Lynn, for 19 years. They have four daughters, Jennifer 16, Marissa 14, Casey 12 and Laura 6. Bob doesn't see himself ever retiring, with four daughters he has four college tuitions, and four weddings to pay for. "All of my daughters are good basketball players. Jennifer and Marissa play on the varsity team at Milford High School. Casey has the tools to take it a step further. As a nine year old, she scored 52 points in a game. At age ten, she received Most Valuable Player honors, at the UConn Basketball Camp. Laura, at age 6 has been reaching the basketball hoop since she was four." Great athleticism started in Bob's family with his mother; she won two gold medals in the sport of running in the German Olympics back in the 1930's and 1940's. Bob comes from a family of seven kids, there wasn't a lot of money, and his mom had to sell the two gold medals, because the family needed the money.
With four daughters, Bob pays a lot of attention to the UConn women, and he believes they are also going to be fine. He wishes that Liz Sherwood and Kia Wright didn't transfer. Bob ended our conversation by saying, "UConn was the greatest experience of my life."