Khalid El-Amin was a Guard for the UConn Huskies from 1997 – 2000. He coined the phrase "we shocked the world" when UConn defeated Duke University 77 – 74 in 1999, becoming the National Collegiate Athletic Association Final Four Champions in the schools first final four appearance. In three years at UConn Khalid enjoyed many honors, among them being named Big East Conference Rookie of the year as a freshman, winning two Big East Tournament Championships, and simply being a Connecticut fan favorite. I had the pleasure of talking to Khalid in August 2010, as he reflected on his basketball accomplishment and memories.
At the young age of four, Khalid was introduced to basketball watching his two older brothers play in their driveway where his dad had set up a basketball hoop over the garage. "With two older brothers, I always wanted to tag along with my big brothers so that's how I was introduced to basketball, and I just loved the game, and ran with it from there."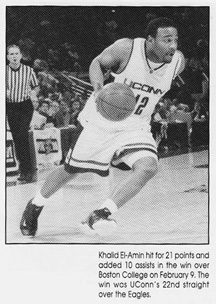 By the time Khalid was in junior high school he was playing on the junior varsity and varsity team of North High School in Minneapolis, Minnesota. When he reached high school he was a starter on the varsity team as their point guard and floor general leading the team to three consecutive Minnesota State Championships. "I was mainly the best player on a lot of my teams growing up. I've scored 40 points in games several times, a 50 point game one time, so I've always been a scorer, and a good player because I had the opportunity to learn more playing with my older brothers and older friends." As a senior in high school he was named to the McDonalds All American Team and named Mr. Basketball in the state of Minnesota.
Khalid was recruited by several universities and had narrowed his final choices to Kansas, Georgetown, Minnesota Universities and UConn. Former UConn assistant coach Karl Hobbs was recruiting Lamar Odom (who ended up going to University of Las Vegas UNLV) and while watching him during a summer league Coach Hobbs became very interested in Lamar's teammate Khalid, while they both played for the Long Island Panthers. "Once I visited UConn it was a no brainer for me. I practiced with the guys from UConn and it seemed like a complete team. I could somehow see into the future that this team has a chance to win a National Championship and that was a big deal for me. I wanted to compete for a National Championship and I thought Connecticut had the best team to do that."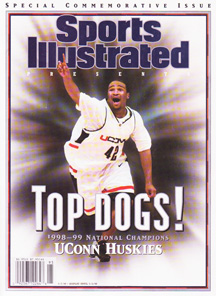 The transition from high school to college was fairly easy for Khalid. "You definitely have to make an adjustment but I was prepared. I wanted to come in and fit in right away. I wanted to learn and get better as quick as possible to be able to get playing time right away. I was very motivated."
While at UConn during the NCAA Championship game against Duke, Khalid scored the final four points in the final minute of play. Among some of his accomplishments while at UConn were being Big East Rookie of the week, Big East Player of the week, being named to the 1999 Big East Tournament and NCAA Final Four All-Tournament teams, and All-Big East First Team. In his three years at UConn he enjoyed ten NCAA wins with a team record of 91 wins and only 17 losses. Other than the National Championship, there were some memorable games. "A game against Notre Dame, against Pittsburgh when I hit the last second shot, and a game against Stanford." He was referring to the Pitt-UConn rivalry game when UConn was down by four with 11 seconds to play and won 70 to 69. The Stanford game UConn won 70 to 59 when Stanford was ranked #4 in the country and UConn's star Richard (RIP) Hamilton was out with an injury.
Beyond the court was important too, "Just being around the guys and coach. We were a really tight knit family, and tight knit team, and the comradery, and the chemistry on the team was unlike any other, and that's what I miss the most."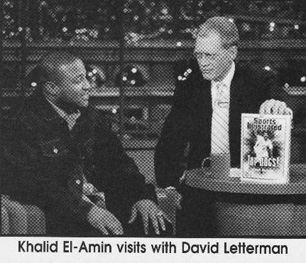 At the end of his junior year at UConn it was time for Khalid to move on to the next level. He declared himself eligible for the 2000 National Basketball Association (NBA) Draft. He was drafted by the Chicago Bulls. In his first season as a rookie he made the Schick Rookie All-Star Team, and scored eighteen points during the Rookie Challenge Game. In his second season he signed with the Dallas Mavericks but was released, and had a brief stint in his third season with the Miami Heat. The transition from college to the NBA was big. "You have to do everything on your own. You don't eat with the team, you go to sleep when you want, these were big adjustments for me, and unfortunately I didn't have as much time as I would have liked to be playing in the NBA."
Next, Khalid began a career in Europe. "I've been Most Valuable Player (MVP) in five different seasons. While playing in the Ukraine for Azovmash Mariupol we won the Ukraine Championship twice." Currently Khalid is playing for BC Lietuvos Rytas in Lithuania.
Khalid has been married to his wife Jessica for 11 years and he has seven children.
He ended our conversation saying "Coach Calhoun gave me the sense of urgency about myself to not be so laid back, to go out and attack, and be aggressive in everything I do."
UPDATE (January 2, 2013): Khalid is in the news again as a basketball star! Read this article submitted by Chris Apgar of citypages.com