Brian Fair was a Guard for the UConn Huskies from 1991 – 1995. He's a member of the UConn Basketball All Century Ballot, he's No. 2 in career three-point field goal shooting and No. 10 in career games played, at 125. Brian has just been named the Head Coach for the Varsity Basketball Team at his Alma Mater, South Mountain High School, in Phoenix Arizona. I had the opportunity to talk to Brian by telephone from Phoenix in April 2004 as he reflected on his childhood as an athlete, his time at UConn and he shared some post-collegiate experiences.
It wasn't until Brian was in the 6th or 7th grade that he started to watch basketball. He started watching the Big East on ESPN's Big Monday. His favorite team was the Syracuse Orangemen and his favorite player of all time is still Pearl Washington, a guard from Syracuse University. Brian wears #31 on his jersey, after Pearl. Prior to that, football was Brian and his family's sport. Brian had an uncle who played professional football for 10 years with the Green Bay Packers from 1968 – 1978 and his little brother Terry is going into his 6th year playing for the Pittsburgh Steelers.
Brian was a chubby kid until the summer following junior high school when he grew from 5'8" to 6'2" and stretched out. He started to concentrate on basketball, not more than football though. In his first year of high school he was picked for the Varsity football team as a quarterback as well as a guard on the Varsity basketball team. Brian was one of few people at his high school that played four years Varsity football and basketball. Brian still holds the scoring record for basketball with just under 2,000 points at South Mountain High School. The highlight of his high school basketball career was during his senior year when the team record was 32 wins and 0 losses, they won the State Championship and Brian was named Player of the Year along with being named on a couple of All American Teams.
Brian had to decide whether he was going to play football or basketball at the college level. "Football is something that I always played and it came very naturally to me. Basketball was the sport that was a little more challenging." He was rated the 2nd best prospect for football his senior year as a defensive back. Brian was recruited by a lot of schools for both sports; Miami, United States California (USC) and Notre Dame Universities were among them. When he was offered a scholarship to play for the University of Connecticut in the Big East, he couldn't turn it down because he always watched Big East Basketball, "the tough teams."
"Nothing in the world could have prepared me for what was in store in Connecticut," he said. The coaches instilled in the players that they needed to go out and compete every night. Winning wasn't talked about much, but competing and willingness to win were. Brian felt the coaching staff at UConn, Coach Jim Calhoun and his staff at the time, Dave Laitao, Howie Dickenman and Glen Miller, were the best group to give him the type of coaching that he needed to be successful in the league. Brian's freshman year was tough, being so far from home, trying to find himself, but Connecticut's friendly people and basketball atmosphere welcomed Brian into their arms as one of their own and made it a very easy transition. Brian was almost 3,000 miles from home but his mom was able to come to Connecticut about two times per year, made it to games that were close to Phoenix, and had a satellite dish to watch her son on TV for any games she couldn't attend.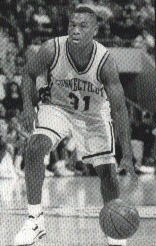 The college basketball intensity, skill, hype, and strength of the players were a lot different from high school. In high school you probably had one or two players with physical ability that could match yours but in college you meet players that were 6'7" and as quick and athletic as you are at 6'2". "At the University of Connecticut we had real competitive practices that helped us to prepare for game situations. We always felt that in practice we were going against some of the best players that we would ever see in the opposing teams."
Brian felt that every moment at UConn was memorable. There was something about every game that he gained or learned from. Winning two Big East Championships back to back in 1994 and 1995 were great accomplishments. "My freshman and sophomore years we had seasons that we really felt were indicative to how we should have been playing those years. I think that we underachieved to a point, those two years but we came back in '94 and '95 with the two championships. Those two years were the highlight of my career because we just overcame so much those first two years being the new kids on the block. Nine freshman coming in and just growing together we just gelled together our junior and senior years."
After playing basketball for four years, Brian went back to UConn the following year to finish his studies and get his Bachelor's Degree in Sociology. During that additional year at UConn, Brian, who still had the fire in him to play football, had the chance to play that sport. He played two games for the Huskies in the fall of 1995 before getting called for a try out with the Dallas Mavericks where he was on the roster until the day before the opening game and then was released. From there he played in the Connecticut Basketball Association League for a year, then went overseas to play for three years in The Netherlands, Taiwan and Venezuela. He didn't want to make a career overseas for a long period of time, but for the three years he was there, he had some good numbers, did well and enjoyed himself. "It gave me a chance to view the world a little bit so I was happy with those terms."
When he came back to the United States he started coaching at a Junior College, but returned to the High School level to coach at Central High School in Phoenix, AZ for two years. This past year he spent time pursuing his Master's Degree in School Administration. This summer Brian will be back at his Alma Mater, South Mountain High School, as the Head Coach of the Varsity Basketball Team, a job he couldn't pass up and he's very excited about being back at his old high school. "It's been a real good experience. Basketball has done a lot for me as far as giving me direction, stability and a chance to further my education. I think by coaching it gives me a chance to give back to the people that helped me along the way. The best part of coaching is teaching kids the right way to go about playing the game."
Brian said that in being on the UConn basketball team, kids learn so much, particularly how to be accountable for their actions which contributes to the rest of your life. He said that is a tribute to Coach Calhoun and the staff he has in place.
Since UConn traveled through Phoenix to get to San Antonio during this year's National Collegiate Athletic Association Tournament, Brian was able to see the team play in his home city. He said it was the best team on the floor. He knew after watching UConn in Phoenix that the team was going to win the National Championship and he said, "it's awesome that they won."
Brian celebrated his third wedding anniversary in April with his wife, Maisha, and he has three children: a son Mario is 8 and doesn't care for basketball much but goes to the park with his dad to practice shooting, a daughter Raelynn, age 3, who Brian thinks might be a track star because she can go around the track three or four times without stopping, and a new born Brian Jr. who is five months old.
There is a UConn Alumni game this summer and Brian said he is 90% sure he'll be able to come to Connecticut to be a part of it.