Al Frederick was a Forward for the UConn Huskies from 1983 - 1985. In October of 2004, I had the opportunity to talk to Al about his time at UConn and his European basketball experiences.

When Al was eight years old, his grandmother bought him a red, white and blue basketball for Christmas, and he's been playing basketball ever since. He played in youth leagues, played in junior high school, and went to West Hill High School in Stamford, CT. He played on the junior varsity team as a junior, and was also on the varsity team, but didn't play much. During his junior year the team lost in the semi finals of the state championship. It was their year to win but the other team threw up a shot at the buzzer that went in, and Al's team lost. While in his senior year, Al played on the varsity team, and that is when he really became a star, averaging 30 points a game, making All State and All City teams. The team won the City Championship but again didn't win the State Championship that year.
While in high school, Al was recruited mostly by Division II colleges. "I really wanted to play Division I, and in the Big East which was one of the best conferences to play in. I thought I had the skills to play Division I so I decided to go to Mattatuck Junior College in Waterbury, CT for two years." Al's most memorable games at Mattatuck were the games they lost because they didn't lose that many. One loss was a game that if they had won they could have gone to the regionals of the Junior College Championship Tournament. In two seasons with Mattatuck, Al scored over 1,200 points in fewer than 50 games for a 25-point average. He led the school to an overall 47-2 record and pulled down an average nine rebounds, and had four assists per game.
Al was playing very well at Mattatuck, and UConn became interested in him as a Junior College Transfer. His coach at Mattatuck, Bob Ruderman, thought it would be good for Al to stay in-state so his family could watch him play, and Al's former high school coach, Lou Orlando, was a former UConn basketball player so he had positive things to say about UConn. Al decided to take a recruiting visit to UConn which would be his first time visiting the school. He enjoyed his visit, and with the people surrounding Al suggesting he go to UConn, he chose it.

It was a big transition going from the Junior College to UConn. The focus was no longer only on Al. There were a lot of good players at UConn, and Al had to earn his reputation. "I enjoyed it. I made good friends, I did my best, and I did what the coach asked me to do." Al's most memorable game while at UConn was a game against Villanova when he scored a career high 24 points. Al enjoyed playing at UConn. "It was like a family. Everybody was together. Coach Perno (former head basketball coach) was a very caring coach. He was well-liked and respected."

After Uconn, Al played in the United States Basketball League, a summer league for three seasons, and went to Europe to play for 14 years. He played in Argentina for three years, Chile for four years, and Brazil for seven years. While in Europe, Al's teams won State Championships but winning the nationals was difficult. When he first arrived in Europe it wasn't easy. He didn't know another language, and didn't quite know what he was getting himself in to, however once he started playing basketball he met up with players he knew from the United States, and the situation became easier. While in Europe, Al enjoyed one game where he scored 49 points. He averaged 23-24 points, and eight rebounds per game. While in Brazil his team won the Brazilian National League Championship in 1994. "We really didn't have stars; we just had a team that played together. We surprised everybody winning the whole thing." His last year playing, his team went pretty far nationally but lost in the semi finals.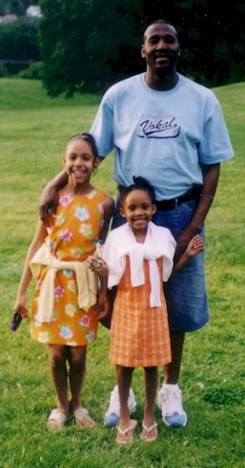 After 14 years in Europe, Al made a family decision to come back to the United States to join his wife and daughter. It was time to hang up his basketball sneakers, and begin working on the next phase of his life.

He came back, and for the past four years he's worked as a detention officer in the Bridgeport Police Department. Al still plays basketball in pick up games, and still averages 15-16 points per game.

When asked if he still follows UConn basketball Al responded, "Oh yes, I do. They are doing a great job. Their program went from being mediocre to being one of the best in the country." He was surprised that UConn won the NCAA this year. He thought they could go all the way, they had the talent to win it but he wasn't sure they were going to take it all.

Al's thoughts on the new season are that it will be a little different learning process without any seniors but they are still going to be competitive.

Looking back at his UConn experiences, Al regrets not taking advantage of the academic opportunity he had at UConn. He didn't realize the importance of a college education. Al hopes that kids today understand the significance of having a career path and what they need to accomplish while in school.

Al currently lives in Norwalk, CT with his wife, Monique, of ten years. They have two daughters, Alexis, 10, and Ashley, 6. His daughters are not interested in sports yet, but they are very academically talented. He said that maybe they'll be models because they are gorgeous girls.

Al ended our conversation by saying, "I loved my experience at UConn. If I had to do it all over again, I would go to UConn again."