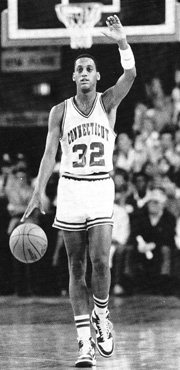 Tate George was a Guard for the UConn Huskies from 1986 – 1990. He's a member of the UConn Basketball All Century Team, and was a player on the first UConn National Invitational Tournament Championship Team in 1988. Tate hit "the shot" to beat Clemson University in the National Collegiate Athletic Association Tournament Sweet 16 game, and was the first UConn player ever selected in the first round of the National Basketball Association draft. I had the opportunity to talk to Tate in August 2006, about his basketball memories, and experiences while at the University of Connecticut.

Tate grew up in Newark, New Jersey. When making his decision on what college to get his education from, and what basketball scholarship to accept, he had narrowed his choices to University of Southern California, St. John's University, Marquette University and Georgia Tech University, but chose UConn because he'd have more of an opportunity to play. "I wanted to go to a school that was going to provide me a chance to go out there and showcase my talent." Tate also wanted to be away from home, and yet close enough to go home to see his family.

Although most people probably think "the shot" in the 1990 dream season against Clemson in the NCAA tournament was Tate's most memorable moment while at UConn, it wasn't. Tate has fond memories of the rides on the bus with his teammates, and being a part of the team. "Being part of the organization, and the beginning of it is really what's been important to me." He didn't elaborate on his personal accomplishments while at UConn, however through research I found that Tate had left UConn as the number one career assist leader, the number two career steals leader, had scored over 1,000 career points, and was named to several All Tournament teams during his four years at UConn.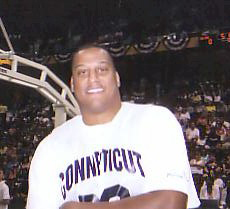 Tate graduated from UConn with a Bachelor's Degree in Business Administration in 1990. Sixteen years later, Tate said the game has changed. "The guys have gotten more athletic, and the teams are younger. Because of the way the system is (players leaving school early to enter the NBA draft), the freshmen are given the chances to contribute right away compared to when I played, the freshmen didn't play all that much."

Tate continues to follow UConn basketball, and watches the team when time permits. He doesn't know a lot about the many new recruits on the 2006 – 2007 roster but said, "If they've gotten a scholarship, they're going to get every opportunity to be able to go out on the court and perform."

As far as future final fours go, Tate believes with the current coaching staff at UConn, and the top-notch players they recruit, UConn will be involved at some level to win a couple more championships.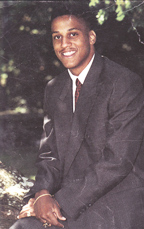 Tate was working for WFSB Channel 3, the CBS Television affiliate out of Hartford during UConn's first NCAA championship in 1999. "It was a great win! I was there when we barely had a bus to ride on so I'm sure all the guys who have gone through the UConn basketball program can identify with that particular team."
Tate had many complimentary things to say about Coach Calhoun.
"I think he's doing a fantastic job. He's a great motivator, a proven winner, and you don't really get a chance to appreciate him while you're there. It's when you get older that you get a sense of why he was the way he was, and why he expected so much of his players."

Tate ended our conversation saying, "My education and experience from UConn taught me how to win. If you can win at a program like at UConn, then I think you can be successful at just about anything."