Vern Giscombe was a Guard for the Huskies from 1980 – 1984. He was named to the Big East All Rookie Team during 1980-81 and he's also a member of the UConn Basketball All Century Ballot. In December of 2003, I had the opportunity to talk with Vern where he reflected on his childhood as an athlete, his time at UConn and his career experiences.
Vern grew up in New York City, the Bronx, and was a big Yankees fan. He played a lot of baseball and basketball. "At some point in time, I'm sure I was better at baseball than I was at basketball, but basketball happened to be such a high-profile type of activity in the inner city." Vern told me that you could attend a baseball game in the inner city and there would be about 50 people in the crowd. You'd leave the baseball game and run over to a basketball game in the parks and there would be a couple hundred people in the crowd. In the '70s and '80s, there was a lot of talent coming out of New York City. Vern remembered once seeing a publication about an Amateur Athletic Union type of tournament and noticed that in a 10-year stretch, New York City teens were in the championships eight out of 10 years, and won seven out of eight. They lost the three years when Magic Johnson was a premier player. "Sports were always a vehicle to better oneself as far as skills as well as a person and they open up opportunities such as taking it to the next level, the college level."
Vern had the luxury of playing for Cardinal Hayes High School. A guy by the name of Jimmy Black, who later orchestrated the championship run at North Carolina in 1982 with Michael Jordan, James Worthy, and Matt Dougherty, was a senior at Vern's high school and took Vern under his wing. After getting an education from Jimmy, Vern became more of a perimeter player. Jimmy's "crown" was passed to Vern. Vern started receiving letters of inquiries from various universities, including UConn. Vern had established a good relationship with Jimmy O'Brien, assistant coach at UConn, at the time, because Jimmy was from Brooklyn, NY. UConn had just joined the Big East Conference, which was a prominent conference even at that time. There were four top guards coming out of NYC, Vern being one of them, and they all went to Big East Schools.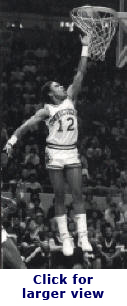 Vern had fun at college. "There were the trials and tribulations one goes through with campus life but a lot of relationships were formulated through those times. You take the good times with the tough times. You learn from the tough times and you learn from your achievements and your mistakes." Vern said from a player's perspective, specific games don't stick out in his mind as much as specific moves or shots or crossover plays or certain player match ups. Vern did tell me about a couple of special moments at UConn; a winning shot at a game against Boston University, a triple overtime loss at Syracuse where he played 55 minutes, being a most valuable player of a game against an old buddy, an inner city kid from Brooklyn, Pearl Washington and playing at Madison Square Garden in the Big East Tournament because "The Garden" is the "Mecca" of basketball.
I asked Vern if he still follows UConn basketball and how he thinks the team has changed over the years. "As a former player and alumni, you always continue to follow the team as well as some of the guys you played against." The talent has gotten better, no question. He said the talent was good but over the years the players got better, bigger, faster and stronger. As far as the support structure, he feels that nothing has changed. "UConn was treated like a National Basketball Association team back when I was there. We'd have a sub-par year and we'd still sell out the Hartford Civic Center. The support has always been there."
Vern thinks that UConn is always Final Four material. He thinks that Coach Calhoun puts together a quality program. "He's a motivator. He's a good man. He is tough on the players but that is what you want in a coach. You want someone to get the best out of you."
After graduating from UConn with a Business Degree and concentration in Marketing, Vern entered the Venue Management Business, where he is in charge of entertainment facilities. He worked at the Hartford Civic Center for 10 years in various administrative positions including group sales manager, advertising sales manager, sales and marketing director and event manager. While at the Hartford Civic Center, one of his responsibilities was to show the basketball recruits from UConn around the civic center. He would try to give the recruits the perspective of actually playing at UConn and getting a degree and doing something after the playing was over. The recruits would see him as a player, graduate and family man with a respectable job. Vern had to be honest with the recruits, but anything he said was all good because his experience at UConn was good. He was now a young adult speaking to young adults rather than the young adults speaking to someone from the administrative office who hadn't lived the UConn experience.
Upon leaving Hartford, CT, Vern became the General Manager of the O'Neil Center which is on the campus of Western CT State University in Danbury, CT. After that he became General Manager of the Niagara Falls Convention and Civic Center. "In a period of four to five years I went from a multi-purpose facility to a university facility to running a convention center." Then he left Niagara Falls and went to the Sovereign Center in Reading, PA. It is a 10,000 seat facility that holds special events like minor league hockey teams, concerts and things of that nature. Vern recently left PA and is now in Los Angeles, CA as the General Manager of the Great Western Forum Facility for the company he worked for in PA.
Vern has two children, a son, Vernon Jr, who is called VJ, is a sophomore at Arizona State University. VJ plays recreational sports and in high school played volleyball and football. Vern also has a daughter, Brianna, who is 10, from Waterbury, CT. Brianna loves doing anything that has to do with sports and Vern said it would be nice if she got a college scholarship maybe to play at UConn. Vern is very happy with the path his career has taken. "I always say, life is nothing but a series of memorable moments, so you might as well just enjoy them."