Tony Hanson is No. 1 on career field goals list, 784, No. 2 on the single season scoring average list, 26 per game, and No. 3 on career scoring list with 1,990 points. He was a Guard at UConn from 1973 – 1977, he's a member of the UConn Basketball All Century Team and he has been the Head Coach of the Teeside Mohawks Basketball Club in England for the past 13 years. I had the pleasure of meeting Tony in January, 2004 when he was in CT visiting.
Tony was introduced to basketball when he was six or seven years old. He played other sports to see what he really liked but he liked basketball from the beginning. He stopped playing the other sports and focused on basketball at around age twelve. Tony said he was a reasonable player in grammar school, a late bloomer and was okay as a freshman at Holy Cross High School in Waterbury, CT. As a sophomore he started to become good as he built his confidence. By the time he left Holy Cross, he had a whole lot of confidence. Tony used to hold a lot of records at
Holy Cross but over the years with the three-point shot being added and the pace of the game changing, becoming quicker, he lost the records.
When Tony was going through the college recruiting process, there were a lot of other schools that had bigger programs but Tony didn't really want to move too far from his family. Tony said very calmly, "I guess a couple 100 schools showing interest would be a lot." He thought it only fair that he go on a few recruiting visits but when he went to UConn and saw how things were done under Head Coach Dee Rowe, it was hard to compete with UConn. "Dee Rowe seemed very sincere and he said he would help me to develop not only as a player but as a person and he lived up to that. Dee Rowe is a very special man. He's like a godfather to me, to all of us really, but obviously his focus was on the court but a lot of his influence was off the court in life and academics. He's a good man."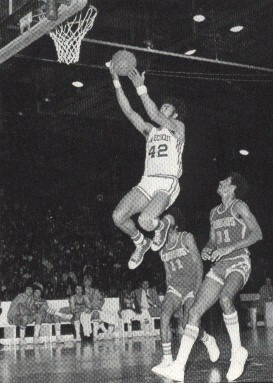 While at UConn Tony remembered some highlights. In the prior 15 years or so UConn hadn't gone to a post season tournament and then Tony's team went to post season games all four years. The biggest game was reaching the Final 16 in the National Collegiate Athletic Association Tournament. The team had beaten Hoffstra University by a last-second shot that Joey Whelton scored. Then there was a game against Providence that Tony broke a record, he told me as he laughed that he couldn't remember what the record was that he broke. He calls it ancient history but it was quite nice because his mother was there to see it. "My final game was a bit emotional, when you realize it's all over and now you go on to other challenges."
Tony was drafted and played preseason with the New Orleans Jazz. "It was a good experience but I was not fortunate enough to make the team but I felt I was a part of it for a little while. My European career was very rewarding and I'm still there so it all worked out for me."
Tony was given the opportunity to play basketball in Italy and he decided to go. He spent two years in Udine, Italy then went to France and played for a year. Tony suffered an ACL injury and was unable to play basketball for the next two years. He came back to the states to rehabilitate his knee and he also did a little bit of coaching at AI Prince Technical School in Hartford, CT and Northwest Catholic High School, in West Hartford, CT. This worked out very well for Tony because in Europe there is a big demand for player/coaches. Tony went back to Europe and was recommended by a former player/friend, Joey Whelton to become a player/coach for a team in England. Tony was there for two years then went to Ireland for two years as a player/coach and ended up going back to England 13 years ago, where he still lives. Tony has been coaching a team called Teeside Mohawks Basketball Club and has built it to be a very successful club, one of the most successful in the country. His team is five-time National Champions and for the past two years, with the help of a former UConn player, E.J. Harrison, the team has been triple champions also winning the National Trophy and the League Championship. That had not been done in the last 45 years by any team and his team is on track to do well again this year.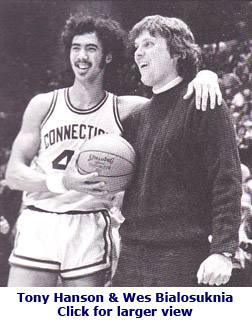 Tony graduated from UConn with a degree in teaching kids with special needs. In 1997 he developed a program in England called "Project Hoop Dreams"
that is currently helping over 5,000 young people every year. The program helps disadvantaged youths use the sport of basketball to encourage them to do things like raise their confidence, self esteem, math and reading development, healthy lifestyles and awareness of drug issues. The program includes
an exchange program between CT and England that Jim Abromaitis, another former UConn player, has been culturally involved with. Some of the kids from England have had the opportunity to go to Coach Calhoun and Coach Auriemma's summer basketball camp.
At this time Tony coordinates the project on an advisory level and spends time speaking at conferences on subjects such as social inclusion in an effort to influence policy and decision makers to help other projects that need support. Whenever Tony has available time he drops in to where the kids are in the program to help out. Tony told me that obviously his interest in developing "Project Hoop Dreams" comes from having been helped by one of the community projects himself. He grew up in the projects of Waterbury, CT. "I'm a product of something that works." These community-based initiatives have been in place in the United States for a long time but they are a very new phenomenon in England.
When I asked Tony about how having gone to UConn has contributed to his life he responded:
"A lot of it centers around Dee Rowe. I think he set the example of how a player, a coach, a university can really develop a whole person. Dee Rowe has been a mentor for me since I met him and now I do the same thing for other young people."
Tony said that over the years what has changed with UConn basketball is that they are getting a lot more of the top players in the country, and sometimes two or three of them. When he was at UConn they would get one or two of the top players in the region. "Coach Calhoun does a really good job developing them every year and getting them ready for the National Basketball Association so there is a proven history and tradition and I think that is very attractive to these kids going to college."
Tony said that UConn must bring its A game with them every game particularly during the NCAA Tournament because every team wants to play well against UConn. Tony was not able to go to the Final Four in 1999 and probably won't be able to go this year if UConn is there because that is the time that his team is in the middle of their playoffs. But, he certainly keeps in touch all the time with what is going on and who's doing what on the UConn team.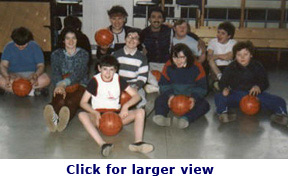 Tony and his wife, Sandy, have three children, Greg, age 16, David, age 13 and Alex age 9. The three boys all play basketball and Tony has brought his boys to see some UConn games when they are visiting in CT and some day maybe we'll see the boys playing in the United States at the college level. When I asked Tony if he'd ever come back to the United States and coach, he smiled and said,
"I would love to come back here. It would be wonderful to come back to CT and have an opportunity to coach. I've always felt that the tradition at UConn is so powerful it would be wonderful to have an opportunity back there."