Nadav Henefeld was a Forward for the UConn Huskies during the 1989 – 1990 "Dream Season." Nadav is a member of the UConn Basketball All Century Team. He was selected as the player and rookie of the year, was Big East Conference Rookie of the Year and set an all time National Collegiate Athletic Association freshman record with 138 steals, which also stands as a UConn single season record. I had the opportunity to talk to Nadav by telephone from his home in Ramat HaSharon, Israel in February 2004 when he shared his United States college experiences and his life-long basketball career memories.
Nadav started playing basketball recreationally when he was nine years old. At the age of 16 he joined the Junior National team of Israel. At age 18 he entered the army (all men from Israel must join the army for three years). During his time in the army he was also able to join a team in Upper Galil-Elyon. He played there for two years then went back to his hometown of Ramat HaSharon and played for a year.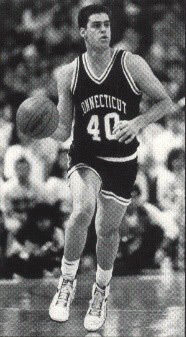 Growing up Nadav was always the tallest kid on the teams he played on and he was a pretty good basketball player from the beginning. While in high school the team he played for won the Israel Championship and his team went to the World Championship that took place in Sweden and it was one of the highlights of Nadav's basketball career.
When he finished his service in the army, he began looking for a place to play college basketball. Nadav had not originally planned to attend UConn. He knew playing college basketball he wanted to play in the best conference, which at the time was the Big East. He wanted to play against the best competitors. He didn't want to play for the best team because he wanted to get playing time and he wanted to compete against the best teams. A coach from the United States who knew Nadav recommended him to some people at St. John's University in New York. Nadav visited St. John's but didn't really like it. He felt there was no college life and there was no campus so he started thinking about where else he could go. Connecticut was the closest school so he came for a visit. "I decided if there are the two places I have to choose from, there is no question about it. The same conference, same competition. I talked to Coach Calhoun; he came over to Israel to see me and agreed to accept me to the team. It was an unbelievable year and I feel I was very lucky to be a part of it."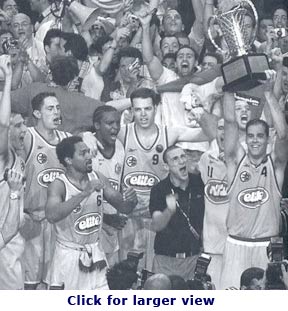 The "Dream Season" at UConn received a lot of news coverage in the United States and in Israel. Nadav's father came to see him play when UConn was playing in the Big East Tournament at Madison Square Garden. Nadav played at UConn for one year then went home for the summer with plans to come back to UConn the following year. While back in Israel he began to think about staying home and playing. He knew that it was too late to put his name in the National Basketball Association draft for that year and he won't ever know for sure but he thinks he could have been chosen for the draft.
Nadav decided to stay in Israel and play for the Maccabi Tel-Aviv team which is the No. 1 team in Israel and he doesn't think it was a bad decision. "I had a lot of interesting and challenging years here. We won the "European Cup" in 2001, which is a big accomplishment; this was when I was captain of the team. You can always think back about what could have happened here but instead of thinking of the good and the bad, I think it's been the good and the good. I can't complain about anything. I've had a wonderful career." Nadav retired a year and a half ago after playing for Maccabi Tel-Aviv for 12 years. He decided it was time to get into the business world and he finds it very challenging and very interesting.
Nadav is currently working with a brokerage firm in Israel. He's also working on some other opportunities that might bring him to CT to do some business. He's hoping to come to CT; he said that he found such warm and supporting community here. "There is something special that we all experienced that year [while he was here]. It's something that will stay with us for the rest of our lives."
When asked about any highlights from his time at UConn, he responded "Oh many. It's unbelievable how even today after so many years after I left CT, I still remember some games play by play. I remember my first game at Gampel Pavilion. I remember the Georgetown game at the Civic Center. The bus ride back to campus after we lost to Duke and the welcome we had at Gampel Pavilion. I can feel it like it was just a few days ago or weeks ago, not like it was 13 years ago."
Nadav said Coach Calhoun is very unique in many ways. He's very professional, very serious and

he puts everything into it and at the same time he tried to help Nadav with the adjustments he had to make. It wasn't easy for Nadav. He had to listen to people speak in English, translate it to Hebrew, think in Hebrew, then translate it back to English. Living in the U.S. for that one year affected Nadav in many ways, living in a different place, in a different culture, having met so many good people and making so many new friends. "It was a year full with experience, full with so many things. I've learned I was really lucky to be a part of it and I'm very proud of it."
Nadav was not able to be at the Final Four when UConn won the National Championship in 1999 because his team in Israel was playing basketball at that time. He hopes to get back to CT and see not only the Final Four, but also a game in Storrs or Hartford.