Karl Hobbs is the Head Basketball Coach at George Washington University. He was an Assistant Coach at UConn for eight years. But before that he was a four-year starting guard as a player at UConn from 1980 – 1984, and he is a member of the UConn Basketball All Century Ballot. I had the opportunity to meet Karl in December 2003 when his GW basketball team came to CT to play against Fairfield University and talk to him about his basketball career.
Karl grew up in Roxbury, Massachusetts. His brother introduced him to UConn basketball when he was in tenth grade. UConn was playing Holy Cross in the Boston Garden at the time, and Karl and his brother were watching the game. Karl's brother said, "Boy I would love to go to UConn. They could really use a point guard." Karl started paying closer attention to UConn basketball and before long UConn was actively recruiting him. His brother went on to another university to play basketball.
Karl came to CT for a recruiting visit and that's when he found out how people in CT love basketball. "I think that is probably one of the most appealing things about UConn—the compassion that people have for basketball and it's been there for years," he said. He was impressed how the people in the state knew who the players were and he commented that people come up to you in a restaurant asking for an autograph. Karl thought that was really special.
One of Karl's best memories in a UConn uniform is when the team had gone through a stretch where they had beaten Villanova, Georgetown and another strong competitor. A highlight was winning a National Championship and an even greater moment was getting on the bus driving from the airport to Storrs after winning the championship. "It was unbelievable. You couldn't write it better, you couldn't plan it better. It was just an incredible thing. People were all along the highway. It almost brings me to tears just thinking about it."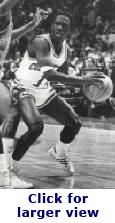 Karl remembers the kids on the teams he coached, including Richard Hamilton, whose goals were to win a National Championship. They had heard and read about Ray Allen and Doron Sheffer and the kids on the championship team knew the only way they could out-do those guys was to win a National Championship. Speaking of Ray and Doron, Karl told me those two guys were so special, they were unbelievable. If practice was at 3:00 PM, they would be there at 1:45. They were good students, had good work ethics and were never a problem. Karl went on to tell me that the relationships of all the players are still very close. He gets calls from Kevin Ollie, Khalid Elamin, Richard Hamilton and Scott Burrell. Steve Pikiell is on his staff as an Assistant Coach at GW. The UConn ties are incredible. He said it's a great feeling and it's really unique what has evolved at UConn.
Karl mentioned one suggestion for a change with UConn basketball. A lot of guys struggle finding jobs in the state and he said it's the only blemish that disappoints him. He believes that basketball players would be valuable assets to a company because they understand teamwork, winning, making sacrifices and how to work hard. With his team at GW, Karl implemented a "mentor program," where all of the players have a mentor in the business world. During the summer the players are able to work in accounting firms or law firms etc… so when they graduate from GW, they've already established relationships and job contacts and aren't all scrambling around looking for a job.
In 1984 when Karl graduated from UConn he was very disappointed, since he doesn't like to lose. His senior year wasn't as successful as he had hoped. He always felt like when they lost a game, it was his fault that he didn't make a certain play or he had a certain turnover that was the cause. For Karl, loosing has a way of breaking the spirit. His basketball career ended at UConn, as far as he was concerned basketball was over for him. He had other interests and started out as a Real Estate appraiser to understand how to put deals together and did that for three-and-a-half years. He also started doing a little real estate investing. His goal was to become a real estate developer. But in the meantime, the people of Boston, MA were shocked that Karl had given up basketball.
Out of nowhere, Karl got a call from Mike Jarvis, head coach at Boston University at the time and Mike offered Karl a job as an assistant coach at BU. Mike Jarvis was Karl's high school basketball coach. Karl thought it was real special that he got that call from Mike and decided to give it a try and was an assistant at BU for the next six years. Then a position became open at UConn. He was already very familiar with UConn basketball and he was very good friends with UConn assistant coach Dave Leitao. Dave is originally from New Bedford, MA so Karl and Dave were from the same area. Karl contacted Coach Calhoun to let him know he was interested in the position. Coach Calhoun already knew of Karl, as he had tried to recruit Karl from high school to play for him at Northeastern University. Karl became the assistant coach at UConn for the next eight years.
Currently Karl is in his third season as Head Coach at GW University, where he went after he left his assistant coaching position at UConn. He said the team plays well in stretches but they need to play better consistently. "Our whole goal at GW is to get the program back in the National Collegiate Athletic Association Tournament. That is the bottom line. There is no other alternative."
Karl is married to a UConn graduate although they didn't date each other while at UConn. They met two years after graduating from UConn in Boston, MA. Karl's wife, JoAnn, is an engineer. JoAnn was getting her Masters Degree in Engineering at BU when Karl was at BU coaching. They have a 15-year-old daughter, Rashauna, who is a sophomore at Archbishop Spalding School where UConn men's No. 1 recruit for 2004 is from. The UConn ties are always surfacing. His daughter plays basketball and averages 16 points per game. Her dream is to go to UConn and play basketball. He said she's also very good at soccer. They have another daughter, Kaliah, who is only five years old right now and Karl is sure she'll be playing some sort of sport as she gets a little older.
I asked Coach Hobbs what a day is like being a head coach. "Hectic, you have such an enormous responsibility. Fortunately for me, I don't have the responsibility of the mood and the feeling of the whole state like Coach Calhoun does." Karl is responsible for 15 players, making sure they are taking care of business in the classroom and making sure that emotionally they are stable. He said he has to teach them life skills outside of basketball and all of this affects winning and losing. Then he has three assistant coaches and their careers and family lives are all predicated upon the head coach and if the head coach is successful. "The best part of it is that I approach it with a great deal of enthusiasm. I love my job. I love coming to work every day. I have a great feel for what we are trying to accomplish." The goals and ethics of the University are in line with Coach Hobbs goals and ethics and he wants to make GW basketball the Stanford University basketball of the east.
His thoughts on the current UConn team are: "Obviously I think they're very good. Coach Calhoun has done such an incredible job of maintaining a level of excellence in terms of their recruiting and winning. He has an incredible work ethic." Karl hopes UConn makes it to the Final Four this year and of course he'll be there for it.