Jim Jachym was a Forward for the UConn Huskies from 1968 – 1970. He was a member of former basketball Head Coach Dee Rowe's first team at UConn, which was voted the Most Improved Team in New England, and won a Yankee Conference Championship. Jim was a two-sport athlete, recruited by UConn primarily for baseball and secondarily for basketball. I met Jim in February 2010, as he reflected on his collegiate and post-collegiate sports career memories.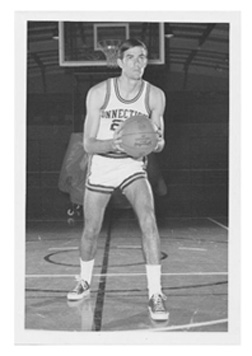 "I came from a very athletic-orientated family. My father played basketball and baseball at the University of Notre Dame. He was with the Major League Baseball Detroit Tiger Organization, and coached for years in Westfield, Massachusetts." Jim and his two brothers played multiple sports in local youth leagues growing up, and his sister was a cheerleader. While at Westfield High School, Jim set the all-time leading scorer record in basketball with 1,204 points, which has not been broken to date. He made the All-Western Massachusetts Team, and in his senior year the team made it to the semi-finals in the Western Mass Tournament. Jim was also a pitcher for the baseball team. His greatest memory from the baseball team was during his junior year when his team won the State Championship. Jim also enjoyed, in his senior year, going to the college World Series, pitching the first game, and shutting his opponent out for nine innings before getting relieved. His team went on to win the game in the twelfth inning.
Jim was being recruited for college by Arizona State University, UMass, Springfield College and UConn for baseball. It was Andy Baylock, (UConn Head Baseball Coach at the time) who impressed Jim. "When Andy came to my house and spoke to me, it was all about education, and being more than just a player, being a person. To me, Andy is very similar to Dee Rowe, they come from the same mold." Jim told Coach Baylock he was also interested in playing basketball, and soon UConn basketball Head Coach Burr Carlson (at the time) went to see one of Jim's Westfield High games. Jim went for a visit to the UConn campus and liked the location. It was in the country, but not too far from the city. Jim liked the school, and his parents liked Coach Baylock, too. Jim made his decision to go to UConn on a baseball scholarship, and would also be a player on the basketball team.
As a freshman at UConn, Jim was in the starting lineup of the basketball team by the third or fourth game. "My best memory is guarding Dr. J (Julius Erving) who was a freshman at UMass (Dr. J went on to become one of the National Basketball Associations best players). UMass was undefeated, and I wanted to beat them, being from Massachusetts. The game was at UConn, I had a shot go in and out at the buzzer, and we lost by one point, I'll always remember that." As a sophomore Jim became more of a role player. "My forte was defense, and having a sense of being at the right place at the right time to get tip-ins." After two years of two hour practices on the basketball court followed by baseball practice, since the seasons overlapped, Jim decided to concentrate on baseball giving up basketball. Not without some good basketball memories though. "I remember during half-time of a game Coach Rowe was so mad at us he broke his arm diving on a large crate, and still coached the second half of the game." He also enjoyed beating UMass at UMass with a score of 89 to 71 while all of his friends that went to UMass were in the stands. "One of my greatest memories was the 'slow down game' against Rhode Island University. I don't think I even played a minute in that game but it was like I played the whole game it was so exciting. It was before the time clock existed. We just held the ball, and they didn't know what to do. We beat Rhode Island 35 – 32 winning the Yankee Conference against one of the best teams that year."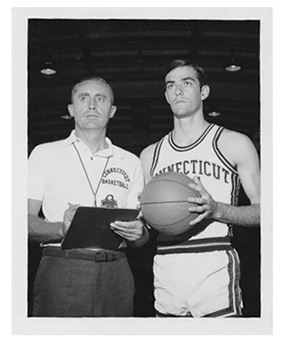 After graduating from UConn with a Bachelors Degree in Political Science, Jim played baseball for Major League Baseball Houston Astros Organization for a year until he had a career-ending knee injury. Jim went back to Westfield, MA to begin a teaching career and where he spent his next 30 years teaching a variety of history at both the Westfield middle and high schools. Jim also became a coach of both baseball and basketball. He started out coaching youth league teams and then moved on to the high school baseball team from 1979 – 1981 winning a Western Mass Title. He came back to coach from 2004 – 2008, when he again won the Western Mass Title advancing to the State Final but falling short of that title. In 1994 Jim became Westfield's Girls Varsity Basketball Coach. Prior to his tenure, the team had won about two games in the previous three years. He was able to get the team to the Western Mass semi-finals and quarter-finals a few times, eventually losing to teams that won the state championship. One memory from these years was the opportunity to coach his daughter Kristin. "She got treated like everyone else. If she played well she was on the court. If she didn't she was on the bench. Beating Longmeadow High School one of the best teams in Western Mass who had Marisa Moseley (current UConn women's assistant basketball coach) on their team is also a good memory. In my last three or four years of coaching basketball I had a group of girls that didn't win a lot but they worked their tails off for me. I felt they deserved something so I called Andy Baylock (Uconn Baseball Coach), and told him about it. He invited me to bring the girls to UConn for a campus tour, and to watch a UConn women's basketball team practice."
Jim also spent three or four summers working and learning at Coach Auriemma's summer basketball camps. "Geno is a great guy, and a lot of fun. He's always accessible to the kids. The number 12 player at camp was as important as the number one player." Each summer Jim runs his own summer camp for baseball, and also a girl's basketball camp where he applies a lot of what he learned from Coach Auriemma's camps.
When asked how basketball has changed over the years, Jim said, "The kids are bigger, faster and stronger."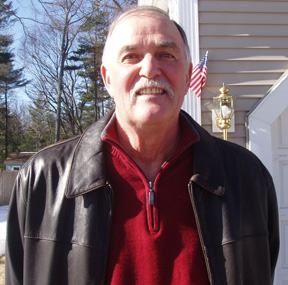 Jim describes Coach Calhoun in one word: intense. "He has certainly brought the program to the forefront and he's got 11 guys in the National Basketball Association (NBA). He's definitely doing something right."
Jim met his wife, Eileen, while he was teaching and she was a substitute teacher. She is now the principal at North Middle School in Westfield, MA. They were married in 1979, and have two children Joey age 26, Kristin age 29, and a grandson Jake age 7. Kristin went to UConn for two years playing on its Lacrosse team, but suffered an eye injury. She transferred to Westfield State University where she earned her Bachelors Degree. Joey also graduated from Westfield State where he played baseball. Jake is already learning to be a pitcher (left handed like Jim). Jim retired from teaching and coaching a few years ago but continues to be a substitute teacher, run his summer camps, and does some scouting for Westfield baseball, and basketball teams.
Jim's said his experiences at UConn have helped him throughout his life, especially the sense of family, team, and the importance of education he had there. "If you work hard, good things will happen. I saw that through my coaches Dee Rowe and Andy Baylock. As a coach I've tried to make my players understand that five individuals on the court are a team, and a team wins."