Rashamel Jones was a Forward for the UConn Huskies from 1995 – 1999. He was co-captain of UConn's first-ever National Collegiate Athletic Association Championship Team in 1999, enjoyed winning the Big East Championship three years, and made All Tournament Team during the Big East Tournament as a junior. I had the pleasure of talking to Rashamel in April 2008, as he reflected on his basketball memories and experiences, and his current career path.
As a youngster Rashamel was a three-sport guy playing basketball, baseball and football. "I was playing football and baseball before I ever picked up a basketball." Rash had been on football and baseball teams starting around 5 but didn't join a basketball team until around the age of 12. It wasn't long before he realized basketball was becoming his favorite of the three sports.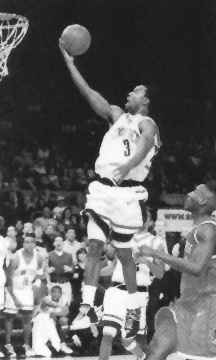 One day in the spring of the eighth grade, Rash's gym teacher asked him what his plans were for high school. Having grown up in Mount Vernon, New York, Rash said he'd probably go to Mount Vernon or Port Chester High School. Rash's gym teacher went on to tell him that he had accepted a new job as head football coach at Trinity Catholic High School in Stamford, Connecticut, and wanted to take Rash with him to play on his team. Rash visited Trinity Catholic with his teacher and while there he saw the varsity basketball team practicing. The basketball coach asked Rash if he wanted to join the team for the practice. Rash ended up practicing, and was able to dunk the basketball on Trinity's player who played center position. Trinity's basketball coach was pretty impressed, and invited Rash to Trinity to play for his team. The basketball coach talked to Rash's father, and they left the decision up to Rash. "I said yeah I wanted to give it a shot, and it was the best decision I had made at that time of my life. It just opened up so many doors for me." It was the right decision to focus on basketball rather than football. Rash was tall but not big. Basketball was going very well, and he didn't want to take the chance of getting hurt playing football. "The decision made sense, and I have no regrets." Although Rash's eighth grade gym teacher had invited Rash to Trinity to be on his football team, Rash actually never even played on the football team. Rash proceeded for the next four years to get on a 7:00 a.m. train in Mount Vernon arriving in Stamford, CT at 8:00 AM, then taking the city bus arriving at Trinity Catholic around 8:20 AM every morning, then returned to Mount Vernon each night.
While at Trinity, Rash was in the starting lineup all four years, and set records as the all-time leading scorer in Stamford. In the state of Connecticut he is the fourth or fifth all-time leading high school scorer. A game that Rash hasn't forgotten was during his senior year when Trinity Catholic lost the state championship game to New London High School. Rash was named Fairfield County Player of the Year three out of his four years, and during his senior year was the state of Connecticut and the Gatorade Player of the Year.
Rash played a lot of basketball. In addition to playing at Trinity, he also found time to be a member of some pretty well known AAU (Athletic Amateur Union) teams. Among them were the Gauchos from the Bronx, the Long Island Panthers, The Cardinal Shehan Center AAU Team from Bridgeport CT, and Hoop Street Team from Rockland County New York. "The thing that I remember most about all of my AAU teams was the camaraderie with all the guys. I remember the bus rides, being with the team for breakfast, lunch and dinner. We formed a brotherhood, and that's what basketball is all about."
Rash started getting college recruitment letters as a freshman in high school, and by the time he was a junior his coach was giving him boxes of letters. "It was like receiving a 100 pieces of mail a day by the time my junior year came." Having made up his mind to stay on the East coast, Rash was able to eliminate a lot of schools. His choices were Boston College, Florida State University, University of Massachusetts, University of Connecticut and Indiana University. As a senior, he had it narrowed down to UMass, UConn and BC. "I wanted my relatives to be able to see me play, so for that to happen, I had to stay within the Tri-State area. UMass coach John Calipari (at that time) came to visit Rash's family. After he left, Rash's grandmother commented he was like a car salesmen, telling you everything you want to hear. BC Coach Jim O'Brien (at that time) came for a visit but he was too laid back for Rash. Coach Calhoun came for a visit and Rash said, "I was used to an in your face type of guy. Watching Coach Calhoun, during games seeing his style, I knew, that's where I needed to be." Rash talked with some of the UConn players, and they all had great things to say about Coach Calhoun, and the basketball program at UConn. At the beginning of his senior year of high school, Rash announced his decision to go to UConn.
Rash said that all basketball players have a bit of an attitude about how good they think they are. He was no different. He knew if he was going to UConn he was pretty good until the first day of practice when he found out he had a lot of work to do and a lot to learn. One of Rash's jobs as a freshman was to guard Ray Allen (one of the all-time best NBA players) every day in practice. "That's how I became a good defender, guarding Ray every day." Rash learned quickly coach's philosophy, "Coach stresses whoever wants it (to win or playing time) the most, 95% of the time is going to be the victorious one at the end of the game. Coach didn't care if we were playing the Chicago Bulls, if we put out all of our effort; we had a great chance to win."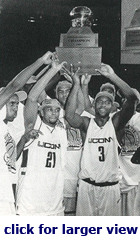 Among some great memories while at UConn were winning the Big East Championship three out of his four years, and winning UConn's first National Collegiate Athletic Association Tournament Championship but more importantly, "The number one thing that I remember from UConn is the brotherhood. The team is around each other so much that you get the opportunity to know who these people are not only as student athletes, but getting to know these guys who are trying to accomplish the same things that I am."
Rash suffered a bump in the road during his junior year when he lost his starting position. He had to adjust to his new role coming off the bench. Rash was in a slump while adjusting to his new role, and during the Big East Tournament at Madison Square Garden, he had his chance to prove himself. Teammate Kevin Freeman had gotten hurt and Rash was called upon to help out. Rash had 17 points, 9 rebounds and made the All Tournament team. "Games like that are special to me to be able to step out of that shadow, and still perform. It meant a lot to me, and to my teammates."
As a senior, and after winning the National Championship, things got pretty busy. Rash was offered a contract to go overseas to play basketball in Europe. "That was my dream, to play professional basketball whether it was in the US or in Europe, so I accepted the contract, and left for Europe." While there Rash visited Italy, Spain and Australia, and was able to learn and see a lot. Rash played in Europe for two years then in 2001 he had a knee injury. He came back home to Mount Vernon for rehabilitation. He worked a few different jobs for a while, and then realized that what was most important was to go back to UConn to finish working on his Bachelors degree.
Soon Rash was back at UConn and earned his Bachelors Degree in Sociology in 2005. While at UConn Coach Calhoun gave Rash the opportunity to be a student assistant to help out with the team. "That was a great experience for me. I loved it, traveling with the team; it just reminded me of when I played."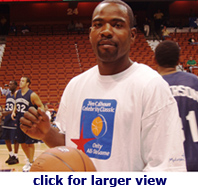 After graduation Rash worked for the CT Dept of Children and Families for over two years. Since December 2007 he decided to move closer to home and is currently managing Hooperstown, a sports complex, where some of his responsibilities are coaching an AAU Program, giving individual or group lessons and putting together and running basketball camps.
Rashamel had some nice things to say about Coach Calhoun too, "One thing I can say about Coach Calhoun is that whatever the man said, it always came to life somewhere down the line. That's why he is so well respected. He doesn't tell you things that you want to hear, he's honest. He treats everyone on the team equally important."
Rashamel ended our conversation saying the most memorable contribution to his life from his time at UConn was being a part of something so diverse. "Meeting Spanish, Asian, and European people after having grown up in an African American Urban area is what life is all about. We all need each other to accomplish our goals, and just about anything we do in life."