Toby Kimball was a Center for the UConn Huskies from 1962 – 1965. He's a member of the UConn Basketball All Century Team, he ranks No. 2 at UConn in both career rebounds (1,324), and rebound average (17.9/game), and led the nation as a senior in both total rebounds (483), and rebound average (21.0/game). Toby is No. 6 in career scoring average (18.4/game), and in the top 20 in career scoring (1,361 points). This is a short list of statistics that could go on a basketball resume of Toby Kimball. I had the pleasure of talking to Toby by telephone from LaJolla, California about his basketball career, and reflect on his college, and post-collegiate days both on, and off the court.

Toby started playing basketball as a youngster shooting hoops in the back yard daily, playing pick up games, and doing what most kids do, enjoying the game. He played basketball at Fay School in Southborough, MA, a pre prep school. Then he went on to Belmont Hill School in Belmont, MA, a prep school for major Ivy League schools like Harvard, Yale, and Dartmouth.

Belmont was known as a hockey school until Toby got there. "While I was there we had a terrific basketball team for my three years as a varsity player. We won 55 straight games to set a prep school record back then in MA." At that point Toby thought he might be able to go on, and play in college.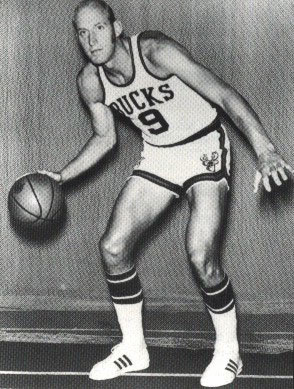 Toby started getting recruited, visited several schools, and narrowed his choices to the University of CT, and the University of North Carolina. He wasn't a city boy, wanted to stay in the New England area, and was very impressed with Head Coach Hugh Greer at UConn. Toby was given a tour of the University, was introduced to some of the professors, and liked everything about the University of CT. "I made the decision to go to the University of CT, and had three years on the varsity team, and had some good years. We had some great teams, and you know, you need personnel around you. You can't do it yourself."

One memorable game was during his junior year in the National Collegiate Athletic Association Tournament they had to play against Duke University. UConn lost to Duke but the team had made it to the Final Eight, and that was a highlight. Toby said he had great teammates, and he loved playing. Toby was a three time All Yankee Conference, and an All New England First Team selection. I've been told that Toby Kimball was one of the best players to have come from UConn, but Toby was very humble when I spoke to him, always giving credit to the teams he played on, emphasizing it's a team effort not an individual effort.

When Toby graduated from UConn, he hadn't been thinking about playing professionally. "Coach Fred Shabel brought me in, and said 'hey, you're going to be drafted,' and I said oh,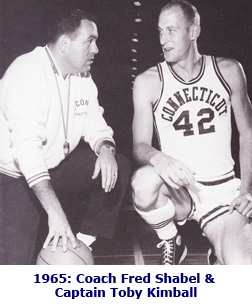 didn't even think about it, and I was drafted by the Boston Celtics, and here I am from the Boston area, kind of a dream come true." Toby, having been the nations leading rebounder his senior year, was heavily recruited by an Italian team with an opportunity to play in Europe. Toby talked to Red Auerbach (Boston Celtics Coach), knowing that as a rookie he probably wouldn't get much playing time with the Celtics, about going to Europe to get in great shape, and work on his outside shot. He got the okay, went to Italy, and his team proceeded to win the Italian Cup Championship, and the World Cup Championship. Toby was going to stay for a second year but Red Auerbach said either come back now or don't come back to the Celtics. Toby came back, and began his pro career in Boston sitting on the bench most of the year as most rookies do. "I thought I was going to be, and really felt I could have contributed to that team but blew out my knee when I was coming down from getting a rebound, and basically for the remainder of my career I had to try to rehabilitate."

After playing for the Celtics, Toby spent four years with the San Diego Rockets (now the Houston Rockets), played for the Milwaukee Bucks for one year, was traded to Kansas City, then Philadelphia, and wound up on the expansion draft in New Orleans. At this time, his knee problem caused him to be on the disabled list, and he was waived as a disabled player. Toby decided to retire with a year's worth of disability salary, and a years worth of salary for being waived while on the disabled list because a player must be allowed to rehabilitate before being waived.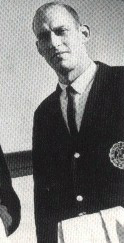 Toby began working for Canteen Corporation, a food distribution company, and started a coffee division in San Diego. Later the company was sold, and Toby opted to move on. Next was The Jack Winter Company where he sold women's clothing in California. Then Toby was given an opportunity to work with ADIDAS selling clothing until the company moved to New York. He then worked for Mission Janitorial Abrasive Supplies, and started a rental division of giant sweeper scrubbers that cleaned underground garages, oil spills, and aircraft carriers.

Toby really wanted to leave the corporate world, and work for himself. He bought into Southwest Trophy and Awards about nine years ago; four years ago he opened a second store. They sell to little leagues, high schools, colleges, and do a lot of corporate engraving work with accounts on both the east and west coast. "It's become a hi-tech computerized business. It's given me a chance to combine my sports, and my marketing sales background."

Toby is still very active in sports. After retiring from basketball he took up tennis, and became an avid tennis player until he had another knee surgery, and his doctor told him to give up tennis. Next he took up ocean wave kayaking. When we spoke he was looking forward to the upcoming weekend with four to six foot waves expected, and Toby would be out there with his kayak.

I asked Toby if he still follows UConn basketball, he responded, "You bet, how can you not follow UConn basketball. I watch the UConn men and women. There are a lot of UConn Alums out here (CA) and a lot of East Coasters who route for CT."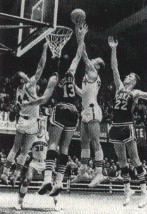 Toby said the game has changed so dramatically from when he played. The shoes that are worn now are much different from the concrete-like shoes he wore, and there is more cork in the floors so the guys are able to jump a lot higher changing the action around
the boards. The guys are also a lot bigger so there is a lot more outside shooting. "It's a different game."

Toby thinks Coach Calhoun has done a marvelous job coming in to a program that really needed a jump start. "He came in to a program where there was a program, and a history of success just not to where he's brought the level of success." His work is cut out for him this year, but Toby feels Coach Calhoun has had his work cut out for him in the past, too.

Toby graduated from UConn with a Bachelors Degree in Business. His four years at UConn had critical contributions to his life. "Four years, and I do say four years of college is not only a learning experience, it's a growing up experience, and it's also a time when you can have the greatest time of your life."

Toby met his wife, Helen, at the University of Connecticut, and they've been married for 39 years. Helen is a homemaker, housewife, mother, and grandmother. They have a son Tim who was not a basketball player, rather a volleyball player in college. Tim works for a television station in Los Angles, and he and his wife, Barbara, have two children Clayton age 4, and Lela Rae age 2.