Kirk King was a Forward for the UConn Huskies from 1993 – 1997. His contributions in the 1996 Big East Championship Tournament Title Game were significant in helping the Huskies come from behind to win the game. Kirk also had a unique record at UConn with 22 consecutive field goals made in three back to back games. He was a solid player ranking seventh in UConn's career field goal percentage list 53.0. I had the opportunity to talk to Kirk in August 2010, about his basketball memories and experiences.
Kirk grew up in Baton Rouge, Louisiana. "I became interested in basketball just playing the game with everyone else, going to camp, and I fell in love with it." While in school he enjoyed simply having fun meeting people along the way through his basketball travels. He helped Southern Lab High School win two state championships during his junior and senior year.

When making his college decision it came down to staying in Louisiana or coming to Connecticut. "I was going to play at home, but when I came to UConn there was something about this place that made me want to come, and this (the UConn Charity All-Star Game where Kirk and I talked) is a testament to why; to reminisce and see old friends." The All-Star Game draws many former players to come back every year to support the Jim and Pat Calhoun Cardiology Research Endowment Fund for the University of CT Health Center.
When Kirk arrived at UConn the biggest transition was not on the basketball court. "The hardest transition for me was the weather, coming from Louisiana. Once I got here, basketball took care of itself." Kirk played in 114 games while at UConn, and averaged 5.8 points per game. He was in the starting lineup during his junior and senior years. As a junior he was third on the team both in scoring with 9.9 points per game, and rebounding with 6.3 per game. His senior year was cut short after fourteen games due to a National Collegiate Athletic Association (NCAA) suspension. Kirk had accepted an airline ticket to fly home and the NCAA's penalty was huge. Coach Calhoun then named Kirk as a manger on the team. Kirk continued as a member and leader managing the team but couldn't play. Kirk can look back and be proud. His suspension gave the freshman more playing time that paid off a few years later in 1999 winning the NCAA Championship.
I recently talked to Wayne Norman (WTIC 1080 UConn Radio analyst) about Kirk King and Wayne had some memories of Kirk. "Kirk had a unique record at UConn with 22 consecutive field goals made. The first night he went 9 for 9 totaling a career high 20 points. The next game he was 10 for 10, scoring 20 points for a second consecutive game. The third game the streak ended after 3 field goals." Wayne also remembered, "In the 1996 Big East Tournament Championship Game, UConn trailed by 11 points with less than 5 minutes to go. Kirk scored eight of the next 10 points to put UConn within one point with a minute left to play. Ray Allen flipped in a twisted shot with 13 seconds left to play to win the game. That final field goal was Ray's only one in the second half of the game."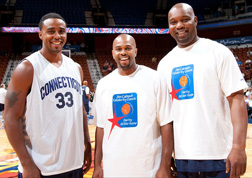 Kirk earned his Bachelors Degree in Sociology. After graduating Kirk was selected in the Connecticut Basketball Association (CBA) draft by the Connecticut Pride. Through trades he played for a few teams in the CBA over the next few seasons. Kirk also spent time playing for the CT Skyhawks in the United States Basketball League (USBL), and later he spent a few years playing in Europe until he had a knee injury that ended his basketball career. In 2010 Kirk was inducted into the Southern Lab High School Sports Hall of Fame.
Kirk is married to Erica also from Baton Rouge where they currently reside. They have four children.
Kirk ended our conversation with some nice things to say about the UConn coaching family. "I love Coach Calhoun and all the coaches that were there during my four years. They made me feel like a son to them. I can call them any time to talk to them. I really enjoyed getting to know all of the UConn players and developing a long lasting comradery."