Travis Knight was a Center for the UConn Huskies from 1992 – 1996 and is a member of the UConn Basketball All Century Team. He was a key member of the 1996 Big East Championship Team earning All-Big East Conference All-Tournament Honors. Travis was a National Basketball Association first-round draft pick—29th—in 1996, and earned an NBA World Championship as a member of the Los Angeles Lakers in 2000. I had the pleasure of meeting Travis in August 2007 as he reflected on his basketball memories and experiences.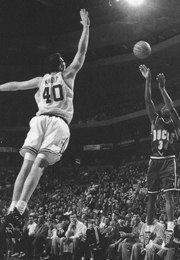 Travis grew up in the Los Angeles, California area. As a youngster he was taller than the other kids his age, and kind of awkward. His older brother played basketball so Travis thought, "If I'm going to play basketball I wanted to play the sport with my brother. He's probably the one that pushed me the most."
It wasn't until high school that Travis really decided to get serious about basketball. "I was kind of lukewarm on basketball growing up until I kind of grew into my body." When asked if he became the star of his high school team Travis humbly responded, "No, I was OK but there was always a guy that was better than me. It was good for me, it kept me working hard." While playing basketball in California, Travis was able to get a lot of good exposure to various basketball experiences. When Travis was a senior in high school, his family moved to Sandy, Utah. "In Utah my high school team won the state championship. While in California my high school team had won our section, which was actually harder to win than it was to win the state championship in Utah due to the competition level in Los Angeles versus Utah."
Travis had started receiving college-recruiting letters while in California. When asked if he received a lot of letters again, humbly Travis responded, "yeah a couple of them". He eventually narrowed his choices to the University of California at Los Angeles (UCLA), Arizona State University, and University of Connecticut, for his official visits. Travis chose UConn because "Coach Calhoun took a chance on me. I liked Coach. He wasn't like many other coaches during recruiting telling you what you want to hear. Coach was very honest with me."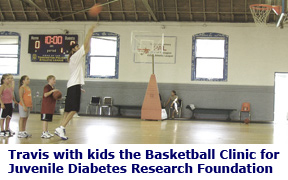 When Travis arrived at UConn he found the transition from high school to college was HUGE. "You get to college and every guy on every team is as big as or bigger than you. A high school practice is like a warm up in college."
While at UConn Travis's most memorable game was winning the Big East Tournament in 1996.
"I would probably say that the Big East Tournament Championship Game was my favorite basketball game to be a part of in my life." His most disappointing game was losing to UCLA in his junior year in the National Collegiate Athletic Association Tournament. Travis accomplished a lot on the basketball court while in college. He finished third on the UConn career blocked shot list with 179, and number 14 on the career rebound list with 747. He led the team in rebounding his junior and senior years, recorded 18 career double-doubles, and scored in double figures in 33 games.

Next for Travis was the NBA. He was drafted in the first round of the 1996 NBA draft to the Chicago Bulls. "That was exciting. It's an obvious dream, and something I wasn't expecting so I was happy to
be there." Sadly the Bulls told Travis they were going to send him to Europe to play basketball, and in a couple of years they would need him. Travis wasn't interested in going to Europe, and two weeks later was released from the Bulls. Travis had the opportunity to sign a one year contract with the Los Angeles Lakers where he became a valuable player ranking fifth in shot blocking, and ninth in rebounding among NBA rookies. The following year Travis was offered a multi-year contract with the Boston Celtics. A year and a half later he was traded back to the LA Lakers where he became a team member of the 2000 LA Lakers NBA Championship Team. When his contract was up, Travis was no longer pursuing additional years in the NBA. "There were other things in life."

Travis has been applying the Bachelors Degree in Business Management that he received from UConn to the fishing business he owns in Nicaragua. When he's not in Nicaragua, he enjoys spending time with Natasha, his eight-year-old daughter. Right now Natasha is very athletic, enjoying dancing, and outdoor activities like hiking. She's not that interested in basketball, and that's okay. "If she wants to play basketball, we'll play, if not, it's fine with me either way."
Travis had some positive things to say about Coach Calhoun, "I think he's a great coach. No matter what happens you'll be a better person having played for Coach Calhoun. He's a loyal guy, which is displayed in his care for his former players, and that says a lot about his character. He always has my utmost respect."