Bruce Kuczenski was a Center for the Uconn Huskies from 1979 – 1983. He's a member of the UConn Basketball All Century Ballot, was a member of the Big East Conference All Rookie Team in UConn's first year as a member of the Big East, and has played in the National Basketball Association for the New Jersey Nets, Philadelphia 76ers, and the Indiana Pacers. I spoke with Bruce in January 2005, as he reflected on his childhood as an athlete, and his college and post-collegiate basketball experiences.

Bruce started playing basketball as a youth in the sixth grade. While growing up in Bristol, CT he played in the basketball league at the Boys Club. "We were the state champions when I played on the 12 and under team, and again when playing on the 14 and under team, and that's how it all started for me."

Bruce used to play basketball outside all the time, including during the winters with his little brother Tommy. "I'd spot him 80 points, and we'd play to 100." Bruce also attended a lot of basketball camps, and he went to a basketball school that was owned by Bill Detrick (Central CT State University head basketball coach at the time), and Nick Macarchuk (head basketball coach at Canisius College at the time).

During junior high school Bruce began to really enjoy the game, and while at Bristol Central High School, he was on the varsity team as a sophomore. During his sophomore year, the team made it to the Colonial Conference, but as Bruce became the star of the team, during his junior and senior years, the team made it to the state tournament semi-finals. "There were some good high school rivalrys." Bruce remembered the gyms were always full, and there was always a lot of excitement that surrounded his high school team.

The college recruiting process began while Bruce was in high school, receiving many letters during his junior and senior years. He narrowed his decision to Canisius College in Buffalo, New York, Ohio University, which was very interested in Bruce, Fairfield University which had a well known Division I college basketball team, and UConn where Bruce's parents had both graduated from during the 1950's. "Things worked out because after I decided to go to UConn, they announced the signing/entering into the Big East Conference."

When Bruce arrived at UConn they already had a very talented team with Corny Thompson, Mike McKay and Clay Johnson. While there, Bruce's teams enjoyed 20 win seasons, and being the first UConn team to be ranked as one of the top 20 teams in the country since 1965.

Some memorable moments were making the first Big East All Rookie Team, and being Rookie of the Month in the Big East a couple of times. Regarding memorable games at UConn, Bruce remembered a win at Providence with a tip-in basket at the buzzer, and playing against Georgetown who was a powerhouse team at the time. All the games at Manley Field House in Syracuse, and games in Storrs with very excited fans, were great games. Bruce also enjoyed three trips to the National Invitational Tournament while at UConn.

After his senior year, Bruce was picked up by the New Jersey Nets in the National Basketball Association draft, and played for the Nets, Philadelphia 76ers, and the Indiana Pacers for a year. Going from college to the NBA, Bruce's position changed from center to power forward so he had to make some adjustments in the way that he played. While playing with the 76ers (who were the NBA Champions the previous year), Bruce had the opportunity to start a few games. "The first game I started was my birthday. It was in Philadelphia. When they introduced me, they dimmed the lights, and the Philly mascot came out into the Philadelphia Spectrum with a birthday cake, and everyone sang happy birthday."

Recently Bruce was watching ESPN Sports Center with a friend. ESPN was showing the 25 greatest teams of all times, and they showed #24, a picture of the 76ers team that Bruce was a member of. It's a picture that Bruce has on his mantle at home. The team included the great Moses Malone and Julius Erving.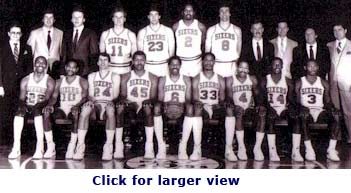 Next Bruce went to Europe and played for six years in Italy, Spain, France, Belgium, and Switzerland. While in Europe he had the opportunity to play in Friedburg, for Coach Joey Whelton (former UConn player). "We were picked to finish as one of the bottom teams, and we ended up going to the championship game." Bruce said, "Joey was probably the best coach I played for in Europe, and it relates to him having had a lot of success over there. He knows what he's doing."

Some memories of his time spent in Europe were that Bruce was there when the Berlin Wall came down. He was able to see it, and bring home pieces from it that he was able to chip off. While in Belgium he formed relationships with families. They'd have him over for dinner, and include him as part of their family. He remained friends with the family he stayed with after he came back to the United States. The family wrote to him, and told him that they had a son, and they gave their son the middle name Bruce.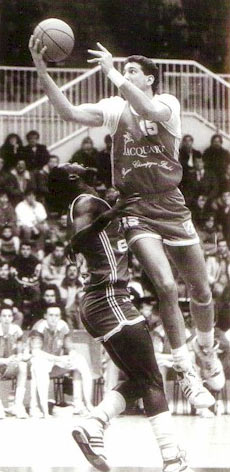 When Bruce finished his senior year at UConn he was short a few courses from graduating. He proceeded to return to school each summer during the off-season of basketball, and earned his Bachelors Degree in Marketing.

After seven years of post-college basketball, and knee problems needing attention, Bruce decided to start looking into other careers in the working world. He came back to CT, and created his own business working with nutritional products for a few years. Seven years ago he changed careers, and began working for Paychex, a national company headquartered in Rochester, New York with an office in Rocky Hill, CT where Bruce works on payroll, and 401K planning for small businesses.

Bruce's thoughts on how UConn basketball has changed over the years, and particularly since Jim Calhoun came: "The recruiting of players on the east coast to recruiting nationally and worldwide is a big change." While Bruce was in Europe he saw the change take place. They would see maybe 15 minutes of a UConn game or the highlights of a UConn game on television at night. As years went by, they were able to see taped delayed games. "With UConn reaching the National Collegiate Athletic Association, and winning the NCAA, they can now recruit the top players in the country. The sign of a good successful program is being consistent winning 20 games year in, and year out."


Bruce continues to follow UConn basketball, and watch games when he can. His thoughts are that the current team is young, and is still making adjustments finding there leaders, which takes time. "The way they played in the beginning of this year, and the end of the year, you're going to see a difference, and then next year you'll see another jump in confidence. The end of this year and the end of next year will probably be a different story."

Bruce has been married to his wife, Ivette, for seven years. He has two sons Christopher, age 25, who played some basketball, and is currently in the work world. Kevin is 13, and likes playing sports in the following order, football, baseball, and then basketball. It would be great to see Kevin play football at UConn, and follow in Bruce's footsteps going to UConn like Bruce, and his parents, but time will tell.

Bruce's decision to go to UConn was the right decision, and a good experience. "It was the best route for me to go to UConn, and afterwards to play in Europe. I had a lot of great experiences. I grew up here in the state, and even now people like talking about UConn in the past. People still recognize my name, which helps to open some doors in the business world."