Mike McKay was a Forward for the UConn Huskies from 1978 – 1982. He's a member of the UConn Basketball All Century Ballot, was a member of teams that went to the National Collegiate Athletic Association once, and National Invitational Tournament three times, and he scored 400 points in three out of four years. I had the opportunity to talk to Mike in September 2004 where he reflected on his childhood as an athlete, and his basketball memories at UConn.



Mike's father introduced him to baseball as a youngster because his father played professionally in the "Negro League" in the south. "I learned right away that baseball wasn't my thing. I wasn't really good at it." At that point his parents left him alone to do his own thing regarding sports. That's when Mike discovered basketball, and began playing in the parks, and local gyms. Mike was always bigger than most kids his age so he started playing with older guys, and that's where he learned the fundamentals of the game.

By the time Mike reached high school he was 6'4" and a pretty good ball player. He was offered scholarships to go to Fairfield Prep School, and Saint Joseph Prep School, but opted to go to Warren Harding High School in Bridgeport, CT, a school that had one of the best high school basketball teams in the state, and had won the State Championship the year before Mike was there.

At Harding, "I was the first player to come in as a freshman, and play on the varsity team." Mike's team went to four state title games, winning two of them. He really enjoyed playing, and learned a lot about the game from his coach of three years, Coach Jim Kish. Coach Kish left before Mike's senior year started, and Mike wasn't excited about a new coach coming in when he was a senior, but things worked out with his new Coach Charlie Bentley. The team went undefeated that year, and they won the State Championship.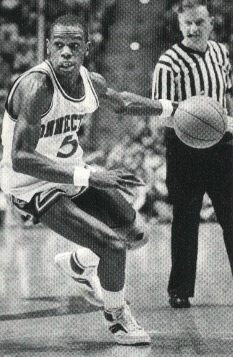 Mike was an All American with about 150 college scholarship offers, and was considered one of the best players in the country coming out of high school. He officially visited six colleges, Florida State, Marquette, University of Texas-Austin, Clemson, Rutgers and UConn. "Those five schools were basketball powers per say somewhat more than UConn was at the time especially Marquette who had just won the NCAA Championship the year before. For those schools to be interested in me as a ball player, and student athlete was an honor. The bottom line is, it came down to me wanting to be close to home, wanting my parents and relatives to be able to come to the games in a reasonable amount of travel time." Mike struggled a little before making his decision to go to UConn because he really wanted to get involved with a program that was a basketball power. He loved Marquette but he remembered something his father told him, "If you're a good ball player by the time you're a senior in college, and you have pro potential, it doesn't matter what school you go to, they're going to recognize you," so Mike decided to go to UConn.

Playing basketball at UConn was a drastic change for Mike because in high school he was the tallest guy at 6'5", and played the center position. At UConn he played the forward/guard position. Mike's high school Coach Bentley helped him make this transition from playing down low in the paint, to facing the basket, shooting jumpers, and making moves off the dribble. When Mike arrived at UConn he was well prepared. Another adjustment Mike and the rest of the team had to make was to deflate their personalities. At the high school level they were All Americans, and the "big kuhunas." At the college level, they were no longer "the man," and to make this work they all had to come together, and do well as a team.

One memorable game at UConn for Mike was as a freshman playing and beating Syracuse at Syracuse. It was the largest crowd to see a college game in the history of college basketball, 30-something thousand people at the Carrier Dome in Syracuse. Another highlight was beating the University of Rhode Island for the New England Championship. "Beating teams that were to some degree expected to beat us are fond memories."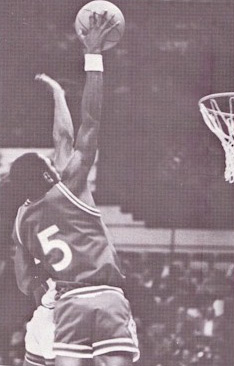 While at UConn Mike's teams went to the post season all four years, the NCAA once, and NIT three times. "It is a good feeling to have participated, and be a part of the UConn program. The campus has grown, not only athletically but educationally. I feel like I helped in a positive manner, and it's a great feeling." When Mike attends games he's recognized by people like Coach Dee Rowe, Tim Tolokan, and Coach Calhoun, and said it's a great feeling to have graduated from UConn over 20 years ago, and continue to be recognized as an athlete.

After four years at UConn Mike was drafted in the second round of the NBA draft by the Utah Jazz. He went to the camp tryouts, and made it through rookie camp then went to the veteran camp, but was one of the last players released. He returned to Bridgeport, and began working in a factory making aircraft parts. After a year of that, Mike got a phone call from Coach Dom Perno (former head coach at UConn) asking him to come back to UConn to finish his degree, and be an undergraduate assistant coach to the team. Mike accepted the offer, and was soon back at UConn to finish his education, and graduated with a Bachelors Degree in Special Education.

He returned to the Bridgeport area, and for the past 20 years has worked with mentally challenged individuals, enjoying the work he does. Mike loved basketball, and still does, but after college and the Utah Jazz training camps he did not explore the option of playing in Europe. "I felt like I took it as far as I could as a ball player which could have been the wrong decision on my behalf, but I made the decision not to continue to play. I left it alone."

Mike's thoughts on the two National Championship teams are that in 1999 when UConn was on the Road to the Final Four the key game was playing North Carolina. For North Carolina it was just another game, they had been there several times before where UConn was psyched, and ready to play the game. UConn's Ricky Moore was "the man" that night, and shut down North Carolina's point guard, their "general", disrupting their team. In 2004 when Mike knew who the Final Eight teams were, at that point, he thought UConn was going to win.

His thoughts on the coming season, "Coach Calhoun is a survivor. He always comes up with a winning team, a winning program regardless of how many players he loses. I don't know if they'll win the championship, defend their title, but they'll win over 20 games."

Mike and his wife, Linda, have a daughter Michelle (a female name for Michael) who is 13 years old. Michelle is in the eighth grade, and plays basketball for the middle school. Mike said she is a pretty good ball player, and has potential, but he's not rushing her, he's letting her do her own thing in sports, and he'll see what happens just like his parents did for him.