Emeka Okafor was a Center for the UConn Huskies from 2001 – 2004. He was the Most Valuable Player of the 2004 National Collegiate Athletic Association Final Four when UConn won its second National Championship. In three years at UConn, Emeka enjoyed many honors, including National Defensive Player of the Year, Big East Player of the Year, and leading the nation in blocked shots during his junior year. I had the opportunity of talking with Emeka in October 2006, about his basketball accomplishments and memories.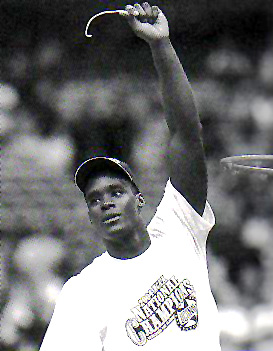 As a youth growing up in Bellaire, Texas, Emeka loved playing football, but by his teenage years he knew his career wouldn't be a professional football player. "All during high school when I'd look in the mirror, and I'd know that I was just too dang skinny to play football, I just started to play basketball."
As a freshman at Bellaire High School Emeka remembered that the basketball team was pretty good and they enjoyed winning the city championship trophy that year. While playing on the junior varsity and varsity teams they reached the playoffs but never won any championships. Some of the games Emeka enjoyed most were playing against the town rival Lamar High School. When asked if he was the star of the team, Emeka humbly responded "Yeah, it was high school, it really wasn't anything."
Colleges started recruiting Emeka; University of North Carolina, University of Arkansas, Vanderbilt University, Rice University and University of Connecticut were among them. "It was a pretty confusing process. You really don't know what's right, and you're trying to make the right decision. It was a little bit stressful." UConn had the qualities Emeka was looking for in a college; a basketball program that would get a lot of media attention, a good basketball coach, and good academics.
Emeka didn't remember the transition from high school to college as anything significant other than a lack of time. "I didn't really have much time. You know, you come in, and have to work hard, and hopefully you'll be successful." While at UConn, Emeka averaged a double-double – 13.7 points per game, and 10.5 rebounds per game. He holds the record for blocked shots averaging 4.3 per game, the most in UConn history. Emeka was also known as an elite student. He graduated with honors after three years with a 3.8 grade point average, and was named Academic All-American of the Year in 2004 for his work on and off the court.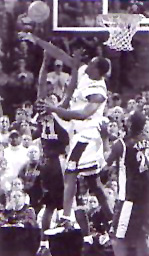 A few memorable games that Emeka recalled were the game against Duke in the semifinals of the NCAA Final Four. UConn won 79 – 78, and moved on to the Championship game against Georgia Tech University with UConn winning 82 – 73. The two most important moments while at UConn for Emeka was earning his Bachelors Degree in Finance, and receiving his NCAA championship ring. It was now time for Emeka to move on, and he declared himself eligible for the National Basketball Association draft.
In June 2004 Emeka was selected #2, the highest ever for a UConn player, by the Charlotte Bobcats. Emeka said, "The draft was the realization of my dream." The transition from college basketball to playing in the NBA was hardly noticeable. "Coach Calhoun had made sure I was prepared for it. It was pretty smooth." Emeka's rookie season was flawless. He won the 2005 Rookie of the Year Award after averaging 15.1 points, and 10.9 rebounds including 47 double-doubles. His second season in the NBA was cut short ending early with an ankle injury. With his third NBA season about to begin, Emeka said, "I'm definitely looking forward to the new season. We're getting better. It's a building process, and we just have to play the waiting game."
Emeka's thoughts on Coach Calhoun and the 2006 – 2007 season: "Coach Calhoun is a good coach, and he really cares about his players." Emeka hasn't seen the new team play yet but believes the team has a lot of depth and said, "Knowing coach, he'll have them ready to play."
Looking back at his time spent at UConn Emeka simply said, "UConn did a great job of putting me into the world."