Worthy Patterson was a Guard for the UConn Huskies from 1951 – 1954. Worthy is a member of the UConn Basketball All Century Ballot, he was a first team All Yankee Conference pick in 1952-1953 and 1953-1954. He was also a key member of three consecutive Yankee Conference Championship Teams. I had the pleasure of talking to Worthy by phone from his home in Santa Monica, California in November, 2004, about his career, and he reflected on his college, and post-collegiate experiences.

Worthy was introduced to basketball while at the Boys Club in Greenwich, CT where he went every day after school. "They'd put a lot of guys in the gym, and they played more than five guys but we were all learning how to play so it didn't make a difference. We were learning how to dribble the ball, how to throw the ball, and how to shoot the ball." When Worthy reached junior high school he spent a lot of time at the YMCA where he learned from some really good coaches. That's when he really became interested in the sport.



While at Greenwich High School he played with UConn teammates Lou Orlando and Rocky Marino. Although Worthy was the 'big fish' in high school, the team wasn't that great. Next, Worthy went to Tilton Prep School in New Hampshire for a year. While playing in the New England Prep School Tournament at the Boston Garden, a coach from CT came to see Worthy, and talk to him about coming to the University of CT. "I went down there and of course Rocky and Lou were there so it was kind of comfortable, kind of a Greenwich family affair for me." It was a good school to go to, and although Worthy was a really good basketball player, he wasn't heavily recruited due to 'black/white' problems at the time so it was an easy decision to go to the University of Connecticut.

Worthy enjoyed his years at UConn. He had a really good time, met lots of new people, did a lot of work academically, and graduated with a Bachelors Degree in Physical Education. In addition, UConn had a terrific basketball team.

As a freshman the team record was 12 or 14 wins and 1 loss. The freshman UConn team played the varsity UConn team, and beat them too, Worthy told me as he laughed a little. As a sophomore the team lost around six games. During his sophomore and junior years, the team didn't go to any post season play (the National Invitational Tournament or the National Collegiate Athletic Association Tournament). They had some good wins and some good games but needed to really win against a prominent team to get on the map. That game took place when Worthy was a senior, against Holy Cross.

Worthy had many memories from his senior year when the team only lost two or three games. One loss was to Colgate University in Hamilton, New York. He remembered it clearly because of the long ride home. Colgate beat UConn badly, and there had been one guy on Colgate, also with the name Patterson, who very little was mentioned about him in the scouting report for that game so UConn wasn't prepared for how good he played that night. During the game, "he lit it up, he had the nets on fire", Worthy told me. "I really don't think that if we played them 40 more times that they would have won one game." There was also a very important game against Holy Cross in 1954 that people talk about today. "We beat them on their home court. It was the first time they had been beat on their court in many, many years, and we upset them, and won the New England District I Championship." The UConn team thought they were going to the NIT. The win against Holy Cross put them in a category to make a choice of going to the NIT or the NCAA. The players who were a group of guys from CT, NY, NJ and Long Island all wanted to go to the NIT at Madison Square Garden, the #1 arena in the world but the UConn Athletic Department made the decision for the team to go to the NCAA where they were beat in the first round.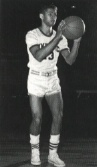 After four years at UConn, Worthy was drafted for the National Basketball Association by the Boston Celtics. In the 1950's basketball was territorial, and UConn was in the Celtics territory so if you were drafted, you went to the Celtics. Times were different and Worthy's competition while trying to make the Celtics roster was another black player from the NBA who was an All-Star rather than competing against another rookie guard because the quota per team was one black player. Worthy was cut from the roster on the last roster decision day, went back to UConn for an extra semester, and earned his degree. While at UConn Worthy was in the Reserve Officer Training Corps (ROTC), so after graduating he went into the Army for two years, stationed in Fort Sill, OK. While in the army he was able to continue playing some basketball.

After the army, he was drafted in the NBA by the St. Louis Hawks in St. Louis, Missouri. Worthy encountered black/white water fountains, bathrooms, restaurants he was not allowed to go in to, and while traveling with the team he had to stay in separate quarters. Things began to change. The Urban League and NAACP (National Association for the Advancement of Colored People) were getting involved so to Worthy's advantage while playing for the Hawks, he did a lot of public relations work letting people know that the Hawks were working on the integration of blacks on their team. After playing for about three months the Hawks brought in a new player, and Worthy was released but they had him work in the front office for the next 4-6 weeks to continue showing they were integrating. Then he was sent to the farm league playing in the Eastern Leagues in Pennsylvania, and was on a 24 hour recall list for a couple of years so if someone got hurt Worthy would play.

Basketball pay wasn't enough to live on, so Worthy began working on his career as a salesman. It took him about 1 ½ years to land a sales job because there were so few black salesman back then. Worthy's career after basketball was beginning and things began to go well. He started work with a company called Technical Tape Corporation in New Rochelle, New York as a sales trainee. After his training was complete there wasn't a territory available so he became an assistant to the Vice President of Sales, assistant to the General Manager of the company, and assistant to the Purchasing Agent, and learned all facets of the business.

Then one day he got a call from a friend suggesting he make a visit to the Urban League Placement Service. Worthy was happy at the Tape Company where he spent six years, and didn't pay much attention to it. His friend pushed him a little more, and eventually Worthy went. Worthy was exactly what they were looking for. RCA Corporation was a Fortune 500 company, and needed to hire some minorities. Worthy was sent to RCA Records, and within 30 minutes he was hired as an executive sales trainee. While at RCA Worthy started working in the factory daily from 7:00 AM to 3:00 PM. After work, since he had given up basketball, he picked up playing tennis daily. Worthy learned a lot about the record industry moving from one department to another, and eventually was given a sales position, and his own territory in New England where he knew many people. He eventually landed in the NY office in a promotions position.

After a few years with RCA, Worthy's next big move was to Warner Brothers, the #1 record label in the world at the time. "We had everybody on the label, James Taylor, Tower of Power, America and Seals & Crofts. One year we did 28 albums that either went Gold or Multiple Platinum." Worthy had become very successful and after five years at Warner Brothers he got a call to go back to RCA, and soon he was in charge of all promotions at RCA. In 13 months at RCA they had five successful acts; Hall & Oats, Waylon Jennings & Vickie Sue Robinson (Turn the Beat Around) were among them. Worthy had a promotions staff of people working for him all over the county.

Next for Worthy was a new company, Casablanca Records where he was in charge of promotions. The roster of acts included Kiss, Donna Summer, The Village People and Tony Tennille. After four years, Casablanca records was sold, and Worthy moved on to Motown in New York for the next eight years where he worked in sales, and helped out with promotions. Worthy's last stop was a company called BMG who had bought RCA. He wasn't really happy, and after eight months, in 1991 Worthy decided to retire. Worthy had great success in the record business building great relationships. "It's a perfect product to sell – music, so it's a fun job. Its entertainment and people live for entertainment."

Now while retired, Worthy continues to follow UConn. He enjoys watching the UConn women also, who play basketball more like the men did in the 1950's. Worthy's thoughts on Coach Calhoun, "He's done a terrific job. He's done a marvelous job. He and Lew Perkins turned the University into a first class place." His thoughts on the upcoming year: Worthy thinks it's going to be hard to repeat what happened last year with two National Championships (men and women) but it's doable. "The women will probably loose a few until their back court gets comfortable but by March they should be in good shape. You never know what the men are going to do because players leave early (Ben and Emeka) and depending on what you have on your bench it's tough to replace them but they'll figure out something and do well."

Worthy has been enjoying his retirement for the past 13 years. He is now 73, and can be found often on the tennis courts competing in 6-7 National Tournaments a year, and many local tournaments. His basketball experiences were different from most people's but he retired at age 60 and said, "Everything is marvelous. I have no complaints, and it's been fun."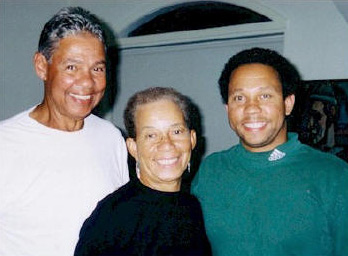 Worthy has been married to his wife, Queen, for 48 years. They met while at UConn. They have two children, Worthy III and Tanya who also both reside in California. Worthy III played basketball at Pepperdine University, and is an avid fan of UConn basketball. He has two children, Worthy IV, age 11, and Cameron, age 8, who are both really good athletes who play basketball, soccer, and are terrific tennis players.

Looking back to the beginning at UConn, Worthy said that he felt lucky to be at UConn, between the athletic director and the coaching staff because plenty of guidance was provided. "It's a great campus, and a great location. We had the best of both worlds. We were able to go to school and play basketball."