Dom Perno was a Guard for the UConn basketball team from 1960 -1964 and he is a member of the UConn Basketball All Century Ballot. He was an Assistant Basketball Coach for five years before becoming the Head Basketball Coach at UConn for nine years, 1977 - 1986. He is currently the Associate Athletic Director for the Athletic Department at George Washington University. I met Dom in December 2003 when GW University was playing in CT. Dom was here for the game and he shared some of his experiences, memories and thoughts on UConn basketball. Dom went to Wilbur Cross High School in New Haven, CT. His team won 49 straight games, two state titles and a Northeast Championship. Then he went to a small prep school called "The University School" in Bridgeport, CT for a year before going to UConn. He thought about going to Fairfield University or Boston College as well as a number of other schools but didn't want to go too far from home. He decided on UConn. Dom really enjoyed going to UConn and being able to go home when he wanted to. Later, as a coach, he recruited many of his players from the state of CT. He was so familiar with the area that he was able to get many in-state players to come to UConn.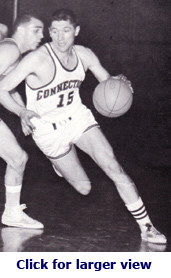 Dom spent 18 years at UConn between playing and coaching,
and said UConn has changed dramatically. "The facility for sports
is phenomenal. It's really big time. When we played, we played in the Field House which was a great home court. It was a fun atmosphere. The people that followed CT basketball then are probably still around chasing the men and women's teams now, believe it or not."
In the '60s, CT basketball teams did well. CT was in the Yankee Conference and won it almost every year. Winning a conference led to an automatic bid to the National Collegiate Athletic Association Tournament and there were only 32 teams in the NCAA at the time. When Dom was a senior, the team won two games so they made it to the Final Eight. UConn had beaten Temple University and Princeton University, which was a great memory for Dom because Princeton had Bill Bradley on the team. If UConn had beaten Duke University, the team would have gone to the Final Four.
"In the Northeast area CT basketball was good, very good. It's got a great tradition. It didn't have the national tradition that it has now, but it was a very good basketball atmosphere to be involved with. I enjoyed being from CT and the great following that they had."

After graduating from UConn, Dom coached for a couple of years at South Catholic High School in Hartford, CT, then at St. Paul Catholic High School in Bristol, CT. While coaching at St. Paul's, an assistant coaching position became available at UConn because Jimmy Valvano was leaving. Dom was soon an assistant coach at UConn working with Head Coach Dee Rowe. Five years later Dee Rowe left and Dom became head coach at UConn. "What was great for me as a coach was that so many of the kids came from the CT area. We had a great following. The parents were able to come to all the home games."
After being head coach for nine years, Dom left UConn and went into the insurance world for a short while. He also worked with the Big East Network in the early- to mid- 1990's as a color commentator to Big East games, University of Hartford games and Boston Celtic games. Seven years ago he joined GW University as an Associate Athletic Director for the Athletic Development. "I'm delighted to be there because now Head Basketball Coach Karl Hobbs is there who played for me and Assistant Coach Steve Pikiell is there and I recruited him to play for CT."
Dom lives in Old Town Alexandria in DC. He and his wife, Cynthia, love the area, which is only five miles from GW University, but he said it was tough to leave CT. Dom has a daughter, Holly, who is a guidance counselor in Wilmington, NC, a son Dom who works in the insurance industry in CT and lives in Wallingford, CT and he has another son Matt who also works in the insurance business and lives in Chicago, IL.
Dom's most memorable time at UConn as a player was as a senior going to the Final Eight while he was captain of the team. As a coach, the highlight for him was in his second year as head coach when the team won 21 games, which was very significant at the time. The team went to the NCAA, played Syracuse and was down by 18 and brought the lead down to two. Another game Dom remembered was a game against UMass at the Hartford Civic Center. After they played the game, later that night, the Civic Center collapsed. Luckily the event was over and everyone had already left the building.
Dom shared his thoughts on the current team making it to the Final Four. He said they certainly have the talent and the ingredients to go a long distance with players like Emeka Okafor, Ben Gordon and Charlie Villanueva. He thinks this will be an exciting year at UConn and he plans to be at the Final Four in April.