John Pipczynski was a Forward for the UConn Huskies from 1957 – 1960. John is a member of the UConn Basketball All Century Ballot; he averaged 12 points and nine rebounds per game during his three-year Varsity career, and was a two-time All-Yankee Conference First Team selection during two seasons. In September 2004, I had the opportunity to talk to John from his hometown of North Hadley, Massachusetts where he reflected on his basketball and career experiences.

John grew up on a farm in North Hadley, MA. He was introduced to basketball when his older brother nailed a bushel basket to a barn wall and cut the bottom out. Once they had the "hoop" they found a ball, and began playing basketball. John played the guard position in junior high school because he wasn't very tall. As a freshman in high school he didn't try out for the team because he didn't think he would make it. He thought all the starting slots were already occupied with other good players. However, as a sophomore he tried out for the team, and for the next three years was a member of the team that went on to win three straight Hampshire League Championships, and had a streak of 42 consecutive wins setting a Western MA record. The record ended during John's last high school game when they lost a game to Worcester Commerce in overtime (67 – 65) in a Western MA Large School Tournament.

For a guy who didn't try out for the basketball team as a freshman, he worked hard averaging 30 points per game his senior year. Were you the best player on the team I asked, and John responded, "I don't know if I was the best player. I scored more points, and got more rebounds, and those types of things but I think who is the best player is in the eyes of the beholder." John worked at becoming an all around basketball player while working on the farm. He practiced year-round starting first with a one-hand push shot, then a jump shot, and then developed a hook shot, while also working to improve his defensive skills. In addition to his basketball workout, he had chores to do on the farm so John was pretty busy, and said there wasn't much time to get into any trouble.

"After finishing high school, I could have gone to a number of colleges. One college interested in me was UMass, which was only three miles from my home, and I could have gone to Holy Cross but I guess the deciding factor was meeting Hugh Greer. I liked the attitude he had, and the fact that he was a real gentlemen, and I just thought I would be happy playing for him." Although John could have played at UMass so close to home, he opted to go where no one knew him. Coming from a family of ten kids, his mother's time was occupied, and his father's commitments were to working on the farm so his family wasn't able to watch John play very much.

The transition from high school to college wasn't that difficult for John. Back in the 1950's a player had to play on the freshman team, which helped them to make the transition, and it allowed them a little more time than the varsity team, to attend to academics and socializing, but like in farming, there wasn't much time to get into trouble.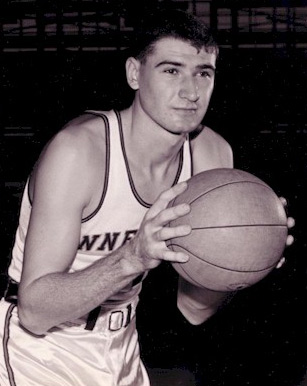 During John's freshman year the team's record was nine wins and one loss. His sophomore year he became part of the starting lineup during the second half of the season. Some memorable games for John were the battles with Holy Cross, UMass and Rhode Island University. The Yankee Conference was tough because every school was trying to beat UConn but each year UConn won giving the team an automatic bid to the National Collegiate Athletic Association.


Another memorable game was against Rhode Island, the final game of the season, "We were one point behind, and I got fouled with about three seconds to go, and I had a one and one. There's nothing worse than a one and one because if you miss the first it's all over. Rhode Island called a time out, and we went to our huddle, and Coach Greer said, 'after he makes his two shots, this is what we do on defense.' I was taken aback by that because, 'after he makes his two shots', that's easier said than done but it worked out because I was a pretty good foul shooter with an 84% average."

John graduated from UConn in four years with a degree in Accounting. Upon graduation he worked at Mass Mutual in Springfield, MA as an accountant. After two and a half years he spent six months of active duty in the National Guard, and remained in the reserves for five-and-a-half years. After his active duty in the service he began working for Montgomery Ward as the store controller for a year-and-a half. John missed being involved with basketball so after Montgomery Ward he became head basketball coach, teacher, and athletic director at his alma mater, Hopkins Academy High School, for the next six years. His basketball teams did well but never won any championships. The players he coached did not seem to have the same natural ability as the kids attending when John played. He also continued his educational studies earning a Master's Degree in Administration and certification to become a principal. John soon became principal at Hopkins Academy for the next 16 years. He was then ready to move on, and became principal at North Brookfield High School in MA for 13 years until he retired in October 2000.

Since John retired he's been busy doing a little bit of everything. He taught General Education Development classes to students in Springfield, MA part time which took up all of his time to prepare lesson plans that the kids could build on. He's also been catching up on projects around his house, and he's back into farming, helping his son who raises asparagus. There is plenty of demand for asparagus so John is busy every day.


John's thoughts on how UConn basketball has changed: "It's a different game. Today you're looking for speed, movement, and the three-point shot. It's more of an entertainment game." He doesn't like the three-point shot, he said the game before the three-point shot had a lot of plays between the guard, forward and center, and you just don't see that today.

UConn winning the National Championship in 2004 wasn't really a surprise to John. He was more worried about the UConn/Duke match up. "I thought if any team could beat UConn, Duke could." For the new season he said "They may not be a NCAA Championship team but they're certainly going to be heard from, and they will be as tough as they can in the Big East." John thinks Coach Calhoun is a great coach, the way he is able to take a lot of different players, and mold them together into a team.

Basketball has molded John. He had to give a lot of time to it, and things worked out for him. "It sort of gave me the inclination that if you work hard at something you can succeed." His thoughts on being a member of the All Century Ballot, "It's an honor because when you look at the players that went through UConn there are so many very good to great players. Just to be in that category is really something you take a lot of pride in."

John has been married to his wife, Patricia, for 42 years. They both attended Hopkins Academy, and began dating while Patricia was at Hopkins, and John, who is two years older, was at UConn. They have two children. Jim, 37, is an accountant for a trucking company and does some farming. Jim has three children, Mathew, Gregory and John. Jill, 35 is a math teacher at Mahar Regional High School in Orange, MA and has two children, Kacy and Tucker. Jill was a basketball player at Western CT State University in Danbury, CT, and in addition to her teaching responsibilities, coaches Varsity soccer and middle school softball.

John ended our conversation by telling me that UConn was a great experience for him. "I really enjoyed the four years there, and I think the reason I did was because of basketball. I think if you take that away, the equation would be somewhat different."