Art Quimby is a member of the UConn Basketball All Century Team. He owns the University of Connecticut men's basketball record for single-season total rebounds (611) and rebound average (24.4/game). He totaled more points (1,398) and rebounds (1,716) combined than any player in UConn history (3,114) and he ranks No. 1 in career rebounding and career rebound average (21.5/game). This is a short list of statistics that could go on a basketball resume of Art Quimby. I had the opportunity to meet him in September 2003 at his home in Columbia, CT and talk to him about his career and reflect on his college and post-college days, both on and off the court.
Art went to New London Bulkeley High School, a small, all-boys school with a talented basketball team. "In my senior year we won the State Championship, we won the New England Championship, we went undefeated and with that we had a lot of offers from a lot of schools. I had like 74 schools I could have gone to," Art told me.
After managing all of his offers, he was set to go to the University of Kentucky. UK was the biggest basketball power in the country at the time, and its gym was bigger than Madison Square Garden. "UK had such a good program they could have beat most pro teams," he said. UK was on probation for having been involved with a basketball scandal so Art decided it might not be the best place for him to go. He also looked at Holy Cross, which a few years earlier had a relatively successful team. The coach at Holy Cross wanted Art to go to a prep school. The coach said he was bringing in a player by the name of Tommy Heinsohn, who later played for the Boston Celtics and the coach said he planned to rebuild his team every two years. The Korean War was on, and Art, who was a good student, wasn't willing to wait two years.
Art went to meet Hugh Greer, the men's basketball coach in the early 1950s, at UConn and liked the school. He liked Connecticut, the rural environment and loved trout fishing, which he got to do when he went to the school for his recruiting visit. Perhaps it was the fishing that sealed the deal, as Art chose to attend UConn.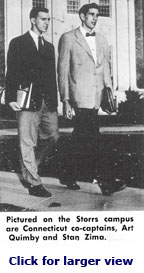 At that time, the teamed played at the "Old Cage," which had a dirt floor that was covered with a portable court—it was later known as the "Field House"—and it was while Art Quimby was playing that UConn became a powerhouse. "For me, UConn was a wonderful thing. It was a way for me to get an education. I love Connecticut. That was probably four of the best years of my life. I really loved it and I met my wife of 45 years at UConn" Quimby told me. Art and his wife Judy have three children; Jim still lives in Connecticut, Kate lives in Washington, DC and Paul resides in Pennsylvania and will soon be performing as a carpenter on the television show "Mr. Fix It" on HGTV. They also have four grandchildren and a fifth on the way.
Art said he didn't encourage his kids to play sports. He didn't want his kids to grow up as "Art Quimby's" kids and be questioned why they weren't playing basketball. He was amenable to their playing, but was okay with them choosing not to, as well. Art himself was not only good at basketball, but also excelled at swimming, track and football; but since he was offered a scholarship to play basketball, he pursued that activity.
After college, Art was the only player from his senior class who was offered a professional contract of $7,800 to play for the Boston Celtics. Back then basketball was territorial and UConn was in the Boston Celtics territory, so if you were drafted, you went to the Celtics. The Celtics sold him to the Rochester Royals. As he had always thought about his future, Art knew that if he went to the pros, he'd last there for several years, but there was no real money in it at the time. He'd also loose his commission in the army and he wanted to go to graduate school so the decision was simple, he didn't play basketball professionally and he has never regretted it.
"Now if it was the money that it is today, there would be no question, you'd go and you'd be set for life. I'd be driving around in a Ferrari and investing my millions in something and my kids and their kids wouldn't have to worry about money forever, if money's important, I don't know" Art said.
The former player was also offered a basketball future among teams like Peoria Caterpillar, 20th Century Fox and San Francisco Bankers. The players competed in basketball, but also worked for the company as a career. They paid better than the National Basketball Association and offered a longer-term career. Peoria Caterpillar was interested in Art, and it was tempting as it was a good team one year prior that had won their division title, that eventually became the U.S. Olympic Team that captured the gold. He came close to accepting the team's offer, but knew life in the Midwest would limit his boating, sailing and trout fishing.
Art opted to go to graduate school and earned a master's degree in school guidance. He had his commission in the army and he went into teaching, and then moved on to be a guidance counselor and later became an educational consultant with the state department of education. He was a high school director for 11 years, became assistant superintendent, then superintendent for 6 years, and was responsible for all of the vocational schools in Connecticut and 2,500 employees.
At the same time, he remained active with the army reserve for 30 years where he commanded a brigade of soldiers and was chief-of-staff of an army division. He retired 11 years ago at age 58 as a full colonel. "It was a very busy time", Art said.
He now enjoys golf, has a sailboat and goes fishing at the shore, and travels south annually in a motor home. He also enjoys his time with his wife and kids. "Life has been good, I'm really happy," he said.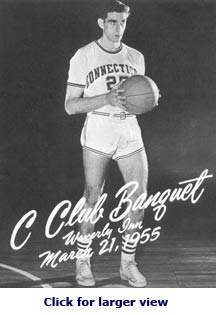 He doesn't miss basketball although he really enjoyed it and recognizes that it opened doors for him. Playing for UConn offered him name recognition and that really helped later in life. He made a lot of close friends with fellow UConn players and his opponents. When he was selected for the All Century Team at UConn in 2001, a newspaper article was published about it and within a week he received lots of phone calls from people that he hadn't heard from in four or five decades to congratulate him.
In looking back, his basketball experiences at UConn keep popping up; there is always someone that knows you. His most memorable moment in a UConn uniform was when the team beat Holy Cross at an away game his junior year. The year before Holy Cross had won the National Invitation Tournament and in that era the NIT was bigger than the National Collegiate Athletic Association.
Art's team was successful, in that it qualified for both the NIT and NCAA one year, but voted to go to the NIT because players were awarded watches in that tournament, whereas the NCAA only gave players a little medal, unlike the status it has today. The NIT was played in New York City at MSG, where opponents were big-name teams and the national press covered the games. How much better could it get?
His most memorable time at UConn as a student was that he had a priority number to register for classes. His number was single digits with an appointment on a Monday morning. To compare, his wife carried a number greater than 2,000 with a Thursday appointment.
When asked about his thoughts on how the team has changed over the years, he said, "The talent has changed. With UConn being a national powerhouse, it gets some of the best kids in and out of the country." He thinks the best recruit UConn ever got was Emeka Okafor. "When Emeka came in, hardly anyone knew who he was and he's improved more than anyone I've ever seen."
Art enjoys watching the current team. He thinks the players are unbelievable and really talented. He said there is no question Coach Calhoun is a fantastic coach, recruiter, organizer and has done an incredible job. He feels that UConn runs a clean and excellent program. He has to see this year's team play before making any predictions about the Final Four, but he said that this year's team has the talent to go that far, despite having a target on their back that will be challenging for them. The team should do well and they probably will do well but the Final Four is a big assignment, he reasoned.