Al Ritter was a Guard for the UConn Huskies from 1960 – 1964. Al and his brother Ron both played basketball for the University of Connecticut between 1960 – 1967. I spoke with Al in April 2005, about his basketball experiences, and his post-collegiate experiences.

Al started playing basketball when he was around five years old. Someone had put a hoop up in the street about a quarter of a mile down the road. "We didn't know then, and I still don't know, who put the hoop up. It just sort of appeared one day." The local neighborhood hoop games began. The kids used regulation size basketballs, and a ten-foot hoop. Al liked playing basketball a lot, and practiced year 'round including the cold winters in New Jersey. "I remember the tips of all my fingers, literally, opened up (from shooting basketball) where you could look into your finger. That's what happens on a cold day when you shoot baskets."

By the time Al reached seventh grade he was almost six feet tall. He had already been banned from little league because of his size. There was fear Al could hurt someone. In junior high school there was no basketball team so Al was put on the high school freshman basketball team. "What I remember from playing during junior high was that the game was not that tough. It was actually kind of easy. If you were patient, and you took your time, you could get some real good easy shots. It helped to heighten my interest in the game. I felt that I could maybe even master it. Maybe be really good at it."

When Al was a freshman he reached 6'3" and that's where he stayed. He had some really good coaches at Cranford High School. The junior varsity coach was Hubie Brown, who was just inducted into the Springfield, Massachusetts Basketball Hall of Fame in April 2005. The assistant varsity coach was Rollie Massimino, who went on to win a National Championship as head coach at Villanova University in 1985. "Then we had the best varsity coach of them all. His name was Bill Martin, and no one ever heard of him except the people who played for him because he committed his life to coaching, and mentoring younger kids, and even though he got offers to go to the college game, and the pro game, he decided to make his career at the high school level."

Al and his high school teammate Billy Della Sala were the "big fish" on the team. They both averaged 20 points a game, both made All County and All State teams, and both went on to play at UConn. Al remembered while in high school his team went to the final of the county tournament a couple of years but never won the championship. In the state tournament they won several games but never won the state championship.

Al was offered scholarships to play at the college level; the University of Virginia, Bucknell University, Rutgers University, and UConn were among them, but Al refused the offers, making plans to go to the Naval Academy. He encountered an unforeseen situation. He didn't get accepted into the Academy. Upon receiving this news, Al's first call was to Coach Hugh Greer at UConn, where Al had been offered a scholarship. Al felt that UConn had a good academic reputation, it was a good distance from home (New Jersey), and it had a Division I basketball program, and when you think you're good, you want to go to a Division I program. When Al called Coach Greer, Al said, "I'd like to accept your scholarship offer." Hugh Greer responded, "Sorry Al, we gave your scholarship away." A few hours later Coach Greer called Al back, and told Al he was able to come up with scholarship. Al told me during those few hours he wanted to go to UConn even more, when he thought he wasn't going to be able to.

While at UConn the most memorable season for Al was when the team went to the Elite 8 in the National Collegiate Athletic Association Tournament in 1964, but the most memorable game was the night before, when they beat Princeton, and Bill Bradley 52 – 50, when Bradley was the #1 player in the country. Al also remembered as a senior when he had broken a team rule, and was suspended from the team for a game. "The suspension was the best thing that ever happened to me, and the team because when I came back I appreciated what we were doing even more, played better personally, and I think the whole team seemed to rally better. It helped my contributions to the team."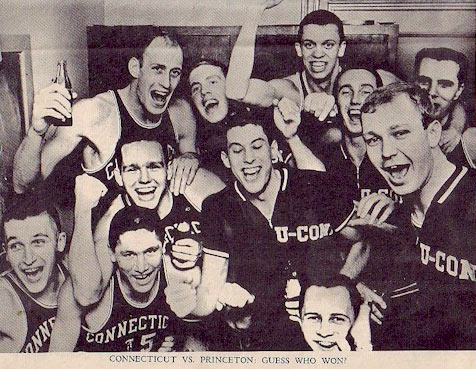 Al graduated from UConn with a Bachelors Degree in Economics, and joined the army for two years during the Vietnam War. He was a First Lieutenant, stationed in Germany, and had the opportunity to play a lot of basketball while there. Next he earned his Masters Degree in Business Administration at Dartmouth University. It was now 1969 when Al began his business career, and 45 years later, he remains in business. "From 1969 – 1988 I had a 'typical' business career working for American Airlines; PepsiCo in Purchase, New York, then Swift and Company in Chicago, Illinois offered him a CFO position so he relocated to Chicago. Later he also worked for Citicorp. While working in the business field, on October 14, 1987 Al attended a three-day seminar that prompted him to change his career, to become a Management Consultant. "I had the privilege of spending three days with four great coaches. Red Auerback of the Boston Celtics, John Wooden, head coach at UCLA for many years, George Allen of the Washington Redskins and Ken Gaulway, a tennis and golf coach. During the seminar we found out what makes them such masterful coaches, and I use it in all the work I do in my consulting position which is primarily developing leaders and teams. My clients are businesses who are interested in helping their leaders be the best leaders they can be, and helping their teams perform as championship teams."

Through the three-day seminar, Al was so inspired that he soon began working for the consulting group Dibianca Beckman Group, Felington, New Jersey for the next five years. Next Al worked for Accenture Consulting, Chicago Illinois for five years. When 9/11 happened, consulting companies suffered, and Al had to look for a new job. He started his own consulting firm, Ritter Consulting Group, four years ago where he is the president with five people working for him, and their consulting work is throughout the country as he continues to help companies produce winning teams and results.

Al still finds time to follow UConn basketball whenever their games are on television in Chicago. Comparing the teams of today to his team Al said, "When we played, we played more like the women play today. Great ball control, and ball handling, passing, good defense, and good shots." He feels that the men's teams have transformed themselves into an athletic, running, jumping, dunking phenomenon, and Al's teams weren't close to today's team regarding athletic ability. Al has never met Coach Calhoun but feels like he knows him, and thinks he's a great coach combining fundamentals, and the abilities of his teams. Regarding next year, "I think they've got as good a chance as anybody of winning the NCAA Tournament. I think they are going to be one of two or three teams favored to win the tournament."

Al has been married to his wife, Barbara, a clinical psychologist for 33 years. They have two daughters, Ashley age 24, and Andrea age 21. Ashley has Down Syndrome. Al and Barbara took care of Ashley for many years, and currently Ashley is living at Mount Saint Joseph's, a Catholic Church sponsored residence for women with disabilities where she can be with people her own age. "She goes to a workshop every day where she puts parts together for a company. Last year she made $248 and she's proud of it!" her father said. Andrea is a junior at Hope College in Holland, Michigan. Andrea played sports until she was a junior in high school when she decided sports weren't her thing. Al still loves sports, particularly basketball and baseball. He has exposed his wife and daughters to sports but they don't maintain the same interest level as he.

Al ended our conversation by telling me through his experiences on the UConn basketball teams he learned to pay attention to fundamentals. "I think that any activity that's worthwhile in life, you really have to pay attention to the small stuff, the fundamentals like catching the ball with two hands, and playing good solid defense even though nobody can see whether you are or not." In addition to that, Al said it's important to care about the success of your teammates as much as yourself.