Cliff Robinson was a Forward for the UConn Huskies from 1985 – 1989. He's a member of the UConn Basketball All Century Team, and was a player on the first UConn National Invitational Tournament Championship Team in 1988. Cliff is one of only four UConn players to score at least 600 points in two separate seasons, and he's on the top ten lists for both career scoring, and career blocked shots. He also enjoys the longest National Basketball Association career of any UConn player, entering his 16th season, and has scored more than 15,000 points. I had the pleasure of meeting Cliff in October 2004, after a Golden State Warriors game in Los Angeles as he reflected on his college, and post-collegiate days on the court.

Cliff grew up in Buffalo, New York where his first athletic love was football as a child. Around the time he was entering Riverside High School, he went through a growth spurt, and became too tall to play football. His mother suggested he play basketball so his first years of organized basketball began at the high school level.

Cliff enjoyed his high school experiences. "It helped me to get prepared, playing in the competitions that I played in Buffalo, to play in the Big East Conference." By the time Cliff was a sophomore, he began to blossom, and as a junior he was really becoming a good player. Although his high school teams did not win a State Championship it was a highlight to win the City Championship while at Riverside. Cliff started getting recruited as a sophomore, and then more and more schools became interested in him. "Howie Dickenman (former UConn assistant coach) was probably one of the first guys who sent me a letter, and started recruiting me so I felt as though he showed a lot of interest in me from the start, and I wanted to give UConn a good hard look, and at the time I was really interested in playing in the Big East Conference." Howie's interest paid off; Cliff decided on coming to UConn.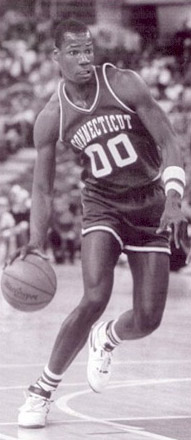 It wasn't an easy transition from high school to college. Each level is another step of guys that are better and quicker, but Cliff was eager to get there, and try to make things happen. "I think the biggest memory while at UConn was winning the NIT. We didn't have the talent that other teams had, so my junior year when we came out, and we won the NIT, it's the best memory for me." Looking back at his experience at Uconn, Cliff said the coaching staff played a big part in molding his game to be able to take the steps he's taken to make it as far as he has.

After UConn, Cliff was drafted as a second round pick in the NBA to the Portland Trailblazers. He thought he was going to be selected higher/sooner, so he used that disappointment as a challenge to become more aggressive in reaching his goals. It worked. Cliff is enjoying his 16th year in the NBA. He said the transition from the college level to the pros was probably twice as hard as the high school to college transition because he was then playing against the best college players from each team in the country, and against great players in the NBA. Cliff was anxious to prove he could play on that level too. "I've had a lot of fond memories but I think the biggest one was probably my rookie season with the Portland Trailblazers, our team made it to the NBA finals that year." Cliff spent eight seasons with the Trailblazers, then four with the Phoenix Suns, two with the Detroit Pistons, and he's in his second season with the Golden State Warriors.

Cliff's thoughts about his former coach at UConn, "Coach Calhoun, he's the best coach out there. He played a big part in me being able to achieve a lot of the things I've been able to achieve in basketball." When asked about UConn having won the National Championship this year, Cliff said, "I never really expect that kind of thing (winning) because that's a lot, 64 teams fighting for it but I'm always looking forward to UConn getting it done."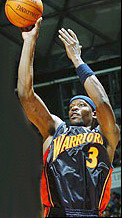 Cliff has four children from a previous relationship: Savvanah, age 6, Isaih, age 7, Jaylin age 8 and Jessica age 17, and his wife Heather has one child Madelyn age 9, also from a previous relationship. The kids like the game of basketball, but Cliff doesn't push them into it.

Cliff ended our conversation saying, "I still love to play basketball. I'm going to keep playing as long as my body allows me to."