Edmund Saunders was a Forward for the UConn Huskies from 1998 – 2002. He was a player on the first UConn National Collegiate Athletic Association Championship Team in 1999. I had the opportunity to talk to Edmund in May 2004 about his basketball experiences, his time at UConn, and his current career path.
Edmund was introduced to soccer and baseball, before basketball. He began playing basketball when he started going to the Boys Club, in Waterbury, Connecticut, at about six years old. Once introduced to basketball, he realized the game became a part of him. Edmund was pretty tall, and was often picked on, so he started playing basketball with older, taller boys. Edmund played on an Amateur Athletic Union Team that traveled to a lot of tournaments. "It helped me to get better, playing with better guys, bigger guys, and I just fell in love with it." He met UConn teammate Kevin Freeman, when they played AAU ball. A memorable game on the AAU team was a tournament in Florida. On Edmunds team were himself, Kevin, Tim Thomas, Kobe Bryant and Vince Carter. "Just watching Vince, Kobe, and Tim, dunking the ball, was fun. It was like you are a part of a good game, but you were also the biggest fan of the game."
Several universities recruited Edmund. He went to Boston College, University of Massachusetts, and UConn, for official visits, and while traveling with his AAU team, he visited schools as unofficial visits, in towns where tournaments were being held. During one of his high school games, Coach Calhoun was on one side of the gym and Coach John Calipari from UMass, (at the time), was sitting on the other side of the gym. Edmund chose UConn. "The thing that really touched me, to go to UConn, was when my dad died during my junior year of high school, colleges were sending their letters of interest to me, but Coach Calhoun and Coach Howie Dickenman (former UConn assistant coach) showed up on my front door at 8:00 AM. That really touched me. They took time out of there schedules, and went to the funeral." Edmund's family wanted his college choice to be his. It was his future, and they would support his decision.
Comparing basketball at the high school level to the college level, Edmund said, "Basketball is basketball, however in college, guys step up their game a little more, guys are more physical, and the season is a little longer." Having known Kevin Freeman from playing AAU made it a little easier at UConn for Edmund. "Kevin took me under his wing, and helped me out when it was time to start playing. He told me what to look for, what not to do, and what coach would get mad at. Kevin said the main thing is to go out there, and play hard, and you can pretty much make it through."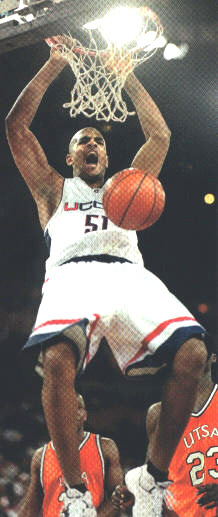 Edmund's most memorable moment at UConn was winning the NCAA Championship. He said, "It's unbelievable when you think about all the schools across the country, and to be the one that wins, is the best feeling. To be a part of history, winning the schools first National Championship, is even better."
Edmund stayed at UConn through the summer after his senior year, to finish his studies, and get his Bachelor's Degree in Political Science. He took the next year-and-a-half off from playing basketball, and spent some time as a substitute teacher in Waterbury. When he was ready to play again, he went to Iceland for a season. The team he played for won the Icelandic Championship. From there, he went to Mexico, followed by South America, and then Finland. While in South America, he was in Uruguay, playing for a team called Larraaga. Edmund led the league in scoring averaging 28 points and 13 rebounds per game. While in Finland, he averaged 25 points per game. The Finish team struggled, but it was a good learning experience. Earlier this year, Edmund came back to the United States, and played in the American Basketball Association, and did pretty well. Most recently, he was playing in the United States Basketball League, a league that plays from April – June, for the Cedar Rapids River Raiders. In the fall, when the next basketball season begins, he'll be playing again.
Edmund was very happy for the UConn team this year, winning the NCAA Championship. He knows the feeling. He said that for next season, the team will have a target on their back. "They are going to have to put their shoes on, lace them up, and go out there, and play hard, like they always do."
Edmund said that it was a really good experience playing for Coach Calhoun. "People say that we sometimes didn't get along, but we respect each other. I'm glad I had the chance to play for him. He taught me a lot, and he is the best coach in the country right now." Something Edmund would like everyone to know about him is that his personality on and off the basketball court, is totally different. On the court, he's vocal doing his job, off the court; he's the nicest, sweetest person that you'll ever meet.
Edmund is the youngest of five children. He has three brothers and one sister. Being from Connecticut, his mom, brothers and sister were able to see a lot of his games at UConn. Currently, Edmund is single, has no children or girlfriend, and he lives in Waterbury, Connecticut.