Rod Sellers was a Center for the Huskies from 1988 – 1992. Rod is a member of the UConn Basketball All Century Ballot, he's one of only eight players with l000 points and 800 rebounds and he ranks No. 10 in career rebounding. I had the opportunity to talk to Rod from Milan, Italy in February 2004 when he shared some UConn memories and post-collegiate basketball career experiences.
As a child, Rod grew up in a small town, Florence, South Carolina. His father died when Rod was 12 years old and his only sibling, Patrick, who was one year older than Rod, took over and acted as a fatherly figure to his younger brother. Patrick, who Rod describes as a "basketball nut," introduced Rod to basketball. Patrick, who is now an assistant basketball coach at UMass, lived basketball and played daily. Rod wasn't a fan of basketball; he really liked baseball and was interested in a baseball career until he had a freak injury with his eye playing that sport and lost all confidence playing baseball. The following summer, after his eye injury, the strangest thing happened—Rod grew six inches and Patrick suggested Rod play basketball. Rod played basketball recreationally only but didn't become serious about it until he was a junior at Wilson High School in SC, the year after his eye injury. Patrick was the star of the varsity team. Rod started following his brother and soon became known as "Little Pat".
Once Rod became serious about basketball in his junior year, the team had a great year and Rod started getting recruited by colleges. He was getting calls and visits and letters which was a world unknown to Rod. "My brother, who I love dearly, was only 6'5" and wasn't really able to play at the level he wanted to so he pushed me to play at the big level because if I was playing at the big level, it was like he was playing at the big level. He would be living vicariously through me."
During Rod's senior year of high school, Pat was playing basketball at Central CT State University. Pat told his coach about Rod. The coach at Central went to see Rod and said he was too good for Central. The Central coach called Assistant Coach Howie Dickenman at UConn (at that time) and told him he should look at Rod. UConn began recruiting Rod, but he didn't know much about UConn. "The key factor for me going to UConn was that my brother was living 30 minutes away at Central so I said I'd try it. I wanted to see if I could play in the Big East Conference, which at the time was said to be the second biggest in the nation so I gave it a shot and it was a great experience for me."
Rod's freshman year at UConn was a roller coaster. His first game he scored 13 points and had 12 rebounds. His second game he scored two points and had one rebound. He'd have a good game, then a bad game. Rod asked Assistant Coach Dave Leitao (at the time) why he was a starter. Coach Leitao responded, "Because any minutes you play, you do the things that most people don't want to do, you set the screens, you play defense, you rebound, and you're a team player." Rod took the role and tried to be the best he could be.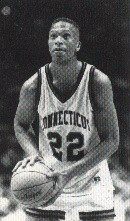 Rod said that every game at UConn was memorable, but the most memorable was his sophomore year. UConn didn't have high expectations, but they went on to be tied for first place in the regular season, won the Big East Tournament, and went to the Final Eight in the National Collegiate Athletic Association Tournament, which Rod said was incredible. The team bus ride back to UConn after their loss in the Final Eight was unbelievable, with police cars escorting them and the best welcome by the fans at the campus who crowded the streets. "I tell everybody I play with overseas when they talk about their high schools and colleges and their fans, that they can't beat UConn, Rod promises them that. Fans are awesome up there. Those days at UConn are truly some memorable days."
After UConn, Rod tried out for the National Basketball Association. He went to a camp for the Washington Bullets but on the final day of camp he was released before the first regular season game. Rod went overseas to play basketball and has been there ever since. He's had a great career in Europe playing for teams in Greece, Spain, Turkey, Italy and France over the years, and in every year but one his team has been in the playoffs.
Rod is known in Europe as "Mr. Double Double," twelve years after leaving UConn and he still averages 17 - 18 points per game and 10 - 11 rebounds per game. Rod plans to continue playing for a few more years then come back to the states and take some time to watch his brother coach and watch some UConn games in person. Rod has also already been offered jobs of scouting and being an agent and he'd also like to do some coaching at the high school level.
During his off season, Rod lives in Atlanta, Georgia. He has a fiancée, Johnita, and a daughter, Dylann Anise, who is two years old and already loves basketball to death so she's on the right track to maybe some day play at UConn.
When asked about his thoughts on how the UConn team has changed over the years, Rod said that his first couple of years at UConn the team was made up of blue collar players. They worked hard and achieved great success. Now UConn can recruit blue chip players, the top players in the nation. "The teams that I played with at UConn, we take pride in that we say we helped to build, we helped to put them at the prominent level they are at now."
Rod believes that Coach Calhoun has definitely gotten easier over the years. He said that Coach Calhoun is a great coach, a great person, a great guy but he demanded and expected the best and most out of you every day that you stepped foot on the court.
Rod wasn't able to be at the Final Four when UConn won the National Championship because his team in Europe was playing and if UConn makes it to the Final Four this year he won't be able to make it either for the same reason. He thinks that Coach Calhoun will have the team prepared and ready for the Final Four and another National Championship.