Chris Smith is UConn's career leader in scoring with 2,145 points. He is the top Husky scorer in Big East history with 1,140 points, leader in career three-point field goals with 242 and one of only two UConn players to score at least 500 points in three different seasons. Chris is also a member of the UConn Basketball All Century Team. This is a short list of statistics that could go on his basketball resume. I had the pleasure of talking to Chris in January of 2004 about his career and reflect on his college and post-collegiate days on the court.
Chris grew up in Bridgeport, CT and as a child he started out playing football. He wasn't really interested in basketball until he went to middle school. He went to St. Augustine Cathedral School, elementary through junior high and started to play some basketball because they did not have a football team. He ended up starting for the varsity team in the fifth grade. "Yeah that was something," he told me as he laughed a little.
"One fortunate thing about where I grew up was that we had the Cardinal Shehan Center where I played on the Cardinal basketball team, which is literally right down the hill from where I grew up. A lot of kids go there after school to play basketball. It's an escape place for kids to go and that's kind of where I honed my skills playing there every day and traveling with their travel team."
Chris told me he started to get pretty good. He started winning trophies at the Cardinal Shehan Center and winning trophies with his school. He went to Kolbe Cathedral, a local high school, and was a pretty good player; he became an All American in high school and he played for the USA team. Chris was also the "CT player of the year" when he graduated from high school. He said, "It was definitely a great honor because there have been a lot of great players that have come from this state."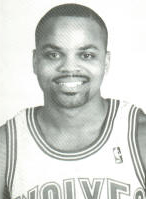 In making his decision to go to UConn, he was given some help from his high school. Chris said Kolbe Cathedral was and still is a great school. The staff at Kolbe Cathedral helped him tremendously, even with the process of deciding to go to UConn. Chris had many other universities interested in him, Boston College, Tennessee; pretty much every school that you name was interested. "Deciding on UConn was the best move I could have ever made, playing for Coach Calhoun. A great motivator, a great teacher, a great school and great people. I was close to home. My family had a chance to experience all the things that I was going through." Chris told me that what helped him in making his decision to go to UConn was "talking to Coach Calhoun and feeling the comfort of starting something that could be very good, being in state, the support I could have here and the coach was basically saying 'Chris, I'm going to try to make you a National Basketball Association player and this team is going to be your team in the following years.'"
One of the things that Chris remembers about his days at UConn was that when he first started there weren't very many fans, then the team started to win some games and people started to notice them (as he laughed a little) and that is when "Husky Mania" came about and that was a fun time.

Chris's best memory at UConn was playing in the Big East Tournament when he was a sophomore. UConn played Syracuse and Chris was awarded Most Valuable Player in New York at Madison Square Garden. He said he loves MSG and he thinks every kid wants to play at MSG. "There is something special about that place and to hold the MVP trophy was definitely the best highlight of my career at UConn." I asked him if there were any other special moments at UConn and he responded, "Pretty much all of them. It was just a special time. I don't think you can duplicate it." Another game that Chris remembered was against Clemson University when Tate George hit the shot at the buzzer to win the game and the team moved on to the Final Eight in the National Collegiate Athletic Association Tournament. "That's definitely a game that will be on 'Classic Sports TV' until I die, and even after."
Chris has won a lot of MVP trophies throughout his career but he was very humble when I spoke with him. He holds the record for the most number of points ever scored at UConn and when I asked him about how it feels, he calmly said, "It feels great. I look back and I say, I must have had a pretty good career and put up some pretty good numbers". He also said that it feels good because it will stay in the books until someone surpasses him and he's proud of it because he's from CT, holding the record.
"Coach Calhoun is a great motivator. He just wants the best out of all of his players and he demands that. If he thinks you're a leader, he's going to let you know that you have leadership skills and he's going to bring that out in you. If he feels you can't do something he won't pressure you into being something you're not." Playing basketball, Chris has learned some lessons that have helped in his personal life. "Playing sports you learn how to win some and lose some." In his current job, he talks to some clients and some of them do business with him and some don't. "You learn to adapt to situations and how to accept yes or no."

He thinks the current team is great and has a lot of talent. "I think they have the deepest team I've seen in a long time. They have some great players like Emeka Okafor and Ben Gordon." He thinks they have an excellent chance of making it to the Final Four this year and even winning the tournament. What they need to do to get to San Antonio is pick up their intensity on defense. They are letting guys score too easily. Chris was in Europe in 1999 when UConn won its first National Championship but if UConn is in the Final Four this year; Chris is definitely going to be there.
After graduating from UConn with a degree in Business Administration, Chris was drafted in the NBA by the Minnesota Timberwolves. He did very well in the NBA, but after three years his contract was up and it was 1995 when the NBA had a lock out. He opted to go to Europe to play. The NBA lock out was only for a short time but Chris had already signed a two-year contract in France. At the end of his two years in France he tore his Achilles tendon and was out of basketball, recuperating for a year. He tried coming back to play in the NBA for the 1998 – 1999 season and there was another NBA lock out. Chris realized it probably wasn't meant for him to play in the NBA so he returned to Europe and again played there. While in Europe he enjoyed it but realizing he wasn't going to play in the NBA any more, which was his life long dream, he gave up basketball and decided it was time to come back to the states and do other things.
Chris returned and settled in Dallas, Texas for a couple of years. He has two children in Dallas; a son, Christopher G. Smith II, who is six years old and seems to enjoy playing football and a daughter, China Elizabeth Smith, who is four years old and enjoys ballet and singing. While in Dallas, Chris worked as a loan officer for a mortgage company. In the summer of 2003, Chris came back home to Bridgeport, CT and is currently a Business Development Officer for Beardsley, Brown & Basset, an insurance company owned by People's Bank.
Chris continues to play basketball once or twice a week and works with kids doing one-on-one sessions. He has not been a coach yet but it's something he's definitely going to get involved with this year. Chris is also getting a team of former basketball players together called "Chris Smith's CT All Stars."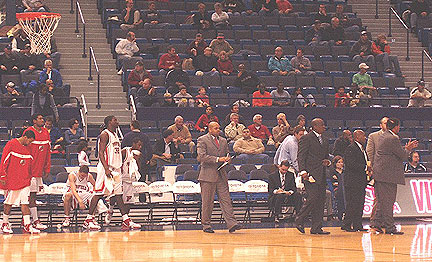 Chris Smith - the Coach
This summer the team will travel around CT playing benefit games for local charities. If you see any advertisements in your town about Chris's All Stars, come on out and support them and check out some of the "old" players. It will be for a good cause and they plan to have a lot of fun.