Robert "Snake" Taylor was a Forward for the UConn Huskies. His experience at UConn was unlike any others. It's not about holding records, statistics or championships for Robert. Interestingly, it was about meeting a life long role model and life lessons. Robert's time at UConn on the basketball team was as he describes it, "one season for a lifetime." I had the opportunity to talk to Robert in March, 2018 and he shared his experiences on and off the court. "If you check the University of Connecticut basketball records, there is one single entry about me, Robert Taylor, 1970".

Robert loved baseball as a youngster and focused on it until he was 13 or 14 years old when he started thinking and realizing that baseball players are powerful but not usually as tall and long as he was becoming. "My body was telling me that there was probably better opportunities elsewhere." He tried out for the basketball team at Warren Harding High School, Bridgeport, CT, as a sophomore and this began his first time playing organized basketball. Barely making the junior varsity team, by mid season he was moved to the varsity team, soon becoming a member of the starting line up. With Robert getting a late start learning basketball, colleges began recruiting him for academics not athletics. Lafayette College, Boston University and Bates College were some of the schools showing interest, but it was the University of Connecticut that Robert chose to go. "My mother was a single parent. I had three brothers still at home. I wanted to be close to home and UConn was a natural fit."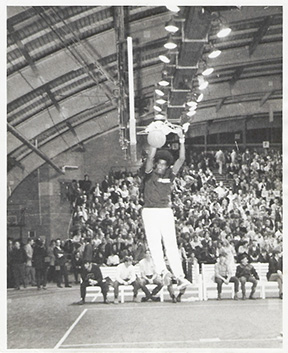 As a freshman with an academic scholarship, Robert tried out for the basketball team and made the team as a "walk-on". After not seeing any playing time, he quit the team. His sophomore year Robert opted to play on an intramural basketball team that did very well. "I became the intramural star of my dorm team, we won everything." In 1969 Robert was entering his junior year and a new head basketball coach, Dee Rowe arrived. "UConn finally had a coach that saw talent, not color." Robert's friends encouraged him to try out for the basketball team again. He became a "walk-on" but through a series of injuries with his teammates, Robert was soon in the starting line up. When the guys came back from injured status, Robert was too good to go back to the bench. He had a very successful year and a memorable game that year was at UMass playing against Dr J, (Julius Erving) beating UMass with Robert scoring 18 points. With intensions of coming back to the team the following year, during the summer, Robert went home and his life changed. "I became a part of what would now be termed the opioid crisis." He tried going back to school but left. He wasn't the same guy and dropped out. Coach Rowe often tells Robert, "You should have stayed; I'd have a better record." Drugs and a few run ins with the law were his life for almost two years until he came to his senses.
In order to get clean of the opioid addition, Robert needed to leave Bridgeport. "I walked into the Air Force recruiting office on a Monday. I asked how quickly I can go. They told me they could get me out of here by Thursday and everything changed from that point on." Robert was stationed at LackLand Air Force Base in San Antonio, Texas as a clerk. Fortunately, basketball came back into his life. The Air Force has a basketball league. All new recruits go to LackLand before anywhere else. "If you had the physique and talent of a basketball player, you never left LackLand." Robert was in a tournament on the Air force team and from his play in the tournament he was selected to play on the "all service team". One of only eleven players selected and he traveled with this team to play in Europe, Africa, all over the world for six months. "That group of players was by far the most talented team I ever played on. They were pro quality at some level but circumstances like mine; we were put into survival mode as opposed to staying in school and trying out for the NBA (National Basketball Association)." The local college basketball teams would scrimmage against the LackLand Air Force team. One of the school's they scrimmaged against was St. Mary's University. Robert was enrolled at St. Mary's as a student while in the Air Force as he continued his academic education. One conversation lead to another and since Robert was already enrolled in school, between the Air Force and St. Mary's, they were able to convert Roberts Air Force four year commitment into Army ROTC (Reserve Officers' Training Corp.). Robert was unaware of it but the St. Mary's basketball coach had been conversing with UConn Coach Dee Rowe and soon Robert was given a second chance on the college basketball court. "I went to St. Mary's for three semesters, played basketball and went to the NAIA (National Association of Intercollegiate Athletics) Tournament and played in the Final Four two years in a row."
After college and the military Robert entered the work force with a job at Texas Instruments (TI) where he spent his next twelve years. During this time he went back to school, University of Dallas and got his MBA in Marketing. Robert held various middle management positions at TI and was soon to be promoted to Vice President when an opportunity to become a State Farm Agent surfaced. "Working for myself had a greater appeal to me." Robert has been involved with State Farm since 1990 in various roles of management and personal production.
Regarding how basketball has changed over the years, Robert's thoughts are, "the way we are as a society, anybody that shows a better than average skill set at the age of 10 or 11 are put on a pedestal so to speak and they miss out on a whole lot of life. When I played, at the age of a high school player we all played on a team as teammates, learning together."
When asked his thoughts on UConn basketball, Robert responded, "I'd be remiss if I didn't say I'm disappointed in what's happened. I thought Coach Ollie would be able to recruit some awesome talent. It just proves that there is more to coaching than meets the eye."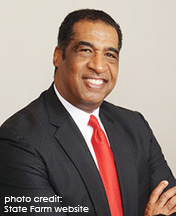 Robert married his high school sweetheart Chaneta and recently celebrated their 45th anniversary. They have two daughters, Nichole and Tania. Both were athletes, Nichole a soccer player at Amherst College and Tania was a gymnast as a child and currently has a brown belt in Taekwondo. Robert and Chaneta also have four grandchildren. A grand daughter and grandson from each of their daughters.
Robert had started out on the right path going to UConn, sadly he went off track and fortunately he got back on track before it was too late. The one constant that remained in his life was his wife Chaneta who knew him before, during and after his rough time. When asked if he regrets moving forward with a professional basketball career rather than beginning his work professional career at TI, Robert said. "I married Chaneta in 1972. It was part of my recovery process getting some discipline and focus in my life so chasing a dream of being a professional athlete, I never really considered it."
Coach Rowe is the other constant in Robert's life. His coach for one season, his surrogate father, mentor, role model and friend for a lifetime. "Because of Coach Rowe, I've had a much better life than I could have imagined."
Robert ended our conversation telling me that he appreciated our conversation and trip down memory lane. "This certainly could put some resolution to that question, whatever happened to that guy? I want them to know that I did come out ok."