John Thomas is currently No. 3 in UConn history rebounding statistics. His senior year he was No. 4 in the nation for rebounding. He received a scholar athlete award his senior year and he's a member of the UConn Basketball All Century Ballot. I met John in October of 2003 and he shared with me what it was like making his decision to come to Connecticut from Louisiana and what his career path has been.
When John was a junior in high school he knew basketball was going to become a bigger part of his life. When he was a kid he didn't play a whole lot of sports other than baseball. Then he started to grow very tall and the coaches at his high school sort of made him play basketball. They told him he had the height and he was athletic. As a freshman, he tried out for the team and got cut, not because he wasn't good enough but because at that time, it seemed like the coach of the freshman team selected his friends for the team. The freshman team's record was 0 wins and 25 losses. "The next year I tried out and made the school team," he said. The record that year was 18 wins and 1 loss and John thinks that is still the best record to date. John began to practice more, played a lot during the summer and as a junior, he average 20 points and 25 rebounds per game. His team went to the state playoffs, he made All District, All State and that's when he really knew that he had a chance to be a college basketball player.
John received many offers from colleges in the south, in all over 50 schools were looking at him. UConn had found out about him through three football players that played for UConn from John's hometown. "They told the coach, Dee Rowe that I was a good player, pretty tall and that he should come see me play. Coach Rowe or anyone else did not come to see me play but at the end of the year, they looked at my statistics and they wanted me."
John grew up in Louisiana; the south during the 60's when there was a lot of segregation between the blacks and the whites. For example, there were separate YMCA's, blacks weren't allowed in certain restaurants or had to sit at the back of the restaurant. They went to school together but at the end of the day, the blacks went their way and the whites went theirs; they each had their own separate part of town, there was an imaginary line that you couldn't go over. John thought the whole country was like this until he came to Connecticut for his recruiting visit.
"At the time, Assistant Coach Valvano brought me to a restaurant to eat," he said. "I looked at him like he was crazy. I told him I couldn't go in there. I said, coach blacks are not allowed in there." Coach Valvano said, "Are you kidding me?" and I said "NO!" Coach Valvano said "In Connecticut it's not that way. You can go where you want to go, sit where you want to sit and no one's going to bother you." "We went into the restaurant and he was right. No one bothered me, no problems. I could go anywhere and no problems so that was what sold me on going to UConn. The school was nice and the fact that I had an opportunity to get an education through a scholarship. I had a chance to come join the team and have a chance to play. This was going to be like living in a different world".
When John moved to UConn it was during the summer, no one was around and that is the worst time to come. You're on your own, away from home, no students or coaches were around. He was homesick. He packed his bags and was going to hitchhike to the airport and someone saw him and called the coach. Coach Dee Rowe was at Cape Cod at the time, but he came back to CT to help John out. Coach Rowe introduced John to some executives and told him that maybe someday John would have a job like this guy or maybe a job like this person.
"Even though Louisiana was bad, I was still homesick. I called a school down south and told them I was going to transfer. They were happy. I called my mom and told her. She said, 'You're not leaving CT. I told the coach that you were going to play for him for four years and that's what you're going to do.' I stayed at UConn for the first year, went home during the summer and told my mother I still didn't like it, it was a big adjustment. She told me I was going back to CT."
During high school John had been an honor student. After his first semester at college, he had a 1.9 GPA, that's less than a C average. His sisters and brothers teased him so bad about being so smart and moving to CT and becoming a dummy. "I then made up my mind that I would have to start applying myself. I did, and my GPA went to a 3.5 then a 3.2 the next two semesters. I majored in business and made the dean's list my last four semesters at UConn.
While playing at UConn his family only saw him play once on TV when he was a senior when the team had made it to the National Collegiate Athletic Association Sweet 16 in Charlotte, North Carolina. His mom came to see him play once in New York when he was a sophomore. That was a drawback of going to a school so far from home. You're family can't see you play but there were many newspaper articles about him in the hometown newspaper.
After getting his degree from UConn John thought about the upcoming National Basketball Association draft. He thought he had a good chance of being drafted, but you never know. There are about 5,000 guys and only 20 teams. He was offered an opportunity to go overseas to play basketball in Venezuela, South America. He went, and while there, he got a call from Coach Dee Rowe telling him that he had been drafted by the Chicago Bulls. "I came back to go to the tryouts but I didn't end up making the team. It was a disappointment. That is why I always tell people to make sure they get their degrees so they can have something to fall back on. You may be good enough and still not make it or you may make it and then get injured."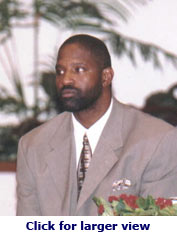 John ended up liking CT and made his home here. He said people knew him in CT. He went into the business world and got a full time job at a bank as an auditor. At the same time he also played basketball in the Eastern Basketball Association for a year. The following summer he went to the Denver Nuggets camp and tried out for the team but didn't make it. He was offered another opportunity to go back oversees to play in Israel. He didn't want to go because he felt Israel always seemed to be at war. He was offered three times the pay he was making as an auditor. It sounded good to him but he loved his life more than the money. After that he stopped chasing basketball as a career, but continued and still continues to play in town leagues.
When he left his job at the bank, he worked at Aetna, a Hartford, CT insurance company, for ten years as a financial analyst, then ten years at a consulting firm as an actuarial analyst and he currently works at The Travelers a Hartford, CT insurance company, in the Finance Department. John has always held a part time job as well. He's been working at a library in Bloomfield, CT for the past five years working with kids as a security person in charge so the kids don't take over the library as a place to hang around. It's fun, he knows all the kids and their families and he's well liked by everyone.
John has two children, a son, Isaiah, age 10 and a daughter, Jade, age 7. He says his daughter is not athletic, she's more interested in dolls at this time but his son has tried soccer and baseball but has discovered that basketball is his sport. John works on basketball fundamentals with him a lot.
John spoke very highly of his Coach, Dee Rowe. He said that even after all these years, about 25, Dee is still a nice guy and will try to help everyone. Coach Rowe taught him teamwork and how to get along with people, even when things are not going well. With John's family so far away, Coach Rowe was like a fatherly figure to him.
John told me that having gone to UConn, he learned organizational skills and how to be disciplined. The basketball season is very long, you miss a lot of class work and exams that you have to makeup. Being on the road so much you have to stay organized.
Kids in the community treated players like you were on a pedestal. "I kept it in perspective because I knew someday basketball would be all over so I was always nice to people and tried to stay level headed. If someone asked me for an autograph, I always stopped and signed."
John often goes back home to Louisiana to visit. One of his best friends is a basketball coach at the high school and always asks John to talk to the kids about being a basketball player. John said, "I always talk to the kids about being an athlete but first being a student." He also speaks to the kids at the YMCA in Louisiana and it brings back memories of when he was a kid playing at that YMCA.
His most memorable highlight as a basketball player at UConn was both the best memory and the worst memory. The game was against Rutgers at Rutgers in the NCAA tournament. John reached his 1,000th rebound. He was given a basketball with his name and the year on it and he still has it. UConn lost that game so as a senior it was John's final game at UConn. His most memorable moment at UConn off the court was getting his degree. He had told his mother he would graduate and he did.
When asked about how the current team has changed from his team, John said, "Today UConn has more talented players from every part of the country. Coach Calhoun is a tough coach. You do things his way or you don't play compared to some coaches who play their stars no matter what." John thinks UConn should win the NCAA Tournament in 2004. He said they have the talent, the bench and the coach.