Corny Thompson is No. 1 in career free throws made (496). He's No. 5 on the career-scoring list (1,810 points) and he led the team in rebounding four consecutive seasons. Corny is a member of the UConn Basketball All Century Team and he was a member of a basketball team in Badalona, Spain that won the European Cup. I met Corny in December 2003 at his office in Hartford, CT where he reflected on his basketball career in the United States and his European experience.
Corny started playing basketball when he was around eight or nine years old. It was in the Village of Middletown, which was considered the projects. He played to pass the time. All the kids used to tell him he needed to play basketball because he was tall. He thought about it as a possibility but didn't concentrate on basketball until he was in middle school.
"When I got into middle school, it was by chance that a women's group, I think it was called The Black Women's Association, they gave out scholarships to go to camp and they gave me my first scholarship to go to a basketball camp." Corny's middle school coach, Mr. Zabek, solicited for Corny to get the scholarship and go to camp. From then on, every year, Corny progressed, went to camp and became a better player.
Corny was 6'5" before he was in high school. He remembers being tall all of his life and had hoped for another growth spurt during high school but only gained another couple of inches. Corny's high school years were memorable. His first year in high school he played one game on the freshman team. After that the coach put him on the varsity team. The team was average; they lost five or six games that year. "My sophomore through senior year, the team won 76 games in a row. We set a record that has not been broken yet. We didn't lose. We won three State Championships. We were one of the better high schools in the country. We were actually ranked at that time as one of the top 25 schools in the country."
Winning the first state championship was Corny's most memorable moment in high school. Corny's coach in high school was Tom Labella. Corny liked coaches who thought ahead. Coach Labella never limited Corny to play only the center position just because he was tall, he allowed Corny to expand, play outside, and play inside to become a complete player. "Coach Labella showed no favoritism. I had to work as hard as anybody else. We were all a part of the team." Corny thinks that was the key to success, winning those three years. "He (coach Labella) was probably the biggest impact on my career." Corny still holds many records at Middletown High School.
Corny did not realize how good he was until high school. He was hoping to get a scholarship to go to college. People began to tell him he was more than just average to get a scholarship, he may be someone good. Corny just wanted to play and play the best possible.
I said to Corny, I'll bet you had a lot of colleges recruiting you. Corny very humbly said, "Recruiting, yeah, I had basically all the top schools recruiting me." At his high school games, UConn Coach Dee Rowe came to see Corny play. Dean Smith, former head coach of North Carolina University came too. It was a thrill for the town of Middletown. They were able to see all of these top named coaches come through and look at Corny. North Carolina, Virginia, Princeton and UConn were the schools Corny narrowed his decision down to. Princeton was the leader but it didn't offer scholarships, it offered financial aid that he would have to repay. Corny liked the idea of staying close to home and he thought there would be advantages to being close to home. People were talking and suggesting it would be a risk to go to UConn because UConn wasn't a big name at the time. Corny's thoughts on taking the risk: "I think today, I've proven that you don't have to go to a top school to be chosen or seen to be a good player and I think it was a good move and for UConn, from that point on, it really helped them because other players came and I think it was a good moment for me."
Corny understood the game; he was intelligent in the way that he played to his advantage and to the opponent's disadvantage. He never had a big ego or big head, he just worked hard and that was the key to success. While at UConn his coach was Dom Perno, who Corny said was a great people person. He made you feel comfortable and feel at home which was an aspect that appealed to Corny.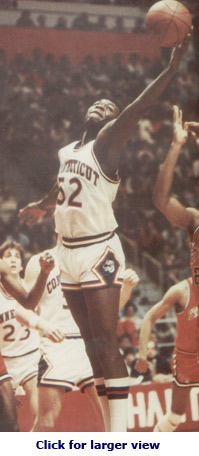 While at UConn Corny had lots of very special moments. The team was in the National Collegiate Athletic Association Tournament his freshman year. Corny was a starter in every game he played from high school through college and until he stopped playing basketball. He was the top scorer of his team all four years at UConn. His second year at UConn was when the school became a member of the Big East. It was now able to play a team like Georgetown who was one of the top ten basketball teams in the country. "People found out that the little UConn, the public school, could win basketball games and UConn has proved that over the years, it's gotten better and better."
It wasn't easy to play for UConn. Corny could have taken an easier road and played for a team that was better at the time. Having to struggle and fight to gain respect at UConn made Corny a stronger person. He's learned that you have to fight for any respect you get in basketball or in life and that is probably the biggest lesson Corny learned at UConn.
After UConn, Corny was drafted by the Dallas Mavericks and played for a year and a half. During the summer prior to his second year with that team, he suffered a knee injury that was career threatening. The Mavericks released Corny from the team. Corny worked hard and got healthy. He went to Europe and played basketball in Varese, Italy for six years. Numbers-wise he had a great career—he was one of the top players there if not the top player. Then he went to Badalona, Spain and played for six years. His team won two Spanish Championships and one year they won the European Cup, which is the crowning jewel of all championships in Europe, Corny told me. Europe was great for Corny, he met a lot of great people and had great relationships with both the fans and the people and considers some Europeans part of his extended family.
Corny earned a Business Degree from UConn. It's tough to find your niche in life, he said, and at one point after his basketball career he wanted to become an Athletic Director. He tried the restaurant business, Corny T's in downtown Hartford, but it didn't work out. He tried coaching but traveling wore him out. He was an assistant coach in the Connecticut Basketball Association for the CT Pride and the team won a championship and he also spent some time coaching for a while in Venezuela. Now, six or seven years after playing, he's found his niche. Corny has been working for LAZ Parking in Hartford for the last three or four years and has risen to the point of General Manager of CT. He enjoys what he does. He works on project development currently in the city of Norwalk; he prepares proposals and whatever the company needs to move forward.
In December, Corny went back to Varese, Italy for an "old timers" basketball game that was on national television. Corny's team lost by three points but he scored 17 points and had 10 rebounds. He enjoyed seeing some former players and the fans that all remembered him, and he was able to spend some time with his extended family (people who are such good friends of his).
Corny has two sons, Joshua, 16, who was born in Italy and is a high-honor student. His second son is Jeremey, 13, who was born in the US and enjoys playing basketball. Corny challenges him and he responds well. Corny has been coaching Jeremey's Amateur Athletic Union team for the past two years. Corny doesn't ask of his sons to be athletes, he just wants them to do well at whatever they pursue. Both Joshua and Jeremey have lived parts of their lives in Europe but are currently in the US. Corny hopes to take them back to Europe for a visit and see it now that they are a little older.
Corny said that it was a great moment for him when UConn won the National Championship in 1999 because even if you're not on the team that won, as long as you're from UConn it makes you proud. "All athletes from the team share in the National Championship to know that their school has won it."
He thinks the team has changed over the years. "Coach Calhoun is a special coach. He's a motivator; he pushes you to your maximum. He expects nothing less than your best. He's fair too." Corny said that Coach Calhoun is a self-motivator, and his motivation leads to winning. "If you have a coach who is organized and pushes you to win, the rest is up to the players. Coaches don't win games, players win games."
Corny's thoughts on the current team are that Coach Calhoun will keep the team down to earth even though they are rated so high. He said the early loss to Georgia Tech University would only make them stronger in the end. "They have the talent to get to the Final Four but for any team to get to the Final Four they have to be healthy and be playing extremely well at the right moment of the year." If UConn is at the Final Four, Corny will be watching it from Connecticut. He currently has his own challenges and playoffs in his office at LAZ Parking to take care of.