Shamon Tooles was a Forward for the UConn Huskies from 2000 – 2004. He was a player on teams that won a National Collegiate Athletic Association Championship, two Big East Tournament Championships, and a trip to the Maui Invitational Tournament. I had the pleasure of talking to Shamon in February 2010, about his basketball experiences, his time at UConn and he shared some post-collegiate experiences.
Basketball was one of many sports that Shamon enjoyed playing in his neighborhood while growing up in Coatesville, Pennsylvania. "We played basketball because there was a court or we played football because there was a field." He was good at all sports but decided not to pursue football at the high school level even though he was especially good at it, because he didn't enjoy all the summer practices, and it was the basketball players that the girls were interested in. Shamon chose to focus on basketball and track in high school. He wasn't on any Athletic Amateur Union (AAU) teams until he was around 16 years old making his basketball story somewhat unique. He didn't experience big time AAU tournaments where kids get the interest of college coaches, but because he was a very good high school player he was still recruited by several Division I college basketball programs. While at Coatesville Area Senior High School, as a senior Shamon's basketball team's record was 30 wins and 2 losses. His team missed out on going to the State Championship Game, having lost in the semi-finals to Shamon's friend Jameer Nelson's (now playing for the Orlando Magic National Basketball Association Team) high school team. When asked if Shamon was the star of his team he responded, "I was one, along with my teammate John Allen, who went to Seton Hall University. He and I went to Division I college programs. We had numerous players that went to Division II and Division III colleges so my team was pretty athletic and pretty talented."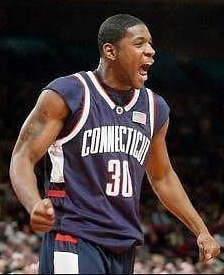 Shamon was recruited by all the local colleges.
"I remember shoe boxes of letters from Temple, Villanova, Seton Hall, Saint Joseph, Cincinnati Universities and the University of Connecticut." Shamon's cousin Richard Hamilton (former UConn star currently of the NBA Detroit Pistons) encouraged Shamon to come to Connecticut while Shamon's friend Jameer Nelson was encouraging him to join him at Saint Joseph's. In making his decision to come to UConn, Shamon said, "I wanted to be a part of something bigger than myself. I could have gotten more playing time at Saint Joe's based on the style of basketball they play, but given the opportunity to play for Coach Calhoun, a Hall of Fame Coach, playing against Big East teams, you just can't turn that down."
Once he arrived at UConn the transition from high school to college was difficult. "I was among six freshmen all trying to get playing time. Everyone on the team was a star in high school. You can either work harder or let it break you and transfer. I chose the former."
While at UConn, Shamon had lots of best memories. Listing a few were winning the 2004 National Collegiate Athletic Association Championship, winning two Big East Tournament Championships, and more importantly earning his Bachelors Degree in Political Science. Shamon also enjoyed being the 'go to' guy off the court. He remembers everything so he was the guy everyone called to find out what time practice was or what the extracurricular plans would be. Shamon was a well liked guy that people wanted to hang out with, and he got along with everyone both upper classmen and lower classmen. He also specifically remembered losing in the Sweet Sixteen of the NCAA Tournament to Texas at the San Antonio Dome during his junior year. After the game Coach Calhoun gathered the team and said, "For everybody that is coming back next year, the National Championship is here next year, could I just have you all think about that for a minute…… and, we will be back." "At that moment we all made the vow to ourselves to get back there the next year and win it all (the championship) and we did."
During the off season of basketball Shamon had another talent. He's a rap artist. During high school he'd rap on the bus or in hotels and even made some CD's. When he got to college he didn't want his music to interfere with his basketball commitments so he worked on his music in the offseason. During the summer prior to his senior year at UConn he had recorded his best material. Sharing the CD with his teammates, everyone listened and loved it. USA Today and SLAM Magazine were writing stories on pre-season All-American teammates Emeka Okafor and Ben Gordon. When asked the question what their favorite CD was and what CD was in their IPOD at the time, they responded with Shamon's CD, so the word was out about Shamon and his music with some appreciated advertisement.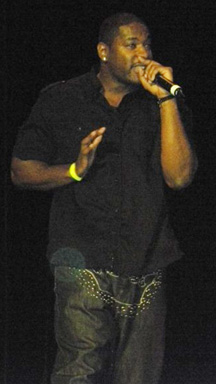 At the end of his senior season of basketball they had won the National Championship and later that month was UConn's spring weekend. Shamon, the rap artist, opened for a show featuring Kanye West and Ludacris in front of 7,000 peers including his teammates who were cheering him on backstage.
Since graduating from UConn, Shamon has been focusing on his music career. He owns his own record company with a childhood friend business partner called 50/50 LG Entertainment. "Our slogan is 'Life is a Gamble… We Play to Win'" Shamon has successfully completed 10-12 CD's with each CD being it's own project, it's own ideas and feelings at that time in his life. He performs in multiple states and venues from bars to arenas, and has performed with famous rap artists T. I. and Jim Jones. Shamon's business plan currently is researching major record labels for a distribution deal with hopes of becoming a household name as a rap artist within the next five years.
Shamon's thoughts on Coach Calhoun, "He's a Hall of Famer. His resume speaks for itself. He's one of the hardest working people I've ever met. He's so emotionally invested and committed in whatever he does."
Shamon continues to follow UConn basketball. He usually gets to two or three games a year and watches the rest on television. "That's my school, that's my fraternity. I follow everything they do." His thoughts on the current team, "Although they are struggling this year, my freshman year we struggled, three years later we won the National Championship. Every two to three years Coach Calhoun's teams are contending for a National Championship."
Shamon ended our conversation saying, "It's after you graduate that you realize the knowledge and information that Coach has given to you that you can apply outside of basketball. It was a humbling experience to say the least, to have been given the opportunity to be a part of UConn basketball. I remember everything about my college experience. It was the most impactful time of my life. Everything that was happening was happening for the first time."