Marcus Williams was a Guard for the UConn Huskies from 2003 – 2006. He holds the highest all-time assist average in school history, recorded a single game record with 16 assists, and had the first triple-double ever for UConn in a Big East game, against Notre Dame, with 18 points, 13 assists and 10 rebounds. Marcus was selected 22nd in the 2006 National Basketball Association (NBA) draft to the New Jersey Nets. I had the pleasure of talking to Marcus in January 2009, as he reflected on his basketball memories and experiences.
Marcus started playing basketball at the park around the age of four or five. Growing up in Los Angeles, California he watched the LA Lakers a lot, and Marcus also enjoyed watching his dad play basketball in local leagues. He joined an Amateur Athletic Union (AAU) team at age 10, and found the abilities of the other players to be pretty good. "I thought I was good when I was playing at the park then I joined an AAU team, and found the abilities of the players had increased to where I didn't think I was very good."
Marcus went to Crenshaw High School in Los Angeles through his junior year. He started to get college recruiting letters while in the ninth grade. Marcus is a pretty laid back kind of guy; he was playing basketball because he enjoyed the game, and didn't start taking the recruiting letters seriously until his junior year. "I was receiving hundreds of letters a day, and college coaches were making visits to see me play, and rankings were coming out with my name listed. I started thinking that I could turn basketball into a lifestyle." He narrowed his college choices to UCLA (University of California Los Angeles), UConn, Georgia Tech University and the University of Arizona. "I took my first unofficial visit with my parents to Connecticut during the summer prior to my senior year of high school. I committed the day I left Connecticut." What he liked about Coach Calhoun is that he wasn't promising anything. He was told if he was one of the best players, he'd play. "Other college coaches promise you a lot of playing time but don't follow through," he said.
Marcus left Crenshaw and spent his high school senior year at Oak Hill Academy, a prep school in Virginia with a lot of basketball talent. He experienced culture shock when he arrived. "Leaving a city like Los Angeles going to Virginia, I felt like I was in the middle of nowhere. I wanted to go home every minute of the day for the first couple of weeks. Then we started playing basketball, and it got my mind away from going back to LA. When I played at Oak Hill it was like playing on a good AAU team where each player in each position was better than regular high school teams. Anyone on my team could have scored 30 points in a game any night." His Oak Hill team finished second in the country in the polls that year behind the team LeBron James (one of the best basketball players in the NBA) was on at the time. All the players in Marcus' senior class went on to play basketball at Division I colleges.
When Marcus arrived at UConn the transition wasn't that difficult. He had already been living almost 3,000 miles away from home while at Oak Hill. During his freshman year at UConn he averaged 14-15 minutes of playing time per game. "It was like being in a movie. I was playing with guys like Ben Gordon, Emeka Okafor, Charlie Villanueva and Josh Boone who were guys you see playing basketball on television in the NBA."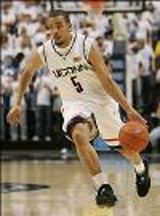 Some of his best memories at UConn were playing at Madison Square Garden in the Big East Tournament, the National Collegiate Athletic Association Tournament games, and playing in games on the road. The feeling of winning in someone else's court was exciting. He also enjoyed being the comedian on the team. Marcus said that although his coaches and teammates all know it, we fans may not have known that he has a comedic side to him, that he's a pretty funny guy. Marcus had very positive things to say about his former teammate at UConn, Taliek Brown. Taliek was a senior point guard and Marcus a freshman. Marcus had some big shoes to fill taking over for Taliek who departed UConn as the school assist leader. "Taliek was great for me personally and physically. He helped me on and off the court. Taliek had a way of doing things without saying that pushed me to my greatest potential, and made me a better person and player."
After three successful seasons at UConn earning accolades after his sophomore year as the Big East Most Improved Player, and after his junior year leading the Big East in assist in league games with 8.6, and registering a triple-double (points, assists and rebounds), Marcus decided to enter the 2006 NBA draft. He was selected in the first round of the draft 22nd to the New Jersey Nets. The transition to the NBA was difficult because the players were faster, smarter and stronger so he had to think quicker. While playing with Nets teammate Jason Kidd, Marcus said he was able to learn a lot. "He would tell me what I did right or wrong, and was always there for me. He was a great mentor." During two years with the Nets Marcus career averages were 6.4 points, 2.0 rebounds and 3.0 assists in 16.4 minutes per game, and he appeared in 12 Nets playoff games. During the off season –July 2008, Marcus was traded to the Golden State Warriors where he is in his first season. His thoughts about his new coach; "Coach (Don) Nelson is one of the best coaches that ever coached the game of basketball. I think he's second all time in wins." Marcus is happy about being back in California, a lot closer to home, LA, where he has a sister Marchele who goes to Westchester High School. She's about 5'10" but does not play basketball and isn't at all interested in playing.
Marcus had some positive things to say about Coach Calhoun. "Coach can get guys to come to Storrs, CT, not a big city, and it's in the middle of nowhere. That says a lot about him, and his program. The team didn't have a great year last year, and this year, right now they are Number One in the country, back at the top. That shows you what Coach Calhoun can do."
Marcus' thoughts on the 2008 team going to the NCAA Final Four: "They are talented offensively. If they continue to get the ball in the right player's hands, they'll be fine because I know they are going to play defense, and I know they are going to get stronger as the season goes on like they always do." If UConn makes it to the Final Four, Marcus is definitely going to try to get there to see it.
Marcus ended our conversation saying that he enjoyed his time at UConn. "Coach Calhoun taught me a lot about honesty, loyalty, and to never give up." Regarding his former teammates, "It felt like I was playing with pros, we had 12 great players."