Kerry (Bascom) Poliquin was a Forward for the UConn Huskies from 1987 – 1991. While at UConn Kerry was the Big East Player of the Year her sophomore, junior and senior years, and Kodak All-American her senior year. She graduated as the all-time leading scorer at UConn with 2,177 points. In 2006 she became a member of the first class of Huskies of Honor Program. I had the pleasure of talking to Kerry in April 2008, as she reflected on her basketball memories, experiences and her current career path.
Growing up in the small town of Epping, New Hampshire, Kerry's friends were mostly boys that she enjoyed playing a lot of different sports with. It wasn't until around seventh grade that she began playing organized basketball. By the following year—eighth grade—she was asked to play on the junior varsity high school team. "I played five junior varsity games, and they moved me directly up to the varsity team, so I started playing high school basketball in the eighth grade."
Kerry always seemed to be at least average or better than average playing sports. Epping High School averaged about 170 kids with Kerry's graduating class of only 44. While there, Kerry played on the boys'soccer team one year, volleyball for one or two years but spent most of her time focusing on basketball and softball. "Basketball I really loved to play. Softball was a break from basketball but growing up in a small town where everyone knew me from playing since I was very little, everybody thought I was a much better softball player than I ever was a basketball player."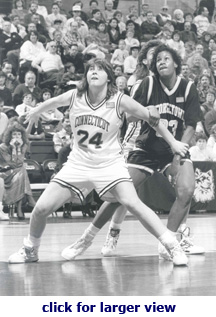 During her sophomore year her team won the Class S (small) basketball championship and, during her junior and senior year her team was runner up in the Class M (medium) championship. When asked if she was the best player on her team, Kerry humbly responded, "Well that's what people say. Yes, I was the scoring and rebounding leader, but it was all a team effort. I had everybody else around me to make me better."
Kerry also played on an AAU (Athletic Amateur Union) team where she got a lot of visibility. There weren't any AAU teams around Epping, but one of Kerry's rival friends in high school called her during one summer, and said she was going to try out for an AAU team in Massachusetts, and asked Kerry if she wanted to join her. Kerry said sure. They tried out and both made the team along with 10 of the 12-member team who were all from New Hampshire. They traveled to Massachusetts every weekend that year, and the following year they started an AAU team in New Hampshire. This team ended up playing together for about five years. Kerry was proud to remember that she and her friend were the only two on the team that were from a Class S school. Everyone else was from a Class L (large) school. Both Kerry and her friend were in the starting lineup on the AAU team. Of the 12 players, 11 of them went on to play for Division I colleges.
Kerry had been receiving recruiting letters, and had to narrow her choices. She knew she was going to be staying on the East coast. "At the time, my mom was very sick with Multiple Sclerosis, and actually passed away my junior year of college so I narrowed my choices to five schools. UConn was my first choice followed by Boston College, Syracuse University, Rutgers University and Boston University all about a two hour ride home in case I needed to get home for my mom."
What Kerry liked most about UConn was that it reminded her of the University of New Hampshire campus, which was near her home, so she figured it would be an easy transition. "More importantly what stuck on my mind were my first impressions of Coach Auriemma and Coach Daly. All the other schools were promising me the world, and Coach Auriemma and Daly never promised me anything. They told me I'd have to work hard, and what happens is predicated on how hard I work. I didn't want any handouts. I wanted to work hard, and be a part of something."
When Kerry arrived at UConn, her freshmen year was the beginning of change. Coach Auriemma hadn't recruited the juniors and seniors, but had recruited the freshman and sophomores, so there was some tension between them. As a freshman Kerry came in off the bench, and from her sophomore year on, she was in the starting lineup, playing pretty much the whole game and averaging over 20 points per game.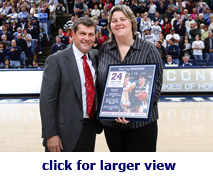 During her sophomore year there were two returning juniors, two sophomores, and six freshmen. "We ended up winning the Big East Championship so there was a noticeable change in personalities, dynamics and attitudes." Some important memories for Kerry while at UConn were, "In my four years of playing we had a lot of firsts for the University. We won the first regular season Big East Title. We also won the first Big East Tournament Championship, which was significant because Coach Auriemma didn't coach that game. There had been some sort of scheduling conflict, and he wasn't able to coach the game. We beat Providence, which back then was our big rival, so that was a big win, and then my senior year our first National Collegiate Athletic Association Final Four trip. It took everyone to attain these accomplishments from the coaches to the trainers."
After graduation from UConn with a Bachelors Degree in Sociology, Kerry was Coach Auriemma's first player to go overseas to play basketball (there was no Women's National Basketball Association at that time). She played in Spain her first year, came home after the season, and married a guy she had known since she was about 10 years old. They were together all through high school, college, and for about 15 more years. Although they have since divorced, they are still great friends. Kerry went to France to play her second year after getting married. The language barrier and lack of being able to communicate was much more difficult to adjust to than anything else. "Basketball is basketball. Show it to me visually, and I get it. Coach Auriemma challenged me more than the coaches I had in Europe." While playing in Spain Kerry's team finished third in a 12- team league, and prior to that year, they had never finished better than ninth.
After being married a year and realizing that she and her husband had actually only been together for about four weeks that year between her basketball schedule in Europe, and his endless hours as a rookie attorney, Kerry decided it was time to come home to be with her husband, to be a family, and get a job.
Kerry's first job was a women's assistant basketball coach at the University of New Hampshire, which she held for five years. Kerry was proud of one of her players that had come in with so much athletic ability but didn't know what to do with it. By the end of the season she had become the leading scorer, and became an All-Conference team player.
After five years, although Kerry really enjoyed coaching and teaching, the traveling involved was more time than she wanted at that point. She wanted more time for her family, and her nieces who meant everything to her. "I liked coaching but I didn't love it. I liked basketball, it's a part of who I am, but it doesn't define who I am, so it was ok to walk away." Since then Kerry has found her niche working with developmentally disabled adults, and Special Olympics. "These people give 110% every time you have a practice or a competition, and it's incredible to be a part of it."
Currently Kerry is a full-time case manager for Community Partners, overseeing services for individuals 21 and over with developmental disabilities in Stratford County, New Hampshire. She manages the programs, making sure her clients have everything they need. Her second full-time job is with Special Olympics where she works with teams of individuals preparing them for state competitions. With the Special Olympics, it's all about the joy of competing, and doing the best you can. Kerry has been working these two jobs for about seven years now, and although she's busy working all the time, it often doesn't seem like work, it's rewarding. "When you deal with people, and you see the enjoyment they get out of the small things in life, it's definitely worth it."
Kerry still follows how UConn is doing as much as time permits. She's usually able to come to Connecticut for two or three games a year. In 2006 Kerry was among the first class of Huskies of Honor. The Huskies of Honor were all players that are well known having played more recently since UConn has been on television, and has won several National Championships. Kerry played at UConn before they were well known or had television coverage. "To have been included with the entire group of women I was, along with coach, is a pretty big honor."
Kerry had some nice things to say about Coach Auriemma too, "I was a good basketball player but Coach Auriemma made me a better basketball player, and he made me understand the game to make it very easy, like he's incredible at. I don't care who you are or what talent you have, he's able to get every ounce of ability out of you."
Kerry ended our conversation by saying, "When I was getting ready to go to school, I didn't go to UConn because of the facilities or because they were a national power. I went to UConn because it felt like home, and I wanted to be a part of something. I don't think anyone back then could have realized how big it was going to become, but to know that I was a part of it, and I had a piece of the puzzle is pretty awesome."