Ashley Battle was a Forward for the UConn Huskies from 2000 – 2005. She was a key member of three National Collegiate Athletic Association Championship Teams, established an NCAA women's basketball record with 70 consecutive wins, was named Big East Defensive Player of the Year her sophomore year, and earned the reputation of being the top defensive player in the nation while at UConn. Ashley was selected #25 in the Women's National Basketball Association Draft in 2005 to the Seattle Storm, and currently plays for the New York Liberty. I had the pleasure of meeting Ashley while her WNBA team was in Connecticut for a game in June 2007.
Ashley is an only child who learned her basketball skills from her cousins. When she was in fifth grade at Manchester Elementary School in Pittsburgh, Pennsylvania, she was the only girl on the boy's basketball team. While playing in a school tournament, a few Amateur Athletic Union coaches saw Ashley, and were soon recruiting her to play for them. "At the time I didn't really know anything about AAU so I didn't know if it was good or not. I just knew it meant more basketball." Her team ended up being very successful. Ashley met, and became friends with future UConn teammates Maria Conlon and Diana Taurasi at some of her AAU tournaments.
When Ashley started middle school there were some people recommending she go to The Linsly School, a boarding school in West Virginia that was strong academically, and it would get her away from the city and the gangs that were increasingly dangerous. Ashley took the admissions test and did very well but wasn't ready to move away from home. Two years later when she was entering high school, the subject of going to Linsly resurfaced. Ashley took the admissions test again but still wasn't sure about making the move. Then, on the day of orientation at Linsly, Ashley decided she wanted to pursue it. "My AAU coach brought me there, my mom didn't even come. I got there and said, I'm coming here. I have nothing but let's get started and get me what I need; uniform, books...I went there to get a really good education. I always wanted to play basketball, and knew that my AAU experiences would open doors for college. Now I needed to get my academics in order so I'd be prepared for college." The first few months were tough being away from home, trying to fit in and making new friends. The basketball team was not good at all but Ashley helped to turn things around. As a freshman the team struggled, and by the time Ashley was a junior the team went undefeated. While Ashley was there she set school records in points, rebounds, assists, steals, and set the trend with more good female basketball players coming to the school to play.
Recruiting letters started flowing in and Ashley collected about two or three 100-gallon containers filled. She narrowed her choices to Duke University, Pennsylvania State University, University of Connecticut, and her number one choice was Stanford University because she believed she'd get a great education there. Stanford wanted Ashley to come for her visit in the spring of her senior year in high school. Ashley wanted to make a decision and sign her commitment letter during the early signing period in the fall of her senior year so that meant Stanford was not an option. Although Ashley's AAU coach thought that Penn State would be a good fit, and she would know a few girls that would be joining the team, Ashley had her mind made up she wanted to go further away from home. Ashley's mom really liked Duke – basketball was on the rise, the education was great, and it was driving distance from Pittsburgh. Ashley was having a tough time making the decision between UConn and Duke. Her friends Maria and Diana had already committed to UConn, and were urging her to join them at UConn to do great things. "I told my mom I would be absolutely miserable if I didn't win a National Championship, and I thought we could at UConn. I told her I have to do what I think is best for me. My mom agreed, and I made the decision to join Maria and Diana." Also in her freshman class would be Morgan Valley and Jessica Moore, together the five freshman soon became known as "the fam". "We did everything together; we ate together, went to the gym together, and hung out together. We seriously enjoyed each other's company. When you saw one, you saw five of us."
The transition from high school to college was difficult, as Ashley was suddenly among players who were a lot better, and it was a much more physical game. Ashley's freshman year at UConn started out great. She was working hard, and consistently getting playing time until she was diving for a ball colliding with a Miami player resulting in a dislocated elbow for Ashley that would require surgery. She was hopeful to be back on the court soon. Sadly during a practice she reinjured the elbow, and was out for the season getting a medical red shirt status.
The following year, 2002, was special with an undefeated record including Ashley's first of three National Championships. It was her second National Championship in 2003 that was most gratifying. "We received absolutely no respect. We were ranked preseason number 12, and people had no expectations from us. The third National Championship in 2004 was the charm – unbelievable."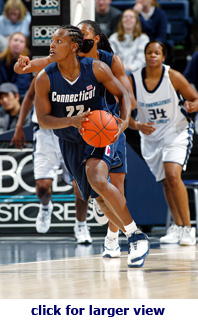 Ashley also remembered some games other than the championships. A game against Texas at the Final Four in Atlanta in 2003 when UConn played terrible for the first 35 minutes, and never believed they were going to lose. "During the last five minutes, it was Connecticut basketball at it's best." Another memorable game was in a Final Four game playing Tennessee. "D (Diana) was at the foul line. We needed those points. We're thinking no way is D going to choke, and miss those shots. D chocked and missed the two foul shots."
During the 2003 season Ashley earned Big East Defensive Player of the Year award. "It was a personal proud moment." Assistant Coach Tonya Cardoza and Ashley had discussed striving for this award at some point during her career. During a game against Georgetown University that season, Ashley had seven steals; a great accomplishment that she thinks really helped her to earn the award.
While at UConn Ashley earned a Bachelors Degree in Marketing and Economics.
Next was the WNBA draft where Ashley was selected #25 by the Seattle Storm. "This can't get any better for me. I know Tanisha Wright also drafted to the Storm from my AAU team, and Sue Bird from UConn." Ashley worked hard and played well but a few games into the season she was released from the team and was devastated. With disbelief she returned home to Pittsburgh for the rest of the season.
That fall season she decided to join UConn teammate Jessica Moore, and they went to Europe to play for a team in Spain called Universitario de Ferrol. They both did very well playing in Spain. While there a transaction was happening back in the states where Ashley became a member of the New York Liberty WNBA Team. "The deal with New York happened so fast but I realized it would be a great fit for me both personally, and on the basketball court." Ashley is currently in her second season with the Liberty and is very happy and comfortable in New York. During the off season she plans to go back to Europe for her third season. Her first year in Europe was a new experience. Her second year in Europe was a lot of fun, she played very well, and she's looking forward to the next season.
Ashley's thoughts on Coach Auriemma are, "He's a great coach. You have to be a strong-headed person to play for him. Sometimes I got yelled at for something when I wasn't even on the court but I went to Connecticut planning on working hard, and playing well, and if coach sees that, he's happy."
Ashley thinks the current team is going to be really good in the upcoming season. "They have a really good recruiting class coming in, and with the talent they already have, the sky is the limit."
When Ashley is not spending time with friends or family, she enjoys time with her dog, Bronx.
Ashley ended our conversation saying, "I couldn't ask for a place better than UConn to prepare for the rest of my basketball career. Many of the players from my UConn teams are playing in the WNBA, and that says volumes about the University of Connecticut basketball program."