Sue Bird was a Guard for the UConn Huskies from 1998 – 2002. She was UConn's first ever Number 1 draft pick in the Women's National Basketball Association to the Seattle Storm. She was recipient of the first annual senior class outstanding senior basketball player in the nation, 2002 Wade Trophy, Associated Press and Naismith Player of the Year, and was a key member of two National Collegiate Athletic Association Championship Teams. These are some of the accomplishments from Sue's senior year at UConn with many more throughout her college career and beyond. I had the pleasure of meeting Sue while her team was in Connecticut for a game in August 2008.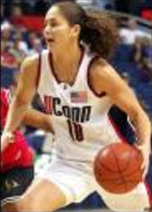 Sue became interested in playing basketball around the age of seven. Sue's sister Jen, who is five years older, started getting involved in sports, and Sue followed in her footsteps. "I looked up to Jen. I wanted to do whatever Jen did."
Joining Athletic Amateur Union (AAU) teams is where kids get the most exposure to good players. During the sixth grade Sue joined her first AAU team, and soon after she began receiving college recruiting letters. "That was pretty exciting. That's when I started realizing I could possibly go to college as a basketball player."
Sue went to Christ of King High School in New York which is known for great basketball teams. "My senior year five of us went to Division I colleges." During her senior year her team won the state championship, the national title, finished ranked first in the country, and went undefeated. That year personally, Sue was the New York City and New York State Player of the Year, and the New York Daily News Player of the Year.
Sue's high school and AAU program had a lot of experience with basketball former standouts for example Chamique Holdsclaw. The programs were run by the same person; with his experience he was able to provide much assistance to Sue during her college selection process. She was given time frames of when to have her college list narrowed to ten, then to five then her top three.
From really early on Sue had her list narrowed to Stanford University, Vanderbilt and the University of Connecticut. "It was difficult to narrow it to one, but I picked UConn because of the people, it was close to home, and it just felt right. When you know something is right you know it and for me, I knew UConn was the right place for me."
Sue found that what was most difficult about the transition from high school to college was figuring out her role, where she fit in, and learning the system that the sophomores, juniors and seniors already knew. "I think the best thing about Connecticut from day one was that we were very unselfish people and unselfish teammates. We were interested in playing basketball together and try to become the best that we could."
Regarding her memories at UConn Sue said, "There are just way too many to choose from on and off the court." Basketball wise she's proud of the championships and holding up the trophies was very memorable. The heartache of losing to the pleasure of winning. "I think that's why we were able to be so successful. We got along so well, we were able to translate that on to the court." Although Sue didn't elaborate on her personal accomplishments, to name a few, she was one of only two players (Jen Rizzotti) at UConn to score over 1,000 points, 500 assists and 200 steals. She ranks number 2 in assists with 585, number 1 in three point field goal percentage (45.9), won two National Championships, three Big East Championships and Big East regular season titles.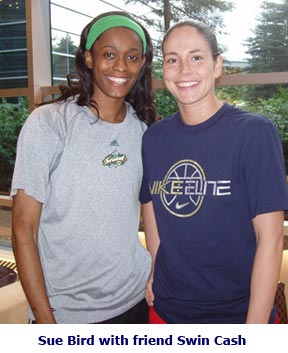 The WNBA draft day came. "It was fun but the best part of draft day was that all four of us Tamika Williams, Asjha Jones, Swin Cash and I were there together to start something new and it was also sad because it marked the end of our time together." For Sue, she was selected number 1 to the Seattle Storm. It was somewhat alarming to her because Seattle is about as far away as you can be from UConn and New York where she grew up.
The transition to playing in the WNBA from college was similar to the transition from high school to college. A different style to learn, find your place to fit in and the talent level increased. Sue believed she and her four UConn teammates were prepared to be a member of any WNBA team and make an impact. "All four of us had very successful rookie WNBA years which had a lot to do with what we went through in the four years at Connecticut."
Sue remembered her first press conference. The Seattle Storm public relations person was preparing her for a lot of media people, many questions, and how not to be overwhelmed. When Sue arrived to meet them it was four people, nothing compared to 10-15 reporters and 3-4 television cameras on a regular basis at Connecticut games.
Since then, Sue has completed almost seven seasons with the Seattle Storm. Her rookie year she was runner up for the WNBA Rookie of the Year Award. She's lead all guards in fan voting to be a starter for the Western Conference at the WNBA All-Star game and has been in each years All-Star game as a professional. In 2004 Sue helped the Storm win its first WNBA Championship. "It was unique for me. In high school and college it was about continuing a legacy. In Seattle with the WNBA it was about starting a legacy. No professional team had won a championship in 25 years. It wasn't more or less significant than any other championship; it was just different for me."
Sue was a member of the 2008 Beijing and 2004 Athens Olympic gold medal United States teams. "The Olympics takes on a larger meaning, representing your country. I have a lot of UConn fans, and a lot of Seattle fans, but it doesn't compare to all the fans that are cheering you on when you're in the Olympics, it's an entire country. Being chosen as one of the twelve best players in your country, and playing against the twelve best players of every other country is challenging." Kids growing up today dream of playing in the WNBA. When Sue was a kid there wasn't a WNBA. "I grew up dreaming of playing in the Olympics so to achieve that goal is special."
During the WNBA off season, Sue has been spending her time playing in Russia for the past six years. Once you get beyond the language barrier and get used to a different culture, you learn to appreciate living in another country. Sue has again enjoyed success in Europe winning the Euro League and Russian Super League Titles.
With any spare time above and beyond all of Sue's basketball obligations and commitments, she tries to be as involved in community work and basketball camps as time permits.
Some of the words Sue used to describe Coach Auriemma are: tough, funny, genuine, infectious, successful and a great coach. "He sees something in each individual, and in the team that he tries to get from you so you can be successful. I think his teams sometimes take on his personality, and that's a good thing because he creates winners."
Sue isn't able to see many of the UConn games while she plays in Europe but believes that with the experience of being at the NCAA Final Four last season, although they lost great players with graduating seniors Charde Houston, Mel Thomas, Ketia Swanier and Brittany Hunter, they still have a team we can expect a lot of great things from.
Sue ended our conversation by saying, "Coach Auriemma used to stress to us about our preparation for a game. We knew whether we prepared for a game or a test for class and we knew how we felt based on our preparations. In all aspects of my life, when I approach things both on and off the court, I think about the amount of preparation I've done thanks to my experience at UConn."