Swin Cash was a Forward for the UConn Huskies from 1998 – 2002. She was the 2002 National Collegiate Athletic Association (NCAA) Final Four Most Outstanding Player, after winning her second National Championship in three years. Swin is ranked seventh all-time in scoring at UConn with 1,583, sixth in rebounding with 910, and was the second player in Big East history to lead the league at the completion of the regular season in scoring and rebounding. She was selected number 2 in the Women's National Basketball Association (WNBA) Draft to the Detroit Shock in 2002, where she spent six seasons. She is currently a team member of the Seattle Storm. This is a short list of accomplishments that could go on a resume for Swin. I had the pleasure of meeting Swin while her team was in Connecticut for a game in August 2008.
Growing up Swin's mother encouraged her to play all sports. Among them were basketball, baseball, softball and cheerleading. "I grew to love basketball, and around seventh-eighth grade I began to really focus on just playing basketball." She joined an Amateur Athletic Union (AAU) summer league team prior to her freshman year of high school. After two summer seasons of games and workouts, one day while in the gym she noticed a short Italian guy in the gym. "I was playing a pick-up game. I asked my coach who the guy in the corner was, and he told me it was Coach Geno Auriemma from the University of Connecticut. I couldn't believe my coach was being serious. That's probably the first time I began to realize that I was going to have an opportunity to do something special with basketball."
Regarding high school basketball in Pennsylvania, the state is divided into Eastern Pennsylvania and Western Pennsylvania. "We won Western, Pennsylvania but lost the state championship in the Final Four." Swin was humble when asked if she was the best player on her team responding, "I guess I was but a lot of other players on my team were really good too." Swin was named Parade, USA today and Street & Smith First Team All-American, was ranked number three by Blue Star Index, named Gatorade Pennsylvania Player of the Year, and set a school record with 21 blocks in one game.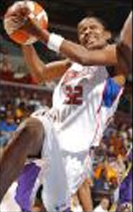 Deciding to play at the University of Connecticut was a well thought out process. After being exposed to the recruiting process through her brother who went to a Division II college for basketball, Swin's mother wanted her to take the five recruiting visits that are allowed then make a list of pros and cons. After her visits Swin narrowed her choices to UConn or the University of Tennessee. "I knew I'd get a good education at both schools so that wasn't an issue. I knew and liked Tamika Williams (UConn teammate) through AAU games. I had been communicating through instant messaging with Sue Bird (UConn teammate). I was really beginning to feel comfortable with the group of girls/teammates I would be with at UConn. With UConn playing in the Big East Conference we would visit West Virginia, Pittsburgh, and other schools that were close for my family to come to a lot of games, which meant a lot to me, I decided I'd go to Connecticut."
The transition to playing at the college level was not an issue. "The players that Coach Auriemma recruits are selfless. They all want to win and contribute in any way that they can." Swin had the opportunity to be one of five freshmen to be a starter. "Starting was a positive for me. I knew I had to be focused, and bring a lot of energy every night. Just knowing that Coach trusted me that much to start was a great feeling. However keeping in mind we had so many good players on our team I didn't feel pressured."
Swin enjoyed many great accomplishments while at UConn. Among them were reaching her 1,000 points during her junior year in the Final Four, being Big East Conference Player of the week several times, and winning two NCAA Championships, three Big East Championships, and Big East regular season titles.
In the classroom, during her junior year Swin became very interested in a variety of women's study classes that influenced her in what she has done since graduating with a Bachelors Degree in Communications. "Through the classes I took I really embraced wanting to help young girls finding self esteem, understand their purpose, help them with their vision and the things they want to do in life." After college Swin started a society "Cash for Kids" "The organization currently is set up in Detroit where I played, and Pennsylvania where I'm from. I'm working on expanding to other states, hoping to have something here in Connecticut." Cash for Kids helps children develop skills educationally and on the court providing financial support to youth agencies and schools.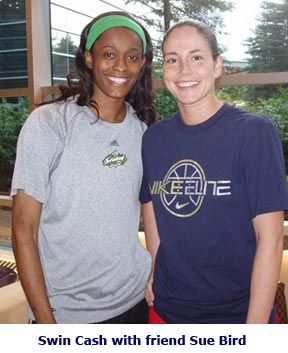 Then WNBA draft day came and UConn's four seniors all had an idea where they were going to be picked. Sue Bird was #1 and went to Seattle. "We thought I was going to the Washington Mystics. Sue's name was announced going to the Seattle Storm. I hugged her and joked it's going to be raining in Seattle. To my surprise my name was 2nd going to the Detroit Shock. When asked what I knew about Detroit all I could say was, they make cars, so we all had a lot of fun on draft day."
The transition from college to the pros was effortless physically. "I had been playing at Connecticut, practicing against some of the best girls in the country. I was prepared physically. I felt I was prepared mentally but my first year was difficult." There was talk that the team would be moving, getting sold, disbanding. Morale on the team was low and the team lost their first thirteen games. "I was used to a foundation that was about excellence and winning." The team started to win a few games and team values, attitudes and spirits changed. There was hope even though they finished the season in last place. "The following year we came back to win the WNBA Championship, and made history being the first team that went from worst to first. It was magical. I left my legacy in Detroit by being a part of an organization that now the bar is set so high that every year Detroit is a contender to win the championship." Swin continued to play for the Detroit Shock for a total of six seasons, and in 2008 was traded to the Seattle Storm.
Swin's next major accomplishment was being a member of the 2004 United Sates Women's Olympic Team that won the gold medal in Athens. "People don't realize how basketball can impact their lives, but I hope that my experiences give them hope. I came from living in the projects of Pennsylvania, and I was able to represent my country as an Olympian."
During the off season of the WNBA Swin spent two seasons playing basketball in Europe. For the past four off seasons Swin was given the opportunity to work with ESPN getting experience in the field of broadcasting. "I do in the studio work for the National Basketball Association (men) meaning I watch film 24 (hours) 7 (days), and talk about what I see. It's been a wonderful experience to do something that I love to do."
Speaking about Coach Auriemma Swin said, "Coach is a great guy, he produces some of the best players in the world. He knows what makes each player tick, and how to prepare them for each game." Swin couldn't say enough about the rest of the coaching staff at UConn too. "They all could be head coaches somewhere but they put their time, heart and sole not only into the basketball program but being influential in young women's lives."
Swin's thoughts on the current team reaching the NCAA Final Four this year are, "That's why they come to UConn, to win a championship. They have great talent, Maja Moore is an incredible player, and if anyone can jell that team together to make another championship run, it's going to be Coach Auriemma."
Swin is not the only talented basketball player in her family. She has an older brother who played basketball for IUP (Indiana University of Pennsylvania) in Pennsylvania; he is now in the army stationed in Iraq. She has a younger brother that played basketball at Texas A&M University-Corpus Christi, and is currently playing overseas. A younger sister in high school who plays basketball but will probably pursue nursing or become a future designer not a future basketball player. Swin is currently not married but is "unavailable" in a committed relationship.
Swin ended our conversation by saying, "One of the greatest experiences at UConn was becoming friends with individuals from such different upbringings. It didn't matter if we came from wealth or poverty, if we were black or white. No matter where we came from, we had one common goal when we stepped on the basketball court and we became role models to young women."