Maria Conlon was a Guard for the UConn Huskies from 2000 – 2004. While at UConn her team went to four National Collegiate Athletic Association Tournaments winning three Championships and four Big East regular season titles, and established an NCAA women's basketball record with 70 consecutive wins. I had the pleasure of meeting Maria in June of 2007, as she reflected on her basketball memories and experiences.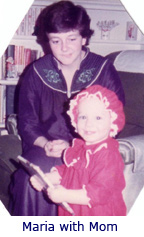 Maria's boy cousins introduced her to sports. They lived next to each other, along with other extended family members, in an area they dubbed on "Conlon's Corner." She and her cousins stayed active playing a lot of different sports. Maria remembered one Saturday when her family was at the local Catholic school, setting up for a church dinner, and she and her dad went to the gym to throw a football around. The school coach was watching, and noticed Maria had a good throwing arm at the young age of 8. He asked if she'd be interested in playing basketball for his team. Maria's father thought they should give it a try so the practicing began in the Conlon backyard where her dad built a half court for Maria and her cousins to practice. Maria was soon enrolled in the third grade at the Catholic school, and with no girl's basketball team she proceeded to play on the boy's team where she was the starting point guard, and the only girl to score 1,000 points.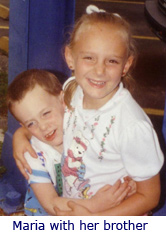 Boys from opposing teams joked a little that they were playing against a female starting point guard but at the end of the game, after Maria would score over 20 points against them, they weren't laughing anymore as she would usually earn Most Valuable Player Honors at many tournaments. Maria also played on an Athletic Amateur Union (AAU) team that was pretty good. For three years while she was a member of the team, they came in fifth place in the country out of 800-900 teams. While playing AAU during some of the tournaments she met future UConn teammates Ashley Battle at age 10, Diana Taurasi at age 13, and Morgan Valley at age 16.
Entering high school, Maria could have gone to the public Derby High School but instead went to Seymour High School where her parents paid tuition, and she was able to be a part of a very good basketball program with Coach Joe Frager who is currently Women's Basketball Head Coach at Fairfield University. During Maria's freshman and sophomore years her team had a record of 26 wins and 0 losses. The team won the state championship title both years, were ranked number one in the tri-state area, number one in New England, and ranked nationally in the top 25. Prior to her junior year, Coach Frager left Seymour High for the head-coach job at Southern Connecticut State University. With new Coach Eric DeMarco on board during Maria's junior year she suffered her first and second high school losses, losing in the state tournament semifinals. As a senior they had two losses and lost the state tournament in the championship game.
Maria has many additional memories from her time at Seymour High School. "I have the state record for three-pointers made in a season, most three-pointers made in a game, most career three-pointers, most assists, steals and points in the high school. Once in high school I had a quadruple double; 22 points, 11 assists, 10 steals and 10 rebounds."
Maria's decision to go to UConn was an easy one. "Being raised in Connecticut, if you have the opportunity to play for your state college usually you want to. With the program UConn was building, if I got the offer, a full scholarship, I was going to take it." Maria received her first letter of interest from UConn when she was a freshman in high school, and they continued to recruit her throughout high school. Maria had received many recruiting letters, and had actually visited Rutgers University and Pennsylvania State University just in case UConn didn't offer her a scholarship. No need to worry, UConn offered Maria a full basketball scholarship during the summer prior to her senior year of high school. Maria signed her commitment letter on the first available day to sign in November of that year.
Arriving as a freshman, Maria felt pretty comfortable already knowing teammates Diana, Ashley and Morgan from AAU tournaments—Jessica Moore was the only person she wasn't familiar with. This group quickly became very close friends, and was soon known around campus as –"The Fam." "When you'd see one of us, the others weren't too far behind. Today we are still very close, and still call each other "the fam", and when too much time goes by, we say, we have to get the fam together." During her freshman year at UConn, Maria went through some transitions. "You go from being the star on your high school team, to a role player, and knowing your responsibility." She also knew she wouldn't get much playing time because there were experienced members on her team, including Sue Bird, Svetlana Abrosimova, and Shea Ralph. "I knew it would be a great opportunity to learn from all of those guys and become better." Then Maria was diagnosed with Mononucleosis, and had to sit out several games and practices. "It was the best thing that ever happened to me because I was able to sit back, watch, and realize all the different things that I could be or should be doing, and I learned from watching while I wasn't on the court." When Maria rejoined the team, other teammates had suffered injuries and Maria actually played important minutes at the crucial part of the season – the National Collegiate Athletic Association Tournament.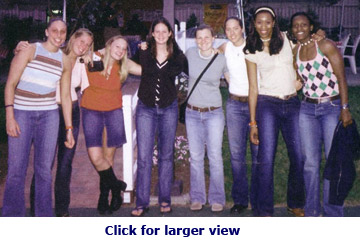 As a sophomore the team had all experienced players, and went undefeated with 39 wins and 0 losses winning the NCAA Championship. UConn had the best starting five players in history, and Maria enjoyed her role as sixth man off the bench. Maria's junior year was expected to be a big transition having lost four of the starting five players, and four new freshmen coming in that needed to learn the system. To everyone's surprise the team was awesome setting a new women's college basketball record with 70 consecutive wins going on to win a second NCAA Championship. "Our junior year we took other teams by surprise, and they took us lightly. Then during our senior year there was a bull's eye on our back. It was really hard but somehow we ended up getting through it, and won another NCAA Championship."
Maria's fondest memory was winning the National Championship as a senior. "I'll never forget when the buzzer went off my senior year and we won the National Championship. You're crying because you're sad it's all over, your hard work really paid off and you're ending like this and it's your senior year. You get stuck in the moment, and then you realize this is why I used to shoot hoops in my back yard when I was little for all those hours."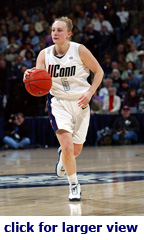 After winning the National Championship as a senior, Maria flew out to Los Angeles to try out for the Women's National Basketball Association Team the LA Sparks. Maria was there for the next six weeks where she made it to the last day before getting cut from the roster. She came back East for a final semester at UConn earning her Bachelors Degree in Political Science while also working as a graduate assistant for the basketball team, getting some experience assistant coaching. The following spring she was invited to a tryout with the WNBA Connecticut Sun basketball team, again making it to the last day before getting cut again. The following summer she volunteered at Yale New Haven Hospital in the Children's Ward, worked at a lot of basketball camps, and kept herself in shape to go to Europe to play basketball that fall season.
Maria played in Germany, then Iceland where she helped her team to win the Icelandic Cup Tournament receiving first team Icelandic Honors and Most Valuable Player of the Cup Championship Game. Sadly during one of the playoff games, Maria, while contesting a shot, injured her ankle splitting it in half. She needed reconstructive surgery.
The doctor told her any more breaks like that wouldn't easily be repaired, so Maria started thinking about a career in something other than basketball.
She pursued a Real Estate License, accepted a job as an Investment Advisor at Barnum Financial Group in Shelton, CT, while also taking on the roll of assistant coach at Southern Connecticut State University working for her former high school coach. The team went on to win the Division 2 National Championship giving Maria the pleasure of winning on another level as an assistant coach. Maria enjoyed the coaching opportunity and would like to some day coach her own high school team.
Speaking about Coach Auriemma, Maria said, "He's exactly the way you see him on TV. He demands a lot from you but he's also like a father figure to us. He's a great person to be around. The whole coaching staff at UConn is a class act group of people. Coach also taught us how to help make a difference in someone else's life by volunteering our time at places like soup kitchens, homeless shelters, The Salvation Army and children's hospitals." Experiences like these are what inspired Maria to volunteer at Yale New Haven Hospital for a summer after college.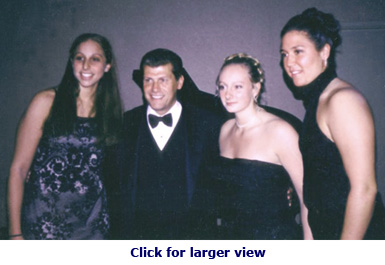 Maria's thoughts on the current team getting to the Final Four next year, "They need to work hard in the off season, listen to the coaching staff, and the team has the talent needed so they should be a great team next year."
Maria recently got engaged and she and her fiancée, Carmen, will be getting married in September 2008.
Maria ended our conversation by saying, "I'm grateful for the opportunities and doors that opened for me from my experiences at UConn. Everything I do today relates to what I learned from my parents, and my time at UConn."