Stacy Hansmeyer was a Forward for the UConn Huskies from 1996 – 2000. While at UConn she was a player on the 2000 National Collegiate Athletic Association Championship Team, appeared in the NCAA Elite Eight twice, and the Sweet 16 once. She was also a part of four Big East regular season and tournament titles. I had the pleasure of talking to Stacy in June 2006 about her career so far, and reflect on her basketball experiences and memories.

As a youngster Stacy was first involved with the sport of track. She did really well at running so her dad decided to try something different, introducing Stacy to basketball. It was when Stacy was involved with Amateur Athletic Union teams that she was introduced to Sherri Coale, the head coach that she works for now. "Coach Coale was the coach at a camp I went to in the fifth grade held at Norman High School, and now I'm back with my first coach working for her as an assistant basketball coach."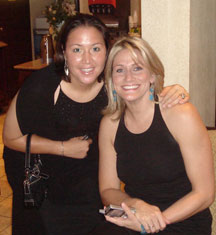 When Stacy reached high school as a freshman she was put on the varsity team. "We ended up winning the State Championship that year, in 1993, and then went on to win another championship my senior year. Both of them were with Coach Cole as our head coach at Norman High School." In Stacy's senior year the team was much better than any other team in the state of Oklahoma. They had several Division I players on the team, and won the state championship game by 40 points.

Stacy received many recruiting letters from Division I colleges. "UConn was coming off a National Championship, which was obviously one of the greatest National Championships in history in 1995 when they went undefeated. Anybody that saw that game, why would you not want to go there," she said. Certainly many other schools were interested in Stacy, too. Stacy narrowed her choices to UConn, Louisiana Tech, a team that was very good at the time, and Southwest Missouri State, which had previously been to a Final Four. Stacy and Coach Coale made an official visit to UConn, and Coach Coale helped Stacy make the decision to come to UConn in November of Stacy's senior year. In the following spring as Stacy was finishing her senior year of high school, Coach Coale was offered the head coaching job at the University of Oklahoma. When asked if she considered going to Oklahoma instead of UConn Stacy said," No, No, No, It's all about timing, and it worked out to be perfect."

The transition from high school to college was hard as any transition to something you've never experienced. It's not easy to prepare for, but Stacy was thankful she had experienced being around the competition she was during high school. What was it like playing for teams that were so good, "Well its fun! When you can go to practice, and look good on a bad day, that's a really great thing. We had so much talent on every team I played on at UConn. We knew we were competing for a National Championship, and nothing less."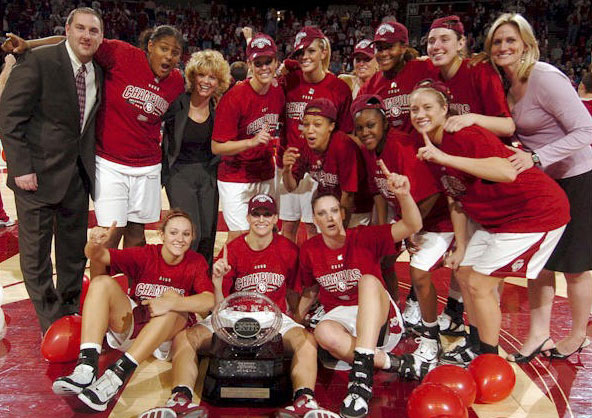 There were many memorable games, and moments while at UConn, and one game she enjoyed recalling was in her senior year playing Tennessee in the National Championship game, winning by about 20 points. It was similar to her high school championship game, wining by about 40 points.

When asked about her thoughts on Coach Auriemma, Stacy said, "It was just an incredible experience to play for such a legend. He's done incredible things for women's basketball, and it's awesome to say I experienced being a member of his basketball team."

Stacy earned her Bachelors Degree in Communications. Knowing that at some point in her life she wanted to be a coach, she stayed at UConn a fifth year as a student assistant coach gaining coaching experience.

Stacy will soon begin her sixth year as an assistant coach at the University of Oklahoma where she has come full circle, and is working for her first coach, Sherri Coale. So far Stacy's job has been fantastic, everything she thought it would be. Her best memory and story so far was during her first season at Oklahoma making it to the NCAA Championship game where they met, and lost to UConn. This past season Oklahoma went from being a good team to an elite team winning 19 games in a row, and reaching the NCAA Sweet 16. Stacy's looking forward to the coming year with twin returnees Courtney and Ashley Paris, and new recruit Amanda Thompson ranked number 7 in the country; Stacy played a big part in recruiting her. The recruiting class coming in is viewed as in the top five in the country also including former NBA star Hakeem Olajuwon's daughter, Abi.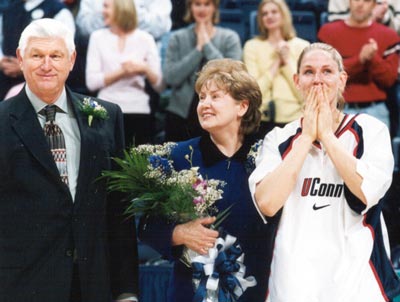 A routine day during basketball season is very busy for Stacy. She has to do all her office work responsibilities in the morning, practice goes from around 1:00 – 3:00 followed by scouting or recruiting or watching film before leaving work for the day.

When asked if she prefers coaching or playing, Stacy said "I love them both equally. There aren't many things better than being an athlete at the University of Connecticut. Coaching is also great; you're impacting lives in a different way. I try to help make the girls' college experience as enjoyable as possible."

Stacy comes from a family of five kids, one brother, and three sisters who are all singers. Stacy sang the national anthem while at UConn once, and also sang at Oklahoma once.

While at UConn Stacy learned some valuable lessons, and grew as a person. "I feel lucky to have been at UConn, and what an honor it was to be around so many terrific people, players, and coaches. For me to stay in the basketball world like I am right now, I'll always feel so lucky to tell people that I played for the University of Connecticut. It is truly an honor." Stacy doesn't think there has been much that has changed since she left UConn. "They are competing where you want them to be competing. To win it all. For me, I'm envious of that because that's my dream, that's where I want to be."