Colleen Healy was a Guard for the UConn Huskies from 1990 - 1994. While at UConn she was the first ever "walk on" player to be offered a full scholarship in the UConn women's basketball program. I had the pleasure of talking to Colleen in June 2006 about her unique and inspirational road to UConn.

Colleen grew up in Willimantic, Connecticut in a neighborhood that consisted mostly of boys so she joined her brother Chris, and played sports with the boys. One day after school the boys all stayed for basketball tryouts. Colleen waited for them because they used to walk home from school together. While waiting, she was shooting some hoops herself, and was noticed by the boys head basketball coach. At the time there were no female sports teams so the coach asked Colleen to try out for the team. "I made the boys team, and I was the only girl on any of the teams so I played against all boys in grammar school." That was the first of many milestones for Colleen.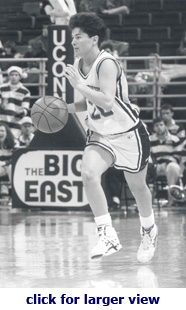 Colleen went to Windham High School. Her team went to the quarterfinals, and the semifinals of the state championship once, she was named to the "All State" basketball team, and was also a member of the softball team. "My dad always said, 'Well you're probably a better softball player' but I always just loved to play basketball." She lived very close to Eastern Connecticut State University so Colleen liked practicing with, and learning from the college kids.

Colleen was offered, and accepted a full basketball and softball scholarship to the University of New Haven, Connecticut. "I went for one semester, started at the point guard position, had the most minutes per game, led the team with assists, was the second leading scorer, and realized that while in the sixth grade I was asked by my teacher where I thought I'd be in eight to ten years, and I said I'd be playing Division I basketball somewhere. I realized I had let myself down." A coach had told Colleen she wasn't good enough to play Division I so she started believing it. People also had doubts about her academic success if she was at a bigger university. After giving it some thought Colleen decided at eighteen years old shewasn't going to let someone tell her she wasn't good enough at anything anymore.

One night after a team loss against the University of New Hampshire, Colleen packed her car, quit school, and while driving home to Willimantic in snow blizzard road conditions, her car broke down. A passerby stopped to help. It was a couple of kids from the University of Connecticut who gave her a ride, putting her belongings in an open truck, and gave her a ride to UConn where she dropped in on a few friends from the women's basketball team. "Now I had to call my parents, and not only tell them I quit school, but that my car had an engine fire and died. This was not accepted very well at the Healy household. I'll never forget my dad after the heated discussion. He asked me why I wanted to do this (leave the University of New Haven) and I said dad, I don't want to be 30, and wonder if I was good enough to play Division I basketball. I'm willing to accept the answer is no, but I'm not willing to accept never knowing."

Colleen spent the next semester at hometown Eastern CT State University while she pursued Coach Auriemma at UConn. Coach Auriemma had respect for Colleen giving up everything to maybe play for him some day. He told her he didn't have a scholarship for her, didn't know if she'd make the team but he'd let her be the manager of the team. She wasn't able to try out for the team her first year because of National Collegiate Athletic Association regulations leaving a Division II school for a Division I school , she had to sit out. "That was good enough for me. I just knew something good was going to happen soon to the UConn basketball program, and I wanted to be a part of it." Her second year Colleen tried out for the team, and made the team as a walk on. The following year Coach Auriemma told Colleen she was being given the first ever scholarship to a walk on player. Her third and final year of eligibility she also had a scholarship, was captain of the team, and with her Bachelors Degree in Communications, couldn't have asked for a greater opportunity to be a part of something special. "The legacy that I'm a part of could never be replaced."

One of Colleen's most memorable moments on the court was during her junior year against Georgetown University at Georgetown. Many of the players had fouled out including Jen Rizzotti. Jen said to Colleen, "You're the best ball handler, and you need to win this for us so get out there and do what you do best." Colleen scored the last four points of the game and UConn won. The stories in the newspapers were all about the "walk on" player who won the game. "You never know when you're time is going to come to win the game for the team." While at UConn Colleen enjoyed a Big East Tournament Championship, and getting to the Elite Eight in the NCAA Tournament.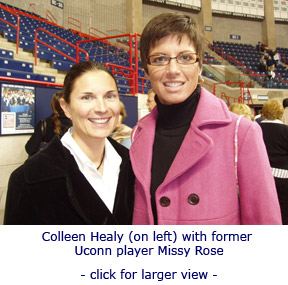 After graduating from UConn Cum Laude with a Bachelors Degree in Communications, Colleen continued her education at Sacred Heart University where she earned her Masters Degree in Teaching. She has been working in the corporate world for Merck & Co., Inc. (a pharmaceutical company), as a health sciences liaison in the division of cholesterol metabolism, and cardiovascular diseases for the past nine years. Her job involves a lot of traveling which has limited her time availability from playing basketball or getting involved in any coaching commitments. As time permits Colleen volunteers at any of her former teammate's basketball clinics, and is often asked to do speaking engagements for graduations or sports banquets on themes around opportunity, being an underdog, and exposure of being a player in college, and the perception people might have of you.

Colleen also spent a year working for WTIC-AM radio as a color commentator during the 2004-2005 UConn basketball season, and NCAA Tournament. If time permits in the future she would enjoy doing that again.

She believes that Coach Auriemma knew she was a street-smart kid with a tough shell so he often addressed her when he was mad. "Coach Auriemma does what it takes to get the best out of people. Whether you're the first or the last person off the bench, he's going to bring out the best in all of his players, and that's what's so important about his coaching style. I showed up at UConn knocking on his door for a chance to play, and he gave me that chance. I only have positive things to say about him."

Since Colleen was at UConn she said the team, and the sport has changed. There are no longer 5'5" point guards like she was in Division I. The players are bigger, stronger, faster, and the sport is growing. She's not at UConn to see it daily but she hears from good sources that the players aren't diving for every ball like they did when she was playing. No longer is it UConn and Tennessee, the only two teams at the top, the league has many competitive teams.

What UConn needs to get back to the Final Four is a point guard that they've been lacking since Diana Taurasi left. She believes Rene Montgomery might be that person, time will tell. "I really do believe you need a great point guard to win championships. With the team coming back, and the new recruits, I think UConn can be contenders for a National Championship."

When not working Colleen enjoys spending time with her eight month old French bulldog Napoleon, who she takes on the road when she's traveling for Merck.

Post UConn Colleen wanted to stay active athletically. She qualified, and ran the Boston Marathon. She has been involved in many triathlons, charity bike rides, and runs raising money for AIDS, cancer, and MS.

Colleen ended our conversation telling me that she is always willing to share her story to inspire young basketball players or students to never let yourself be counted out, never give up on your dreams. If you are interested in Colleen at your next speaking engagement, please email us at uconnhooplegends.com, and we'll let her know.